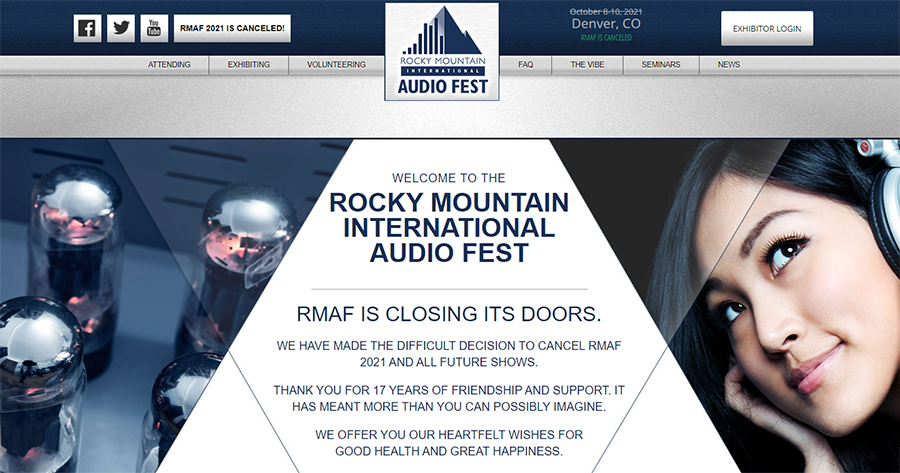 The resurgence of COVID due to the Delta variant is causing increasing pandemonium throughout the exposition industry. In the face of growing headwinds, Emerald Expositions insisted on moving forward with CEDIA anyway, kind of. But with dismal attendance and most of the exhibitors pulling out in the weeks leading up to it – it was far less than a normal event. Now we learn that another show – the audio-centric Rocky Mountain Audio Fest (RMAF) – after much pressure from media and exhibitor pull-outs, has decided to cancel its event, as well…this time for good.
See more on the cancellation of RMAF…
Issues swirling around the Rocky Mountain Audio Fest (RMAF) first came on my radar screen about two or three weeks ago during the run-up to our coverage on the impending CEDIA Expo. While RMAF was canceled in 2020, promoters were clearly hoping for a rebound this year. But over a matter of just a few weeks, RMAF went from being on…to being on the bubble – neither on nor off…to finally just last week announcing they were canceling the event.
Much of the meshugaas surrounding the decision process played out in public, primarily in various social media postings from parties on both sides of the issue. Show executives reached out and polled their network of exhibitors, media, and others to get a gauge of the feelings surrounding the impending event.
As October Approached, Many Suggested a Cancellation
Many of those who felt the event should be canceled or rescheduled made the same arguments that largely drove many exhibitors to pull out of the CEDIA Expo. That argument was that the resurgence of COVID – which is now at or beyond the peak levels of COVID infections back in 2020 – was causing a new public health crisis across the country and the only responsible thing to do is to pull back from live, mass, in-person events likely to make matters worse.
Then, just last Thursday, show director (and owner) Marjorie Baumert released an announcement via email that they would cancel the show again this year – it was also canceled last year during the first wave of COVID. In a long, heartfelt message, Baumert noted that the Rocky Mountain Audio Fest management had been imagining, "ourselves enthusiastically greeting our audio industry friends in a few weeks, and we've held onto that dream in spite of our nervous fears and scary news reports."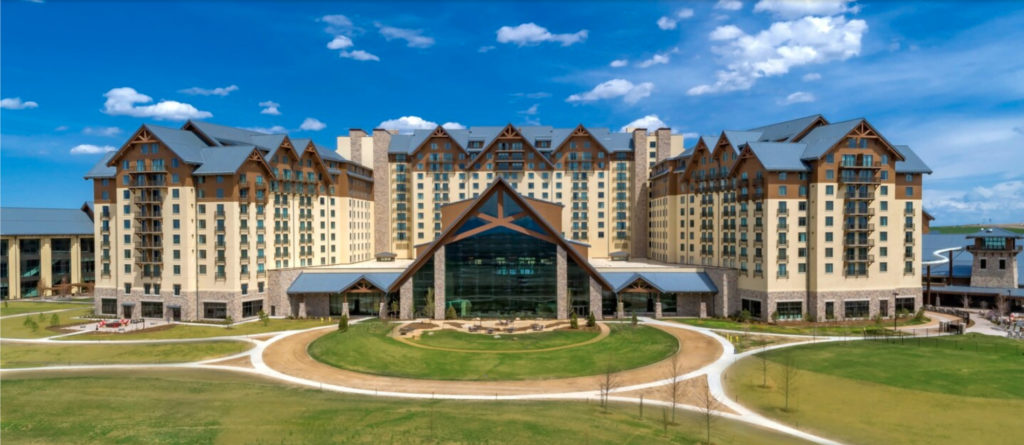 A Difficult Decision
…Even though some parts of the United States are fully open, the number of people contracting the virus, and the number of deaths attributed to it are still rising, and the CDC is projecting an even more deadly Lambda wave this fall. We are frightened on behalf of our friends in the audio industry on many levels. The very worst thing that we can envision is for someone to fall ill because thay came to our show, whether as an exhibitor, a journalist, an attendee, or a volunteer. Good health is a precious gift, and we are learning that although recovery is possible, the residual effects of COVID-19 and its variants can be profound, and we are unwilling to risk even one case. Up until now, we have held onto the possibility that our October show could be produced as planned. After reading and listening to the news concerning the Coronavirus pandemic, and watching the cancellation of numerous other shows, we no longer hold that hope. In spite of our initial optimism, we have read and listened to all of your thoughtful comments and then looked at the numbers and made the difficult decision to cancel RMAF 2021."

Marjorie Baumert and Marcie Miller; Excerpt of email with subject RMAF 2021 Cancellation
While undoubtedly many reading this notice were disappointed, likely many more felt some form of relief. The stress was building as initially, many felt the RMAF team was not planning to cancel or reschedule, based on some of their comments on social media.
But the Statement Didn't Stop There
But the RMAF statement didn't end there. In an unexpected twist, Baumert and Miller notified the world that RMAF was gone… and gone for good.
This has been a wrenching decision, and along with it comes the added impact of deciding that we are no longer able to envision RMAF as our hearts delight. RMAF was our founder Al Stiefel's dream, and we've done our best to nurture his vision for 12 years, along with hlep from the Colorado Audio society and all our volunteers from around the world. Now, we are off to new adventures! And so it is with both sadness and anticipation for the future, we announce that the Rocky Mountain Audio Fest as we have all known it will be no more. It has been our very great pleasure to have served this community of audio professionals. We have learned so much from you! Thank you for 17 years of friendship and support. It has meant more than you can possibly imagine."

Baumert and Miller, Excerpt from email with subject RMAF 2021 Cancellation
And just like that, the high-end audio community lost RMAF forever…
You can download the entire RMAF statement by clicking the button below (Adobe Acrobat Reader required)…
See more on the Rocky Mountain Audio Fest at: audiofest.net.