For three straight months now, consumer sentiment has declined as the world faces war in Europe, soaring global gas prices, price inflation on a wide range of consumer goods, and lingering supply chain issues. As measured by the widely followed University of Michigan Index of Consumer Sentiment released earlier this month, the index is nearing its lowest level in 11-years.
See more on the souring consumer sentiment and what it means
The report from Reuters on data from early March noted that not only is the latest reading of the consumer sentiment index near an 11-year low, but one out of four respondents in a telephone survey "spontaneously mentioned the Ukraine invasion in response to questions about the economic outlook." Consumers in America, it seems, are paying close attention to world events – and those events are having a real impact on their sentiment.
The U of M index dropped to 59.7 in the initial March reading. This is, according to the report, the lowest level of consumer sentiment since September 2011. It is also well below the reading of 62.8 in February. Economists surveyed by Reuters had projected that the index would fall to 61.4.
Economists Anticipated a Smaller Decline in Consumer Sentiment
After the results were revealed, economists told Reuters that they believe this latest reading of consumer sentiment indicated that their ratings were "overdone" and that the fundamentals of the economy were stronger than that sentiment reading reflects. But consumers get to vote, and if they are feeling apprehensive as to where things are going, they could react by pulling back on spending.
I follow a couple of tracking surveys on the state of mind of the consumer, with the Index of Consumer Sentiment being a key one. Fully 70% of the U.S. gross domestic product is based on consumer spending – so how the consumer is feeling is a very important indicator of where the economy is heading. And this latest data points to a troubling trend in how consumers are feeling which could have real impact on spending.
In fact, automobile sales and new home sales have both recently shown significant declines after an incredibly strong run over the last year-and-a-half or so. Most analysts point to these as indicators that consumers are pulling back on spending until they get a better feeling of where things are going.
While Problems are Emerging, Fundamentals of the Economy Remain Positive
The report suggests that consumer sentiment should be higher, "The labor market is churning out jobs at a rapid pace, the unemployment rate is at a two-year low, wages are rising and there were 11.3 million job openings at the end of January. Consumers have amassed more than $2 trillion in excess savings."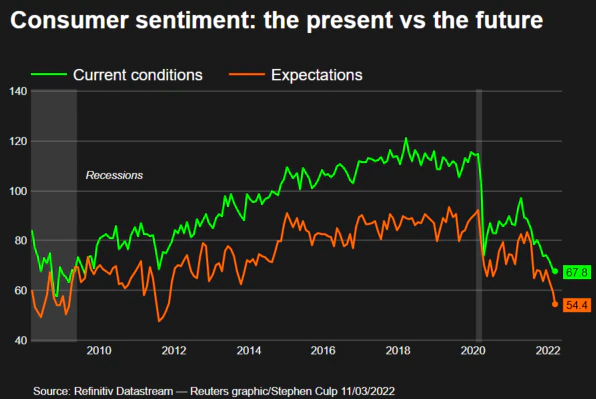 Yet consumers are feeling concerned…and inflation seems to be the biggest bogeyman.
This data was collected during the period covering the end of February to early March. Keep in mind, Russia's invasion of Ukraine commenced on February 24th, so this shocking development was clearly top of mind for the consumers participating in this month's survey. This fresh news event may have weighed heavily on their thinking at that time.
On the other hand, this is the third straight month of decline, so other factors were clearly already causing a turn in the sentiment.