In the latest data on consumer confidence, The Conference Board reports a positive, if only "slightly" so (their words), uptick in consumer confidence readings in March as compared to the sentiment in February. The organization's Consumer Confidence Index (CCI), a widely followed read on how consumers are feeling about both existing and upcoming business conditions, is an important indicator of potential economic activity.
See more on this latest reading on consumer confidence
According to this latest report from the Conference Board, its CCI (1985=100) came in at a reading of 104.2 in March, a noteworthy if unimpressive increase of just .8 points as compared with the reading of 103.4 recorded in February. The organization reported an interesting divergence in the reading for March, between its Present Situation Index – a sub-index rating by consumers of current business and labor conditions – and its Expectations Index – consumers' rating of short-term outlook for income, business, and labor market conditions over the coming months.
In the March survey, consumers' ratings of their present situation actually worsened, coming in at a reading of 151.1, as compared to their rating of 153.0 in February. This obviously presented a bit of a drag on the overall index's final number.
Can an Uptick in Confidence Signal a Recession?
In the meantime, survey respondents read on their short-term future prospects actually came in at 73.0 in March, a more substantial 2.6 point increase as compared to February's read of 70.4. While this was the source of the overall CCI reading uptick, it still is viewed by the Conference Board as a bit problematic.
Why is the 2.6-point increase in the Expectations Index still considered problematic? The Conference Board explains in their report that this reading in March means that for 12 of the last 13 months – since February 2022 – the Expectations Index has remained below 80. And an Expectations Index reading of 80 or less usually signals a recession within the next year.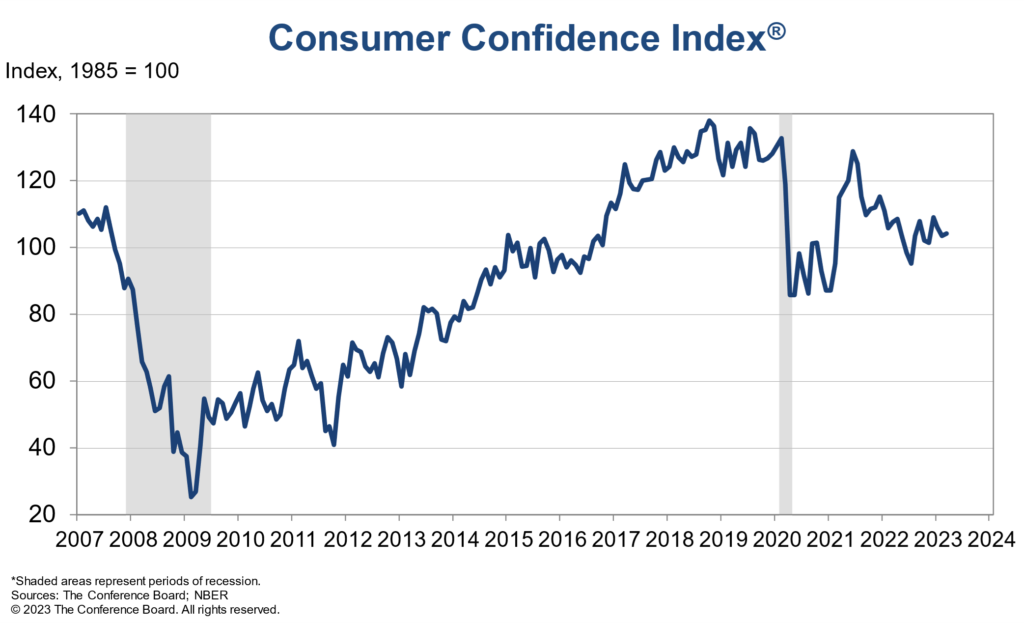 Timing – Within Days of Bank Failures – May Have Had an Unusual Impact
Driven by an uptick in expectations, consumer confidence improved somewhat in March, but remains below the average level seen in 2022 (104.5). The gain reflects an improved outlook for consumers under 55 years of age and for households earning $50,000 and over.

Ataman Ozyildirim, Senior Director, Economics at The Conference Board
It is possible that the time period that the March survey was conducted – it ended March 20th – may have unduly influenced consumers as this was just about ten days after the sudden and shocking failures of two significant banks in the U.S. And after that, a period of global bank concerns ensued. These factors may have contributed to the downturn in the Present Situation Index.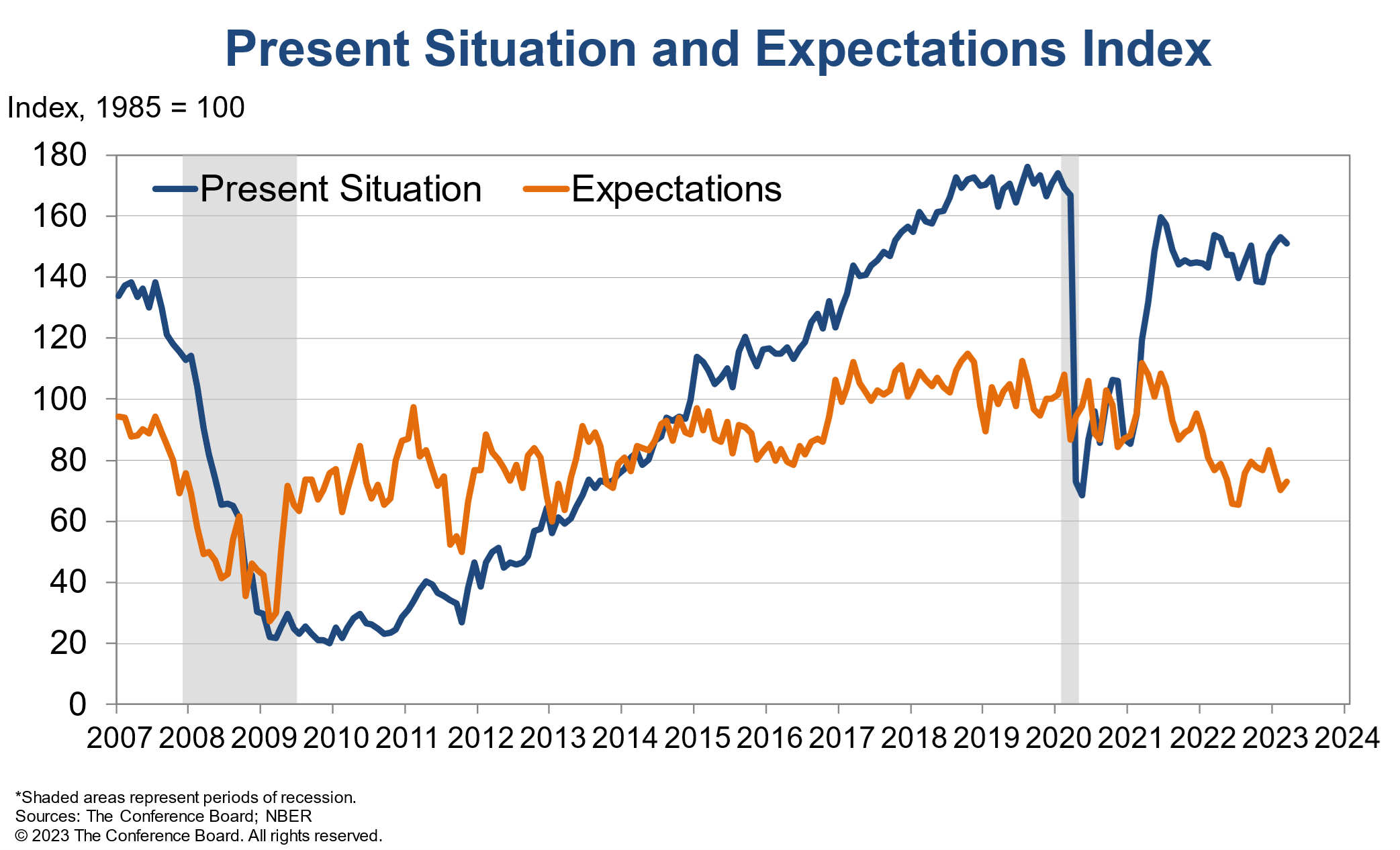 While consumers feel a bit more confident about what's ahead, they are slightly less optimistic about the current landscape. The share of consumers saying jobs are 'plentiful' fell, while the share of those saying jobs are 'not so plentiful' rose. The latest results also reveal that their expectations of inflation over the next 12 months remains elevated—at 6.3 percent. Overall purchasing plans for appliances continued to soften while automobile purchases saw a slight increase.

Ataman Ozyildirim
TCB Asks a 'Special' Question to Elicit Consumer Spending Plans
The Conference Board revealed that in March, they asked a special question that is not normally part of their regular monthly survey. That question was, "Over the next 6 months, do you expect to spend more or less in the following activities/services?"
The answers offered by survey respondents were interesting.
Consumers Expect to Hold or Cut Spending in the Next 6 Months
For each of the categories, the largest response was that over the next 6 months, consumers expect they will spend "Same as this month." However, it is easy to see that by looking at the graphic above, many respondents report they will spend less in the next six months. The Conference Board notes that consumers plan to spend less on "highly discretionary" categories such as playing the lottery, visiting amusement parks, going to the movies, personal lodging, and dining.
But consumers do plan on increased spending on less discretionary categories, such as health care, home or auto maintenance/repair, and more economical entertainment options like streaming.
Learn more about the Conference Board and the data they collect by visiting conference-board.org.