Association Breaks Ground on $14 Million HQ Building
CEDIA announced today it has broken ground on its previously revealed new $13.7 million headquarters building being built in Fishers, Indiana. The project is expected to take about a year to complete, with the organization taking residence in November 2018.
See more on this move by CEDIA…
In a ceremony held at the site today, Fishers Mayor Scott Fadness, representatives of architect American Structurepoint and Mayer Najem construction joined the CEDIA staff and leadership for the official groundbreaking.
CEDIA officially revealed the plan to build a new headquarters building just a few months ago in June. However, the Indiana Business Journal (IBJ) had written an article about the plan – and we reported on it here – back in April 2017.
Controversy About This Project
There has been some controversy associated with this project. As revealed in the IBJ article, the town of Fishers had enacted specific zoning requirements in the area where the association chose to build that precluded sales to tax-exempt entities like CEDIA. In order to go forward with their headquarters, CEDIA would need to agree to pay taxes of at least $141,710 minimum per year. Apparently, after they "explored all options," CEDIA agreed to that, Board Chairman Dennis Erskine told us in a telephone interview.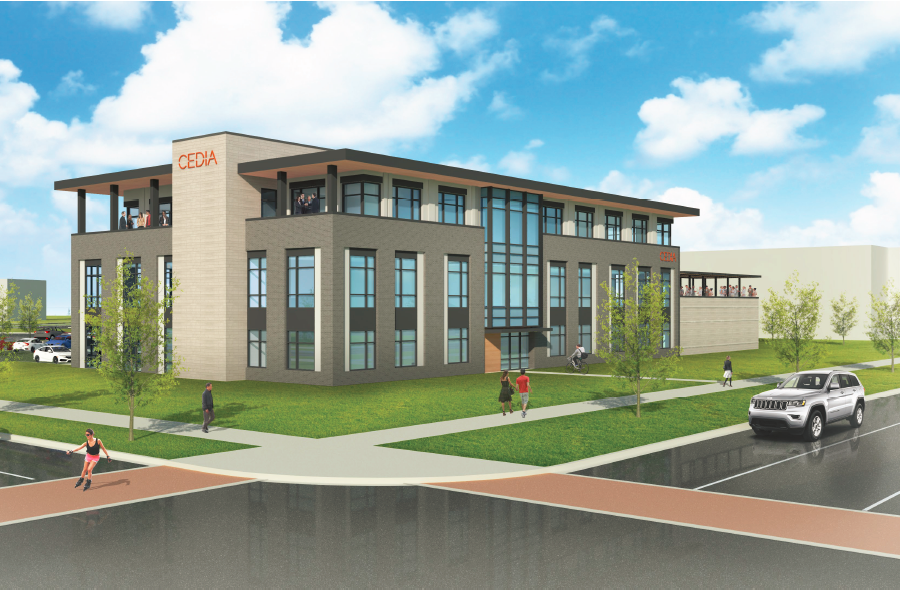 The new headquarters building is planned to be 40,000 sq.ft. spread over three stories. CEDIA says the association will take 30,000 sq.ft. for its operations and lease out the additional 10,000 sq.ft. to unrelated third parties.
Offices, Training Facility, and an 'Experience Center'
The new headquarters will not only provide office space for the staff, but also will include a "world-class" training facility, and an experience center.
"We are incredibly excited about this next chapter for CEDIA," said Dennis Erskine, CEDIA Chairman in a prepared statement. "The new global headquarters will be a wonderful facility for staff and members alike that truly represents the best our industry has to offer."
Fishers, IN is near Indianapolis where the association is currently based. The new property is located at 106th Street and Kincaid Avenue in Fishers. As the lease on the current building expired at the end of October 2017, CEDIA will continue to lease it on a month-by-month basis until their new headquarters is completed late next year.
See more on CEDIA at www.cedia.net.