'We Do Anticipate Membership Will Be Down in 2018'


Last week, I posted an extensive report on CEDIA's annual State-of-the-Association presentation which took place last month via a webinar for members. Certain staff and board members offered a long and detailed presentation on the many aspects of the Association's activities in 2018. As I said then, it at times felt more like a sales pitch, than a report to members, but nonetheless they did have much to talk about.
However, my antenna went up when a chart of the number of members was shown, seeming to indicate a signficant decline. I followed up with CEDIA after the presentation for clarification – and now we know – CEDIA membership has most likely declined in 2018.
See what I learned about the state of CEDIA membership in 2018…
The tightly scripted presentation was longer than usual for this annual wrap-up – with many topics and initiatives presented with quick status updates. There was a lot to cover as my nearly 2,500 word report would indicate.
As is normally the case in presentations like this, important topics tend to get deeper treatment requiring more time, while secondary topics get brief summaries. But the topic of membership levels seemed to me, to be an important one. Tabatha O'Connor put up a slide that showed the historical levels of membership and there, staring me in the face, was a bar chart which seemed to show a significant decline in the level of membership for 2018. What?!?!
Isn't a Drop in Membership Concerning?
Given the changes taking place at the organization, I would think a drop in membership would be a highly concerning sign. As I said in my post:
But what caught my eye is that the 2018 year-to-date membership level was shown as 3,484…down 267 members or a little over 7% off. This was shown to be the lowest level of membership since pre-EMEA days in 2013 (3,224 members).
A 7% decline in membership in just one year seemed as though it should be a pretty big deal…begging for an explanation by the Association management. But O'Connor really just kind of glossed over that – saying simply that they expected that number to increase by year end. She then quickly jumped to extolling the fact that CEDIA is now a global organization.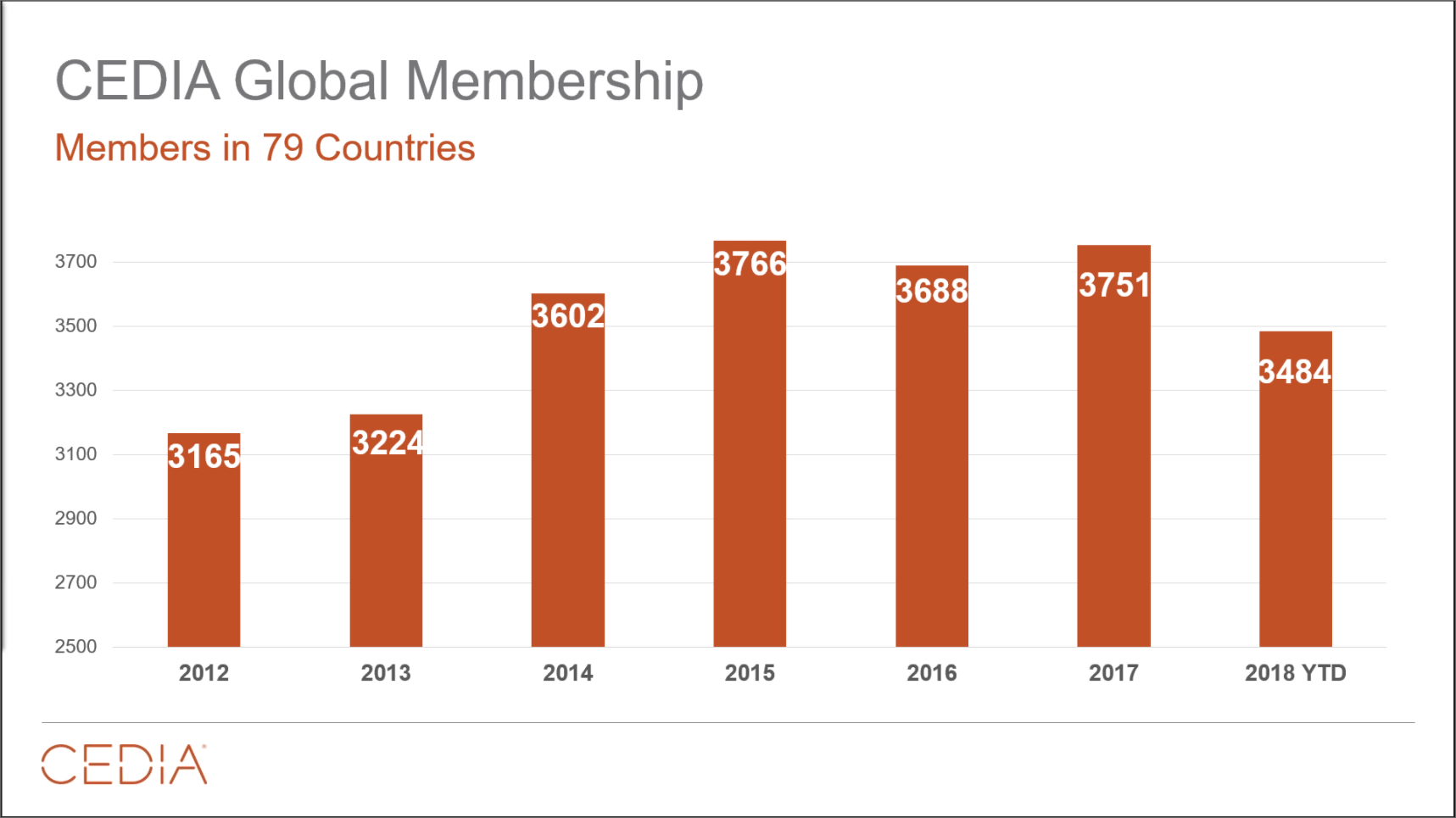 Campaign for 2019 Membership is Starting; 2018 Campaign is Ending
Did I miss something? I reached out to the Association after the presentation and was initially told what Jenny Scott had said in response to a question I had sent during the presentation – that their membership drive had just opened up and they expected to see levels come in at about the 2017 number.
But this just confused me more… The membership drive that has just opened up is for 2019 membership…not 2018, or at least, so I understood. But again, perhaps I was just confused.
Then, in a later email response to my question from Cris Pyle, Vice President of Marketing and Industry Relations, I learned that, "Members can continue to renew their membership until year's end for 2018 so some will and that number will grow, however, we do anticipate membership will be down in 2018."
This New Response is Materially Different
This response is materially different from what the Association presented in their webinar to members, in which they made it sound like this was a normal pattern – with Scott saying they expected 2018 membership levels to equal 2017. I would think if a member has not renewed their membership by this point in the year (now December), they are unlikely to do so.
Why is membership down?
"With our strategic shift in 2018, we were prepared for some to take a wait and see attitude," Pyle said in her email. "We don't think it is uncommon, and we anticipated, some decrease with as big of a shift as we've made, but we are confident CEDIA is on the right path. As an industry association, the work we are focused on now – education, standards and industry outreach – is going to make the difference in the future for the health and wellbeing of our industry and our members' companies.

"Other things that may be playing into this are consolidation within the industry and our global integration where some trade supplier members were able to merge their two memberships into one."
Incredibly Proud
CEDIA is surely in the midst of a fundamental shift in strategy. The Association has merged their operations globally, sold off their show, built a new headquarters building, conducted a year-long strategy review, announced their new three-pronged go-forward strategy, purchased a design software platform to be sold to members at a discount, purchased a rep-backed trade show, and launched all new educational initiatives.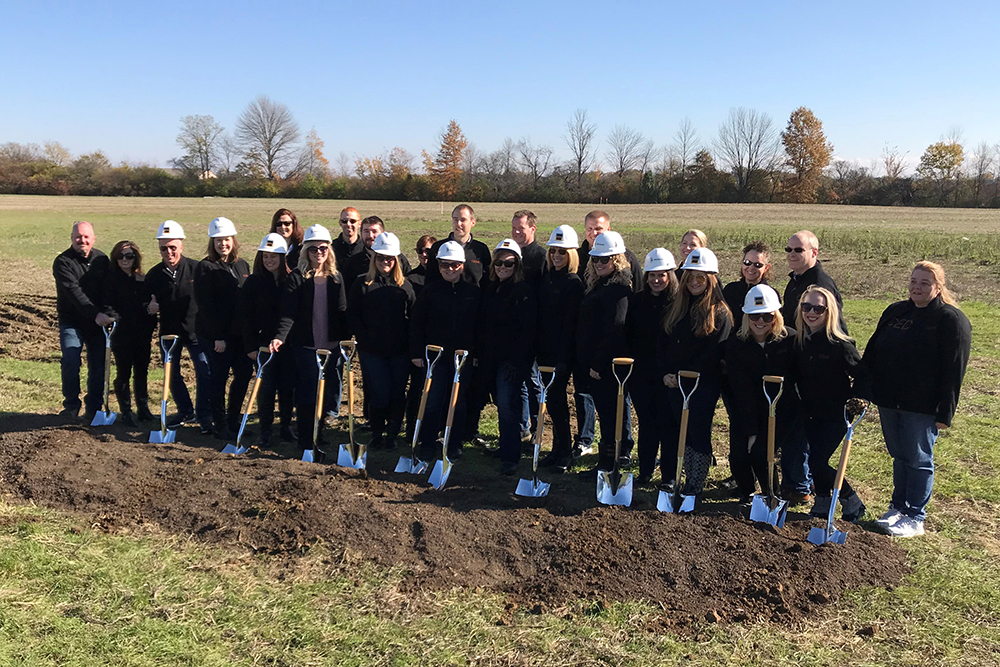 It is those enhanced educational initiatives that CEDIA is banking heavily on to drive its value with members in the future. Newly hired education head Tom Darling is overseeing an initiative to drive a hybrid program combining the best of online education with face-to-face sessions.
"We are incredibly proud [of] what we have been able to accomplish this year," Pyle wrote. "We have more benefits to offer our members than ever before, with more to come in 2019, especially in the education area. We are devoting significant resources to ensure our members can access CEDIA education no matter where they are in the world, and that there are many opportunities to interact face-to-face. CEDIA's role is to be the catalyst that brings the community together year round, not just at CEDIA Expo, which is why we will be on the road at over 100 events next year."
Maybe the Drop in Membership Will Be Temporary
The Association promoted all of those initiatives throughout 2018. But perhaps the purest form of voting on these changes in direction by the membership is that hundreds of members let their membership lapse.
Maybe that will be temporary… Maybe…
Perhaps serving as a poignant counterpoint to the change in direction at CEDIA – a couple of days after my story posted last week, a comment was left by "GJP" that expresses some opinions that others have shared with us privately. The commenter says that, "We have been CEDIA members since Amelia Island and will not be renewing our membership for 2019. In our humble opinion, the current leadership is unqualified to lead the Association."
We Didn't Know the Commenter…But We Knew the Sentiment
We did not know this commenter at the time, but we know their sentiment – as it is one I've heard dozens of times. GJP noted that the thought of leaving an organization that they have been a part of for so many years caused them to feel "torn," so they turned to their employees to see what they thought. Surprisingly, they learned that "the majority of our employees agreed that there is almost no value to being a member any longer."
See all of GJP's comments by going back to our post CEDIA Tells Members Everything is Fine; But Is It? and scroll to the bottom Comments section.
What do you think? Is CEDIA on the right track? What do you find most compelling about CEDIA's new strategic initiatives? What would you like to see from the Association? Share your thoughts in the Comments section below…
See more about CEDIA by visiting: www.cedia.net.