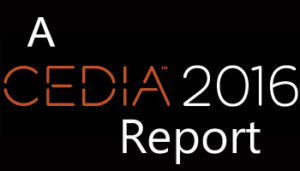 CEDIA 2016, like every trade show, for us is like trying to get a sip of water from a fire hose. There is just so much going on. And since all stories interest us – we have to go into a kind of marketing triage, quickly sorting those stories that we feel are the most compelling.
So, in this post, we want to share with you some of the more interesting things – and people – we saw and chatted with on the show floor.
See some of the notable people and products we saw at CEDIA 2016…
If you don't see something mentioned here that you think should be here, it could be we simply couldn't get to everything on the show floor. Between the hundreds of exhibitors, we also had to cover a several major stories, like the Sonos integration partners and the new Amazon Echo/Alexa story.
And, it could be possible we did see your item, but didn't come away as equally impressed. Feel free to leave comments in the section below this article with your favorite find on the show floor.
Autonomic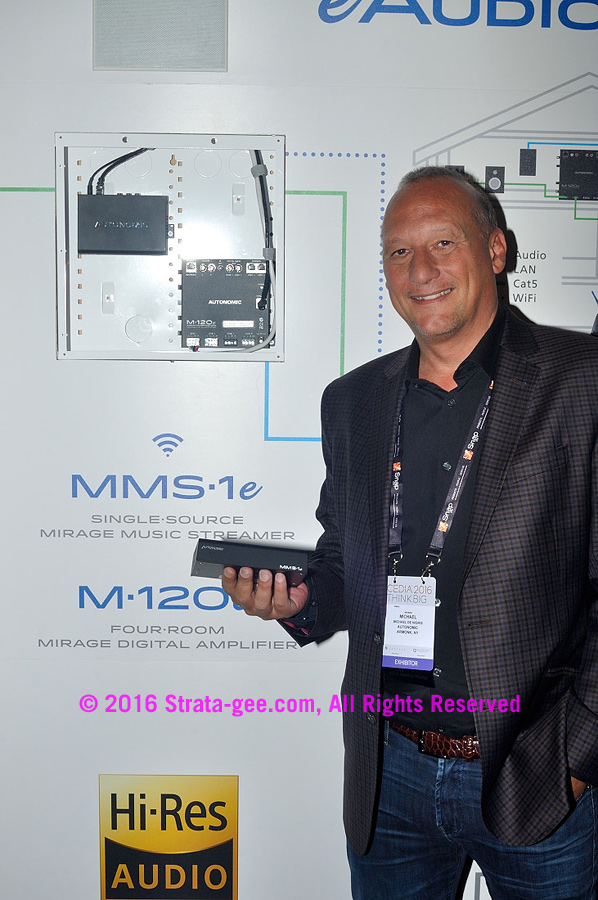 For some time now, we've been following Autonomic, an interesting company that seems to hit the sweet spot between performance and value with their network based multi-room music systems. At this show, CEO Michael de Nigris, like a proud papa, showed us the remarkable MMS-1e – an innovative, compact, single- or dual-stream (when used with Autonomic's M-120e amplifier) music streaming solution that opens up potential new applications for integrators.
At CEDIA 2016, Autonomic set up several scenarios where the MMS-1e was paired with their M-120e 4-zone amplifier to demonstrate the incredible flexibility of the system. It was impressive.
Don't let it's small footprint fool you – this little MMS-1e streamer can definitely rock the house. Using what Autonomic calls its proprietary eAudioCast streaming technology, integrators can use a simple category cable to distribute high quality audio. The MMS-1e can stream hi-res audio up to 192kHz, 24-bit resolution. When paired with the equally diminutive M-120e, you have a full-fledged, 2-stream, 4-zone, state-of-the-art solution with a suggested MSRP of $1,995.
See more on this cool product at www.autonomic-controls.com.
Middle Atlantic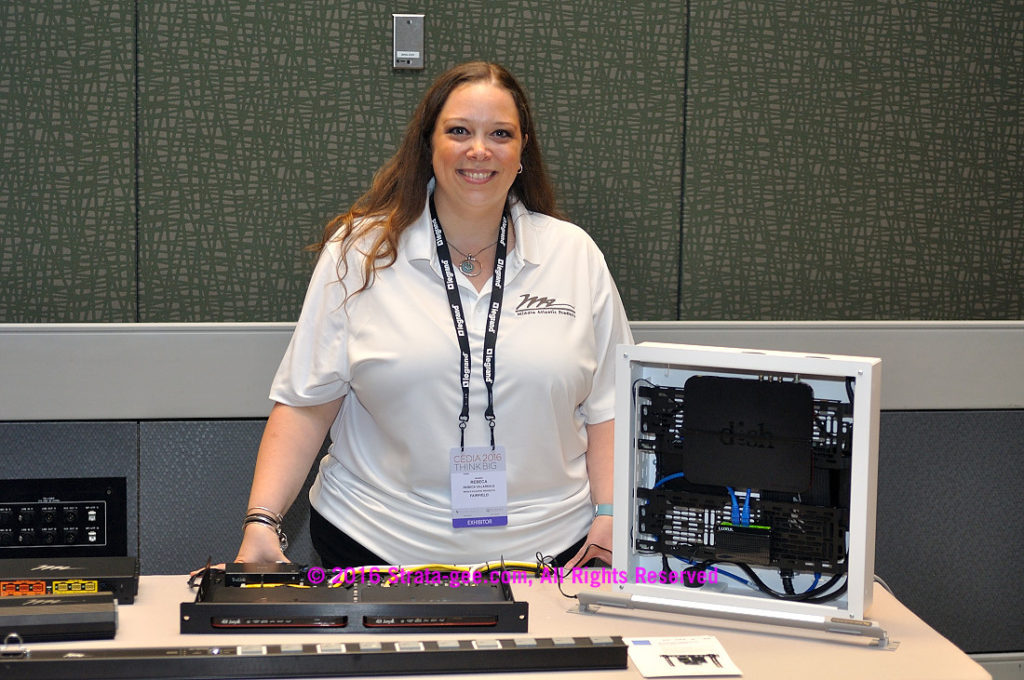 Middle Atlantic Products, part of the Legrand group of companies, always seems to delight us with clever and useful solutions – and this year at CEDIA, they did it again. Middle Atlantic's Marketing Manager Becky Villareale, one of the nicest people in the business, reached out to us to show off some of their clever products.
While they had many interesting new products, we particularly liked the well-designed Proximity in-wall box. Well-engineered, this back box offers multiple levels of mounting surfaces, tool-less mounting plates (the small box comes with 1 mounting plate, the large box comes with 2) using their Lever-Lock™ technology, and it accepts Middle Atlantic's compact power products. Very neat – it will make you an installation hero with it's clean, behind the TV mounting solustions that you can stuff full of network, satellite, cable boxes, etc.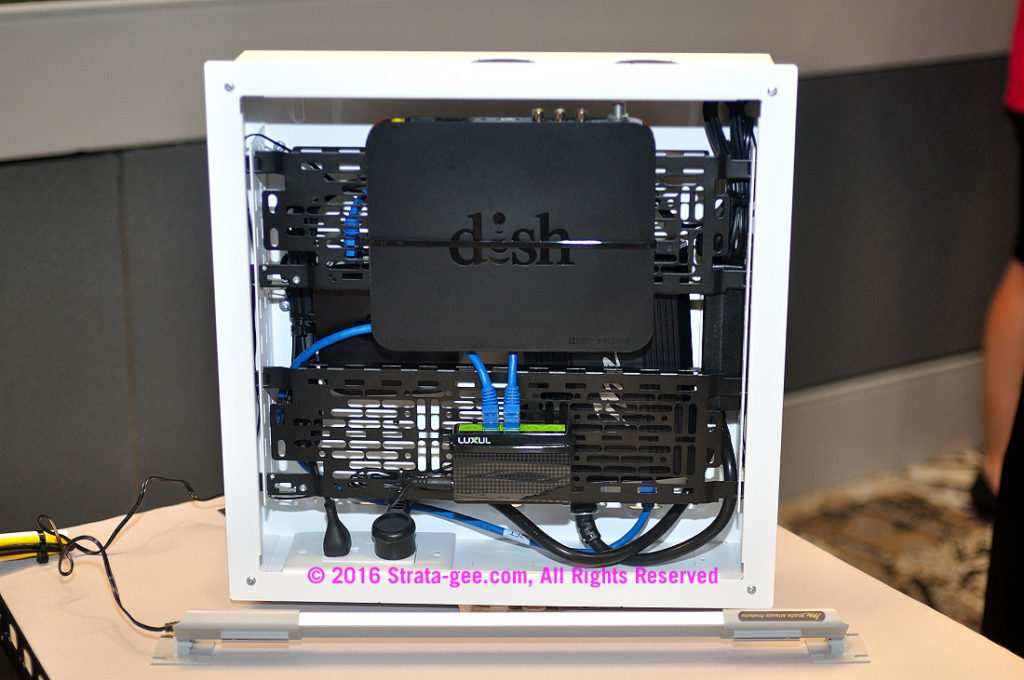 We also liked a very well-designed and handy power strip for your racks called the Select Series PDU with RackLink™. These smart power solutions offer "intelligent power capabilities" the company says. There are five models (2-, 4-, 9-, 10-, 16-outlets) in the line that are said to be easy to set up, with pre-emptive problem notifications and automatic problem resolution. They interface with third-party control solutions for expanded capabilities.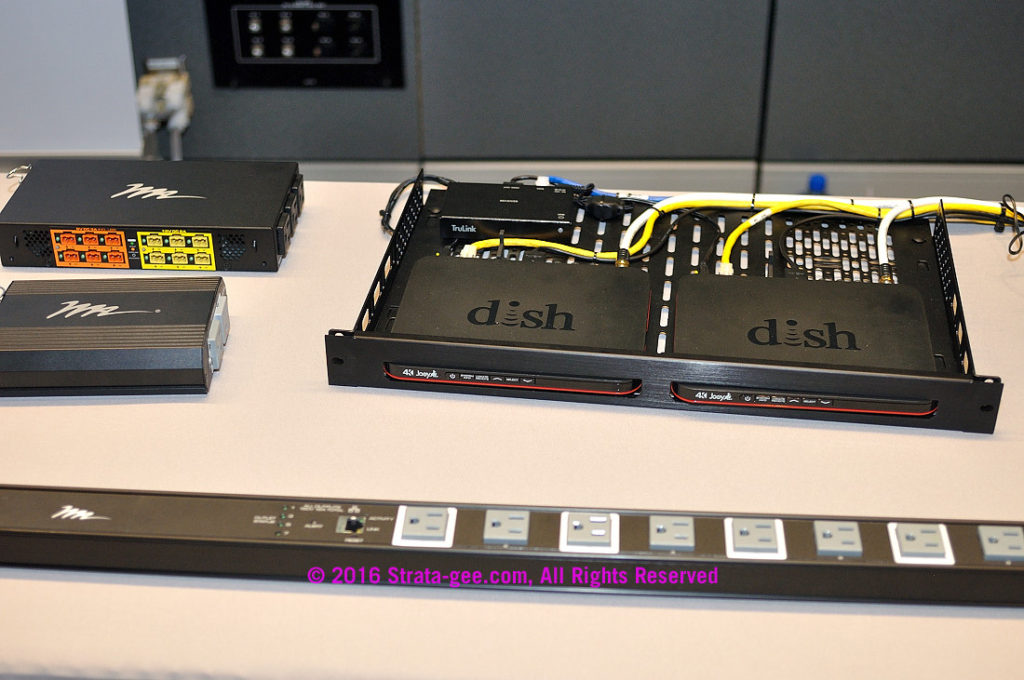 Finally, we liked a new 1U rack shelf that facilitates mounting some of the smaller devices you need in your installation, but want to put in the rack in the equipment room. This model is part of their RSH Series custom rack shelves. Utilizing MA's UMS mounting pattern, integrators have a choice of 8- or 11.5-inch depths.
Learn more about Middle Atlantic's new products at: www.middleatlantic.com.
TiO/Anuva Automation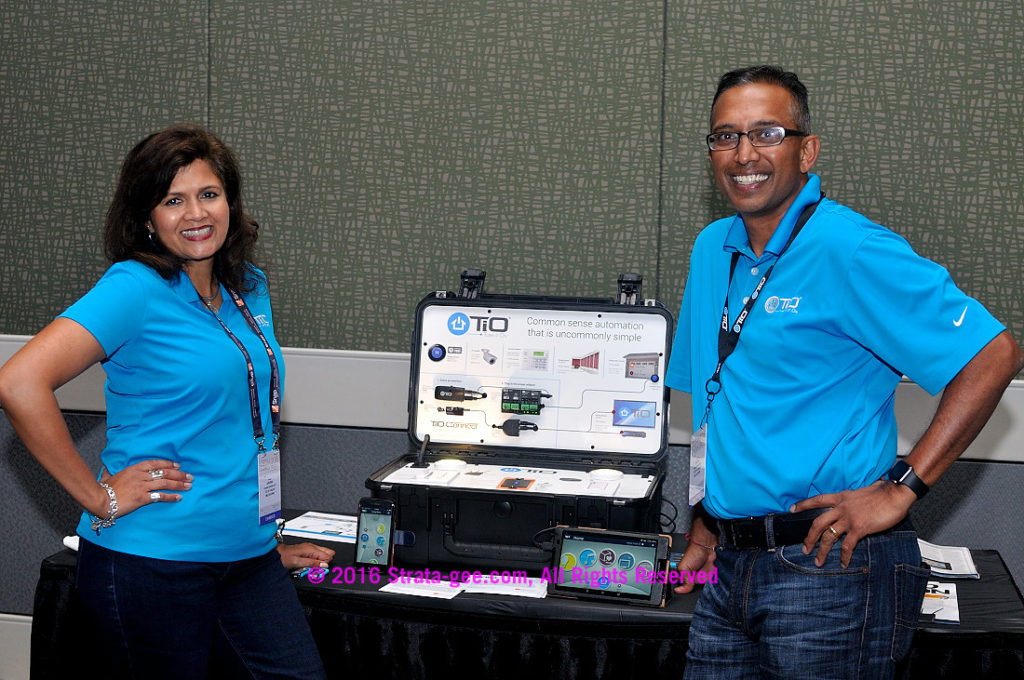 TiO had a new and larger booth that seemed to us to be consistently busy. The company has continued to advance the capabilities of their innovative TiO wired and wireless multi-room automation solution. For this event, the company has updated the software again to version 4.0.0 with several important new features added.
First, the company will add a remote access provision that will allow TiO end users to access their systems from anywhere in the world and control certain functions, such as lighting, climate, security, garage doors and more. Although end-users will need to sign up for an account to engage remote access, TiO will offer these accounts at no charge.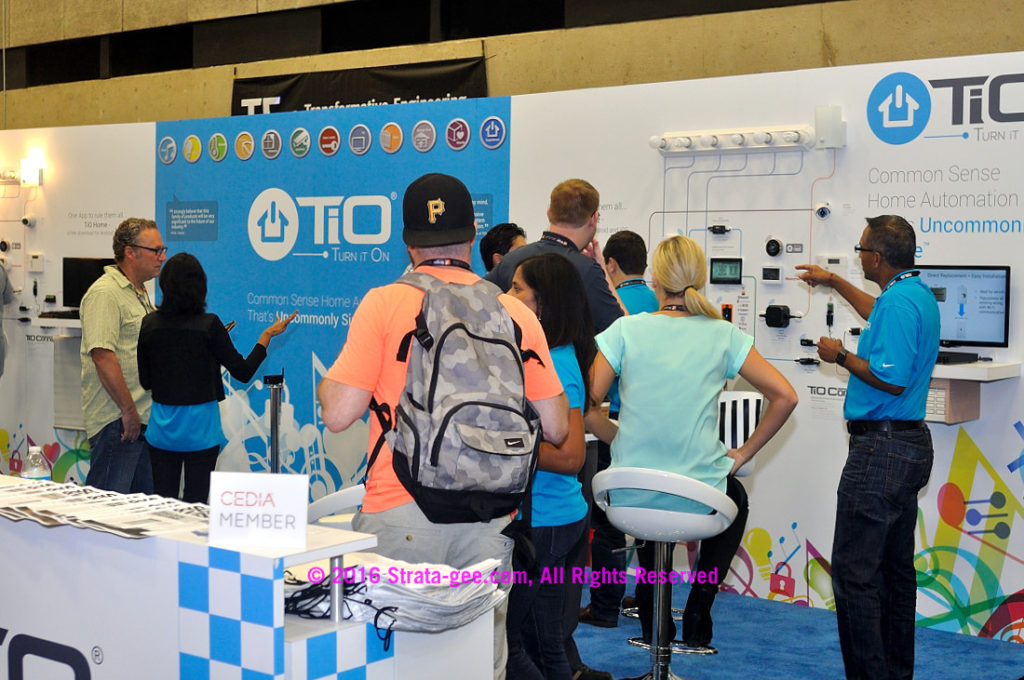 The new software upgrade also brings an important new feature to the company's popular StealthStream1 audio player. Currently, a user needs a system based on a Master Commander interface between your various devices and your wireless router. But with TiO 4.0.0, SS-1s can operate in a stand alone mode – with no need for a master commander.
TiO continues to update capabilities of their system.To see more on TiO/Anuva Automation, visit: www.tiohome.com.
The DaVinci Group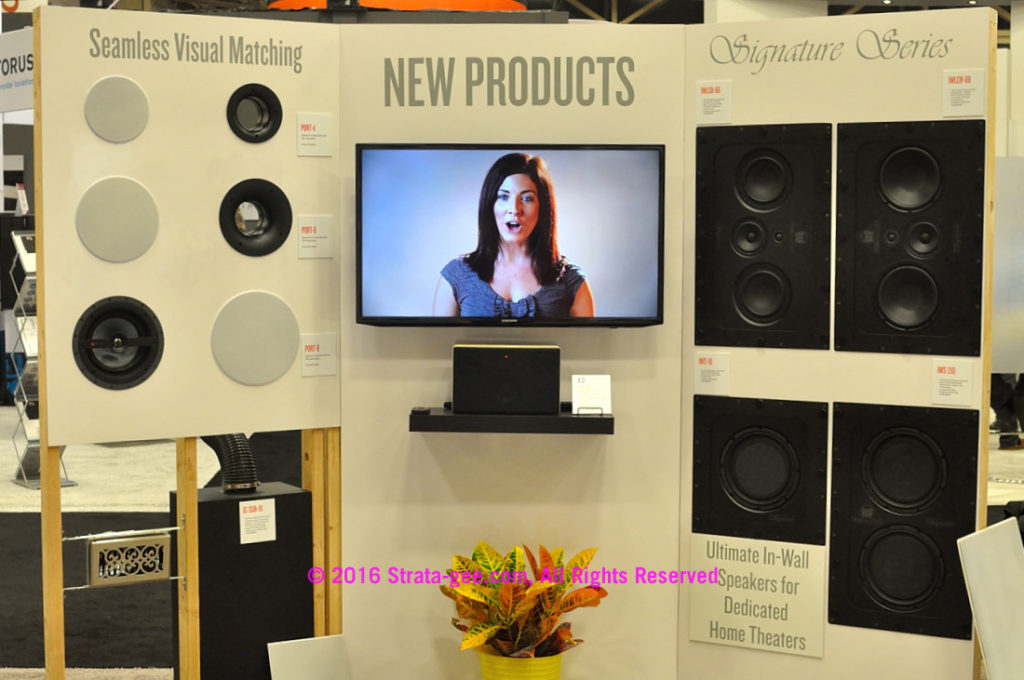 The DaVinci Group showed several new models at CEDIA 2016, including an expanded Outdoor Audio assortment, a new in-ceiling subwoofer, and their new Signature Series in-wall dedicated theater speaker system.
We are particularly impressed with the company's Signature Series. According to the company, this new series of in-walls were designed from the ground up for a dedicated home theater scenario. The company calls it the finest in-walls they've ever designed featuring the IWLCR-88 in-wall left/center/right speakers with dual 8″ woofers (and IWLCR-66 with dual 6″ woofers) and IWS-210 in-wall subwoofer with dual 10″ woofers (and IWS-110 with 1-10″ woofer).
The Signature Series bridges the gap between theaters using traditional box speakers on the floor – and standard in-wall/in-ceiling speakers more appropriate for distributed audio systems. The company tells us that the Signature Series has been well-received by TDG dealers.
TDG also introduced a new in-ceiling subwoofer called the IC-SUB10. This is a 10″ subwoofer mounted into a heavily dampened bandpass cabinet that can be mounted hidden in the ceiling or wall. A flexible tube directs the bass frequencies to a port. TDG has designed multiple ports in sizes meant to match popular in-ceiling speaker sizes for a perfect visual match.
Learn more about The DaVinci Group and its products at: www.tdgaudio.com.
Rosewater Energy Group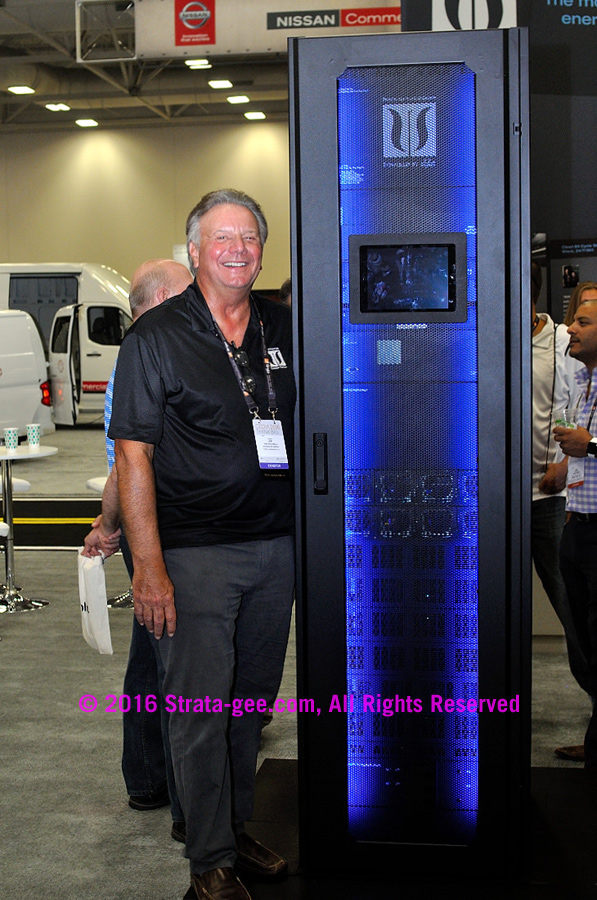 At CEDIA, we made sure to see Rosewater Energy Group, whom we've followed since their initial launch. Rosewater offers industrial grade energy solutions, including power management and power conditioning, for premium residential environments. Founded by Joe Piccirilli, Rosewater has tapped into the growing interest in power solutions to both protect installations and offer backup energy in the case of power brown- or black-outs.
Rosewater's system is built largely on its HUB, which is a hardware/software energy management system. For CEDIA 2016, Rosewater announced an updated design with greater capacity – 14.4 kilowatt hours of energy storage, versus the original version's 12 kilowatt hours of storage.
The company has also launched a companion supplemental battery with the plain vanilla name of the Extra Battery Pack (EBP). An EBP will double the storage capability of your HUB.
The company is said to be working on some software upgrades that will expand the system's capabilities. Learn more about Rosewater Energy Group at: www.rosewaterenergy.com.
Future Ready Solutions
Eric Bodley, founder of Future Ready Solutions, is on a mission. Future Ready Solutions (FRS) is a provider of advance connectivity and networking solutions for the custom integration segment. As video technologies advance, there is immense pressure to find a connectivity solution that can reliably deliver compression-free, high resolution, high bandwidth signals across an entire system installation.
One solution that FRS suggests for mission-critical installations is to use fiber optic cables to carry the signal. But many integrators are skittish about fiber optic – uncomfortable with the unfamiliar format.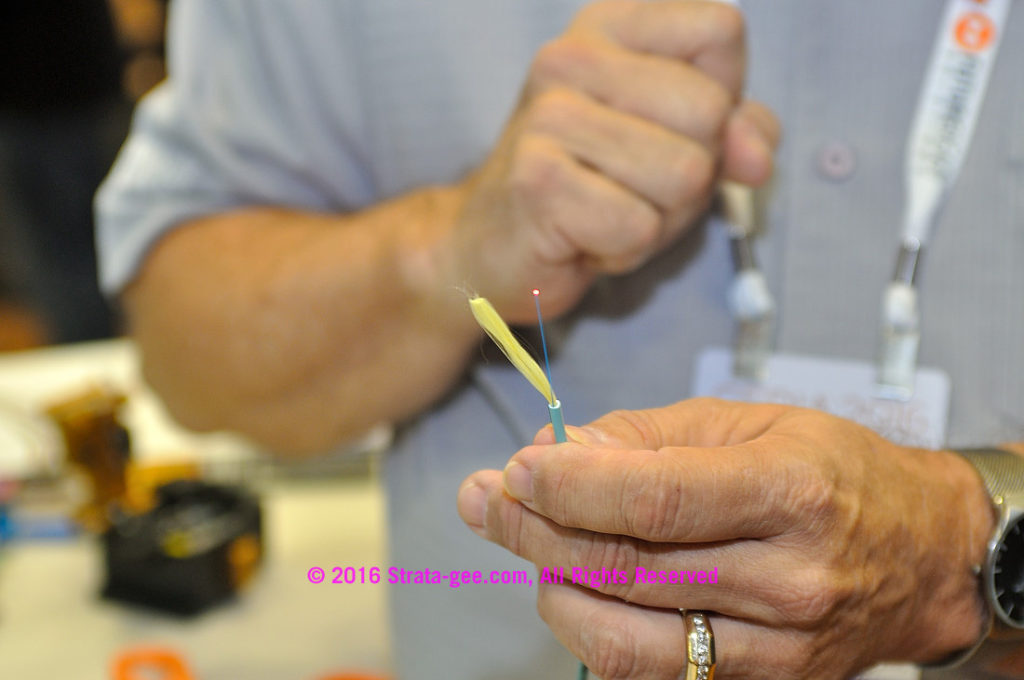 At CEDIA 2016, Bodley was personally conducting a demonstration on how easy it is for integrators to field terminate custom length fiber optic cabling. Many integrators didn't even know that this was possible, while others are intimidated by the prospect.
"There is nothing to fear," Bodley told us. "As long as you have the right tools, it's really quite simple."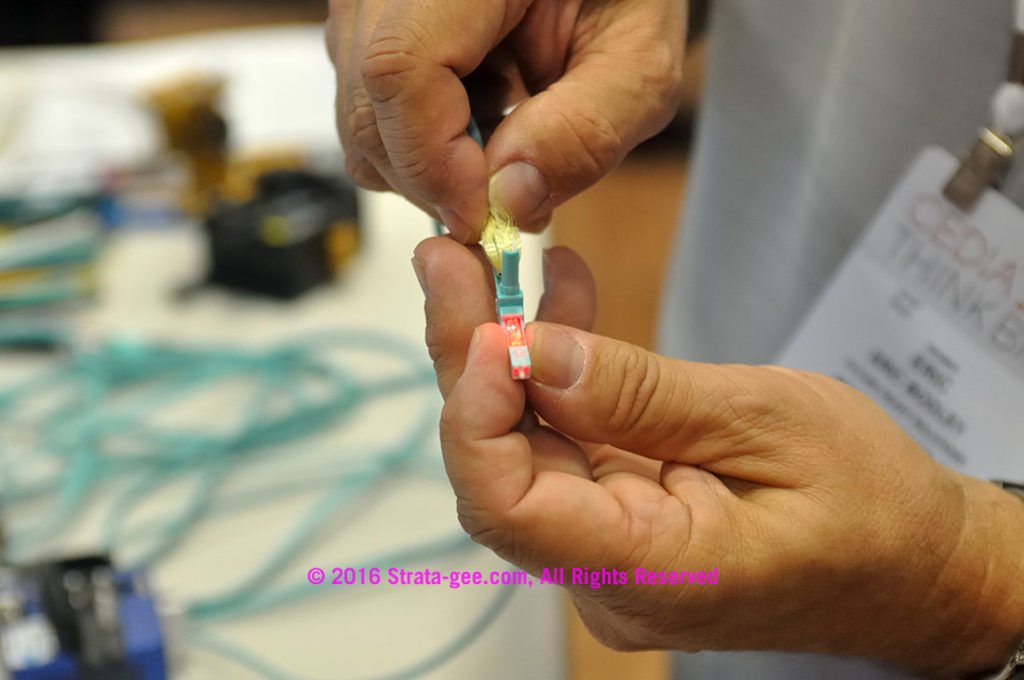 We watched as Bodley demonstrated the process to an interested integrator. Even though we were photographing every step, something that can make demonstrators nervous, in just a matter of minutes, the confident Bodley had completed a manual termination in fiber optic.
At the show FRS had a booth full of solutions including some very interesting networking gear that he is recommending to integrators.
To learn more about Future Ready Solutions, see: www.futurereadysolutions.com.