Bryston Ltd., a well-regarded manufacturer of high-end audio and home theater gear, announced on Wednesday that it has partnered with Azione Unlimited, a nationwide buying group of integrators. The move looks to expand their potential network of dealers here in the U.S.
See more on this Bryston and Azione partnership
Based out of Peterborough, Ontario, in Canada, Bryston has a long history of producing very high-quality and reliable electronics – both analog and digital – such as amplifiers, preamplifiers, Digital-to-Analog Converters (DACs) and more. More recently, the company has added a line of active, passive, and wireless speakers.
The company takes great pride in its Canadian roots as it notes in its announcement that its products feature "legendary Made in Canada quality" that is also "backed by unsurpassed customer service."
Bryston beautifully completes the Azione vendor mix by adding an impressive lineup of world-renowned audio electronics, including their outstanding 20-year warranty on amplifiers and preamplifiers. We are delighted to partner with such an august brand and look forward to working with their team as we integrate Bryston into the Azione family."

Richard Glikes, Azione's President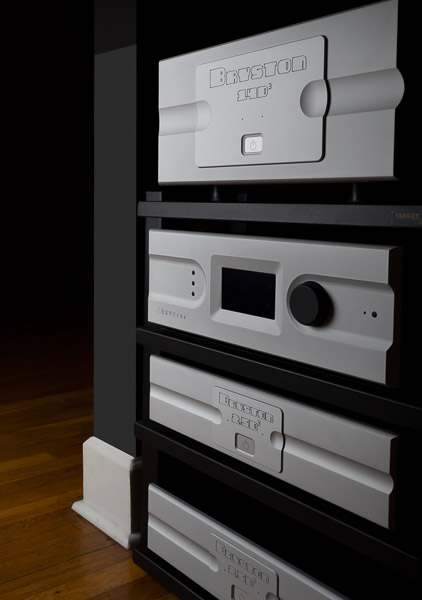 Bryston products are an obvious choice for those seeking the finest, audiophile-grade, two-channel music listening systems, or the most exciting, room-shaking, multi-channel home theater solutions, or the most enjoyable, custom-installed, home filling multi-room distributed audio solutions. With an enviable reputation among recording engineers and musicians for offering the optimal balance of purity and longevity, audiophiles are known to hold on to their units for decades of enjoyment.
The Bryston team is excited to work with top integration firms within the Azione community. We are committed to providing the training and fine support services to go along with our legendary music and home theater systems."

Dave Kakenmaster, Director of Sales for the U.S.
Any dealer interested in hearing more about Bryston should contact Dave Kakenmaster at: dkakenmaster@bryston.com.
Learn more about the Bryston company and its products by visiting: bryston.com.