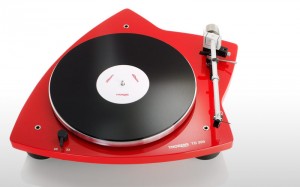 Azione Unlimited, a national dealer buying group, announced earlier this week that it has added Thorens turntables to its vendor lineup. Thorens is distributed in the United States by Vancouver, BC-based Rutherford Audio, who also has outlets in Seattle, WA and Denver, CO.
See why Azione is excited about adding Thorens, one of the oldest names in audio…
For those of us old-timers in the industry with a background in audio, Thorens is a well-known and regarded brand as a supplier of high quality turntables. The company still makes turntables and a small assortment of various electronics as well.
According to Azione, the group had a hole in their line-up that Thorens fills quite nicely. This hole is the result of a resurgence of interest for turntables by consumers…a trend that has been confirmed by CEA market data.
"Great businesses are built on great relationships," said Richard Glikes, President and COO of Azione Unlimited. "Azione Unlimited had a specific need for a high quality turntable supplier and as fate would have it an old rep friend brought Norm Steinke, director of sales for Rutherford Audio, and an old friend, in to see me… So here come two friends, a great brand, and a hole in our product mix all coming together at the same time. We are thrilled to announce our exclusive buying group program with Thorens and Rutherford Audio."
For more information on Thorens turntables, see: www.thorens.com.
And to learn more about Azione Unlimited, see: www.azioneunlimited.com.