Move to Drive Share of Commercial Channel

AudioControl, a scrappy and innovative maker of electronics solutions for residential, commercial, and automotive applications, said today that it will show its commercial products at InfoComm 2018 taking place next week in Las Vegas, NV. Although the company has been involved in the commercial market for years, this is the first time they've displayed at InfoComm in a bid to further build their share of the commercial channel.
See more on this bold move by AudioControl…
The company says the decision to participate in InfoComm is really designed to show the company's firm commitment the commercial channel, and to proactively takes steps to build their share of the segment. To punctuate the point – the company will launch a new series of 70-volt amplifiers to be shown for the first time at this InfoComm.
AudioControl's new CM series of amplifiers, brings a unique combination of bullet-proof construction along with unique and proprietary features offering an uncommon level of flexibility to handle just about any commercial venue or installation challenge – from Huddle Spaces and Boardrooms…to Houses of Worship and Hospitality. These added capabilities include flexible signal matrixing and AudioControl's renown DSP sound-shaping capabilities.
Power to Spare
AudioControl's new CM series includes three models: the CM2-700, CM3-700, and the CM4-700 – which will be first out of the gate. All of these amplifiers are based on the same platform. The four-channel CM4-700 offers 750 watts of power in 70/100 volt mode, 500 watts at 8-ohms (stereo or mono) and 750 watts at 2- or 4-ohms. Impressively, it pumps 1500 watts bridged into either a 70/100 volt  and 8- or 4-ohm load. Have a large outdoor space to cover? No problem!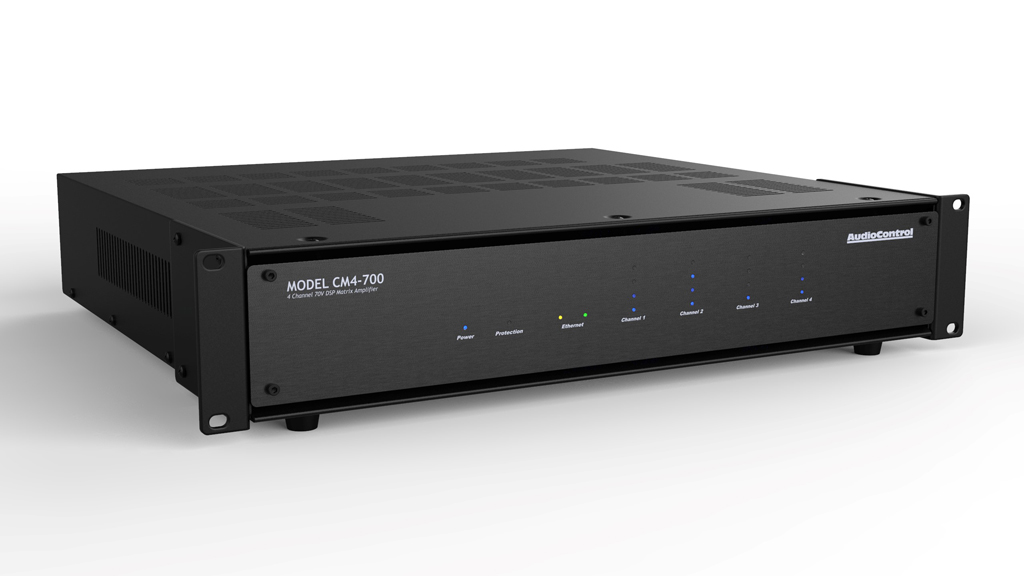 As is typically the case, AudioControl offers connectivity galore – including eight analog inputs (four stereo) and four digital stereo inputs…with digital coax and optical. The company says the four channel outputs can either be operated individually or, for maximum configuration flexibility, they can be alternatively operated as two stereo pairs.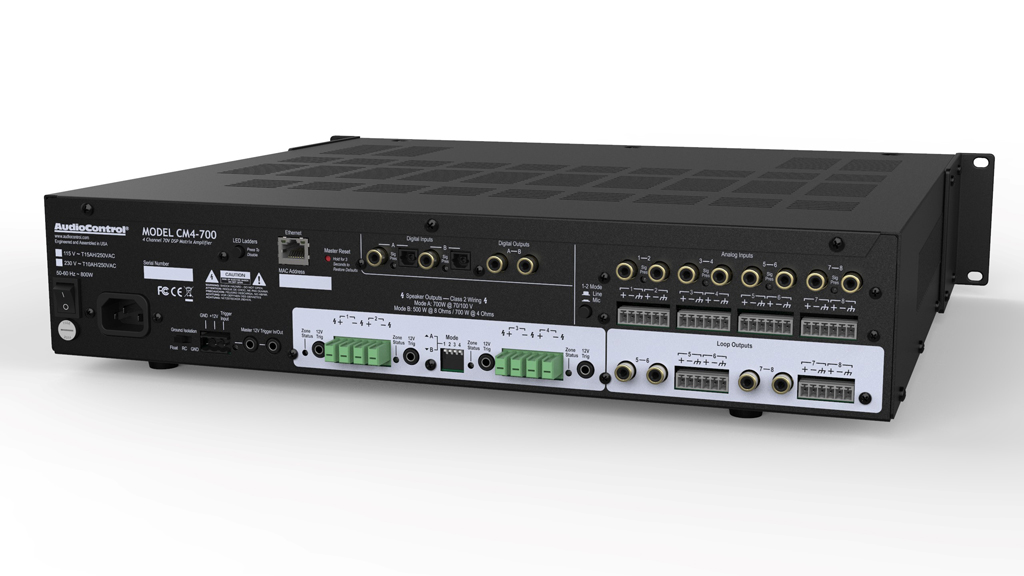 DSP Offers a Quicker Path to a Better Sounding System
The CM series includes DSP capability, including built-in speaker profiles for many popular brands of speakers, such as Dynaudio, Graysound, James Loudspeaker, Monitor Audio, Nuvo, and more. These companies have all partnered with AudioControl as part if its Sound Partner Program, and the inclusion of their speaker profiles greatly speeds up the process of optimizing the sound of your installation. In addition to this, the included DSP also provides advanced graphic and parametric equalization, along with onboard crossovers, giving integrators all the tools they need to design a better sounding system.
To make life even easier, integrators can perform common functions – such as setup, diagnostics, and general system management – remotely, as it is IP addressable with a web browser…or also via an app available for PC, Mac, Android, and iOS.
"AudioControl has been expanding into commercial markets and as demand for our solutions has increased sharply, we decided that the timing was right to exhibit at InfoComm 2018," said AudioControl's CEO Alex Camara. "We are very much looking forward to productive meetings with A/V integrators, independent reps and other show attendees in booth N3139."
See It at InfoComm
If you are attending InfoComm next week, you can see AudioControl's new CM4-700 70-volt amplifier – as well as the rest of their line – in booth #N3139 in the "Integrated Life" section of the North Hall of the Las Vegas Convention Center from June 6-8.
AudioControl's CM4-700 has a "suggested client price" of $2,600 and will be available later this year.
Learn more about AudioControl and its extensive line by visiting: www.audiocontrol.com.