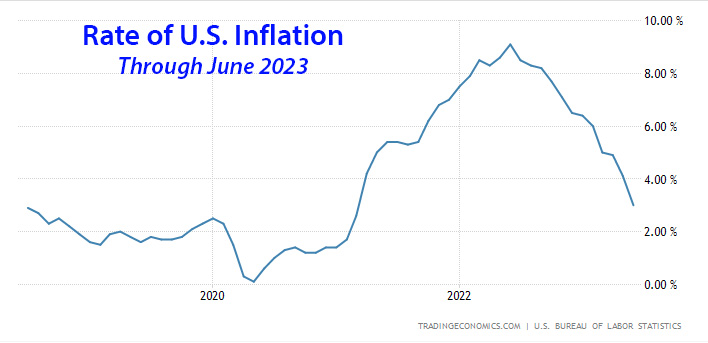 A key metric of the U.S. economy is consumer confidence – a reading of how confident consumers feel about the economy, both currently and in the near future. A confident consumer helps stimulate the economy by freely spending their money, as compared to an unconfident or insecure consumer who will instead pull back on spending to hold on to their money. Now, three major surveys that offer key readings on consumer sentiment in July show big gains in confidence – a bullish sign for the economy.
See more on how consumer confidence is soaring
There are three major surveys that track how the consumer is feeling about the economy – The Conference Board's Consumer Confidence Index (CCI), the University of Michigan's Index of Consumer Sentiment (UM-ICS), and Morning Consult's Index of Consumer Sentiment (MC-ICS). Economists and government regulators watch these surveys closely, as they truly have their fingers on the pulse of the consumer.
The really great news is that all three indexes have shown big gains in consumer confidence in July. In fact, the Consumer Confidence Index rose to 117.0, up strongly from 110.1 in June. It has surged for the last two months in a row, and this is the highest reading for the CCI in two years.
A Trifecta of Good News on the American Consumer
Similarly, the Morning Consult Index of Consumer Sentiment came in with a reading of 90, its highest reading since December 2021. And – not to be boring, but let's complete the trifecta – the University of Michigan's Index of Consumer Sentiment jumped to a reading of 72.6 in July. This is 13% higher than the reading of 64.4 in June and is its highest reading since September 2021. Are you sensing a theme?
It seems pretty clear that as inflation has dropped over the last several months, consumers are feeling relief from the previous period of ever-increasing prices on a wide range of consumer goods. With prices coming down, consumers' dollars stretch further and more can be bought for less. This is undoubtedly the biggest reason that consumers are finally feeling more confident.
Everybody Wins! – Confidence is Up at All Income Levels
But there is more really good news about this surging consumer confidence that multiple agencies reported on. First, confidence was up sharply among those consumers who earn $100,000 and up annually. But in fact, two of the three surveys report that ALL income ranges saw an increase in confidence levels. In the past couple of years, those income levels often diverged.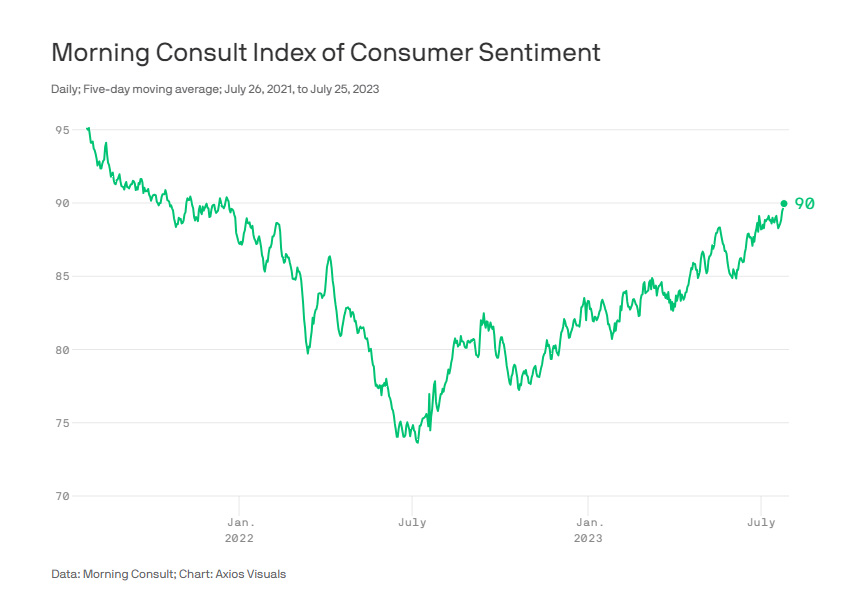 Analysts say that the upper-income groups are reacting to the positive stock market trends, as gains there directly and positively impacted their wealth. But lower income brackets see a strong job market and good income growth as well. Everybody wins…
Much Remains to be Seen; Fed Raises Interest Rates Again
Consumer confidence rose in July 2023 to its highest level since July 2021, reflecting pops in both current conditions and expectations. Headline confidence appears to have broken out of the sideways trend that prevailed for much of the last year. Greater confidence was evident across all age groups, and among both consumers earning incomes less than $50,000 and those making more than $100,000.

Dana Peterson, Chief Economist at The Conference Board
This across-the-board jump in confidence of all income levels bodes well for economic activity in the coming months. Of course, much remains to be seen. Yesterday, for example, the Fed again raised interest rates a quarter point – although this was expected. The Fed is not entirely sure that enough has been down to tamp down inflation to their target rate, and they have indicated that another rate increase may be indicated at their meeting in September.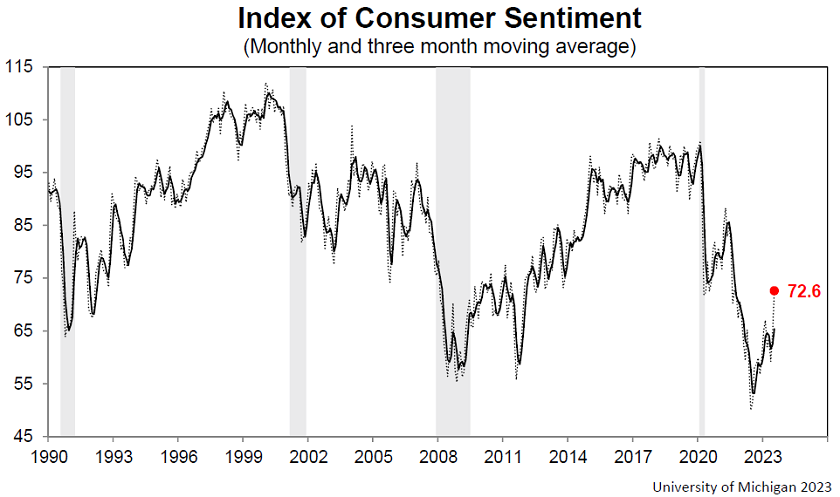 Recession Still Possible, But Likelihood is Decreasing
But the Fed also suggested that they may be close to transitioning to a wait-and-gauge-the-impact period, as the inflation reduction numbers continue to be good. They have not ruled out a recession but pushed the window back on that potential into next year. Other economists are sticking with their forecast of a recession either in late 2023 or early 2024.
But the number of economists predicting a recession are declining. More are beginning to believe that the odds of the Fed pulling off a "soft landing" – bringing down the inflation rate without a recession – are getting better and better.
Consumer sentiment rose for the second straight month, soaring 13% above June and reaching its most favorable reading since September 2021. All components of the index improved considerably, led by a 19% surge in long-term business conditions and 16% increase in short-run business conditions. Overall, sentiment climbed for all demographic groups except for lower-income consumers. The sharp rise in sentiment was largely attributable to the continued slowdown in inflation along with stability in labor markets.

Joanne HSU, University of Michigan Director of Surveys of Consumers
Is There an Impending Tidal Wave that Could Sink Our Economic Ship?
I'll sum all of this up with – so far so good. The Fed's steady hand on the tiller has guided our economic ship through an unprecedented storm. Could a major wave upset the consumer's boat? Yes, and there are certain dark clouds on the horizon – such as student loan debt service is scheduled to begin again. According to Lending Tree, there is a stunning total of $1.78 trillion in student debt – the highest consumer debt category after mortgages. It is possible that the scale of this approaching wave (tidal wave?) may have a depressive effect on the consumer psyche.
However, so far we've dodged a lot of bullets, and the remarkably slow and steady improvement in inflation while maintaining a robust economy seems almost magical. Perhaps our progress can survive a few big waves down the road.