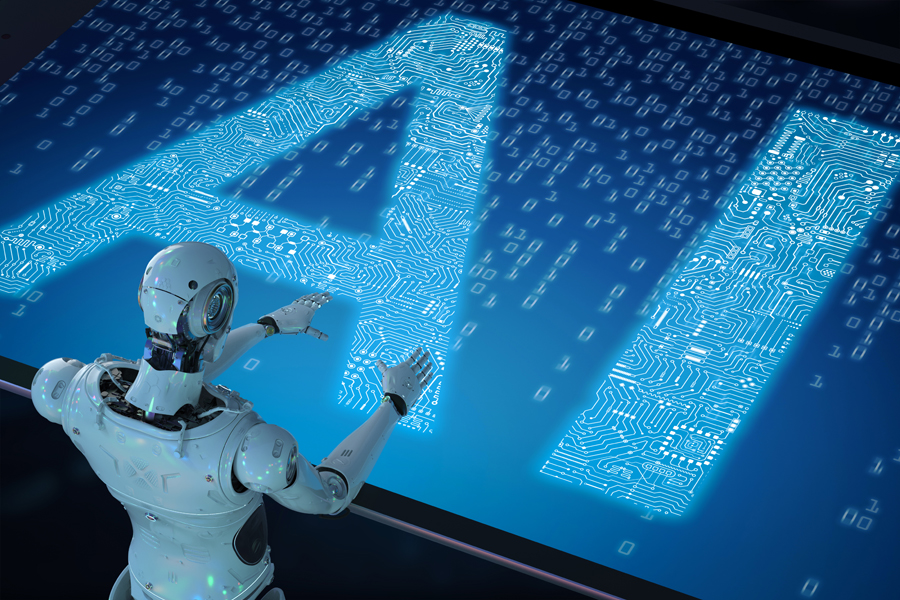 Most tech experts point to artificial intelligence (AI) as the NBT – the next big thing – in technology. Not only does this promise to create a huge market – but it is likely to be disruptive of many industries and looks to truly Change-the-World. With a prize this big, many are chasing that AI rabbit with the goal of dominating the future. Will the U.S. win the AI race?
See the latest AI data to find out just WHO seems to be winning…
In a recent data series from statistics king Statista, we see several graphs clearly demonstrating the current position of countries racing to win the incredibly high stakes AI race. Statista has curated data from multiple sources into a package that shows worldwide progress on the continuing development of the AI market.
One might think that the United States, creator of the silicon chip, integrated circuit, and computer…is a shoe-in to win the race to develop and define the AI market. But there are other large and well-financed players in this game…and they present a major challenge to American tech wizards' ability to claim the AI crown. Let's take a look at how the AI race is shaping up.
An Industry in Its Infancy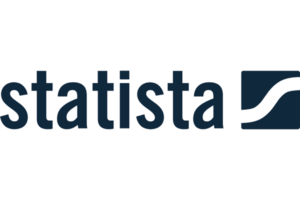 First, keep in mind, this is a market (and a technology) still very much in its infancy. Core studies are being conducted by America's most prominent research universities – not to mention American industry. Included in that industry bucket, we might add, is some of the most famous tech companies currently dominating the world in existing technology. You name any major tech brand – even social media mavens – and you will find that they are heavily engaged at some level in the raw or core research on AI.
Statista broke the question of who is leading in AI down into a series of analyses on certain elements of the development of a technology. So let's look at each of these variables to see just how the U.S. is doing:
Research Papers Published
So with all of this research, progress can partly be measured by the number of papers published that involve core technologies associated with AI. If you're doing research and making breakthroughs, you are typically publishing research papers for peer review to move that process along. At a fundamental level, it's a simple calculation: more papers = more progress.

On this point, the United States is #1 in the number of research papers published. There is clearly a lot of research being done in America and the number of papers published related to AI over a 20-year period establishes that leadership. But I suggest you take a close look at China, once thought to be a backwater country. It is clearly nipping at America's heels in this regard. This was, for me, a bit of a surprising result.
Number of AI Experts
For AI as a concept to have come from the U.S., it is reasonable to assume that we must have the largest pool of AI experts…right? Relax, exhale, Statista's report demonstrates that to be the case.
In this regard, it would appear that the U.S. has a pretty solid advantage in the pool of AI talent. Of course, America has been pursuing AI longer than anyone else and we'd bet that countries like China and India (and as you'll see later, Japan) are making great strides here as well.

Number of AI Companies
Add the greatest amount of research to the number of AI experts and it would be logical to assume that the U.S. would have the greatest number of AI companies. Here again, our head start has served us well and that seems to be the case.

Right now, America has a comfortable lead – about double the number of our next closest competitor China – in terms of the number of companies devoted to AI. But in a race like this, if the rabbit decides to take a rest, we could see that equation change.
Total Funding Targeted to Develop AI Specifically
So things seem pretty hunky-dorey here in the good old U.S.A. with AI, right? Hold on to that confetti for a moment, because when we look at the yardsticks that suggest what the future holds for the growth of AI, we get a troubling picture.

Looking at funding over the last five years, both government provided and otherwise, we see the top spots inverted. China is investing at a torrid pace to develop AI – more than double the level of funding here in the U.S….and way, way ahead of India. The Chinese government has made AI their #1 priority – and they are definitely putting their money where their mouth is.
China's money lead does not automatically mean they will surpass the U.S in AI….but it certainly helps to "grease the skids."
Share of Global Patents
Funding drives technology development…and technology development drives patent applications…another variable tracked in the Statista analysis. And here again, we see that China is a worthy competitor in AI and making great strides in the technology – positioned as #1 in the world in terms of patent applications.
It is pretty amazing that China has come to dominate some of these variables, considering how far behind the U.S. they were…years behind. Clearly, China has made up a lot of ground and is a serious force to be reckoned with. Funding and patents, tend to suggest future growth in the technology and the market, and China is right there in many regards.

So there you have it…AI in a nutshell. This is all you need to know about AI on the global stage…or is it???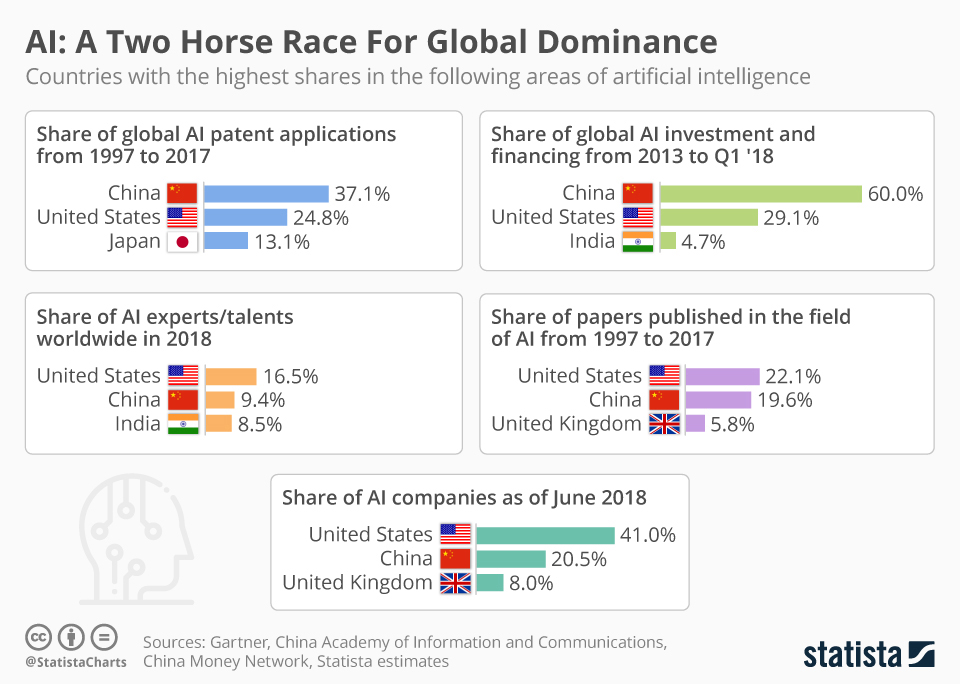 But Wait…There is Another
Originally, what you see above is the entirety of what I had planned to present to you in this post. Then, just this morning, I ran across yet another analysis showing where venture capital is flowing in Japan. Can you guess the #1 technology that Japanese venture capitalists are targeting?
Yep, Japan has thrown its hat into the AI ring, with the technology now the number one area of investment. With their heritage in technology, coupled with their substantial economic power (3rd largest economy in the world), you can bet Japan will be a real player in AI as well.
Tighten your seatbelts, it's going to be a bumpy ride to the AI future!