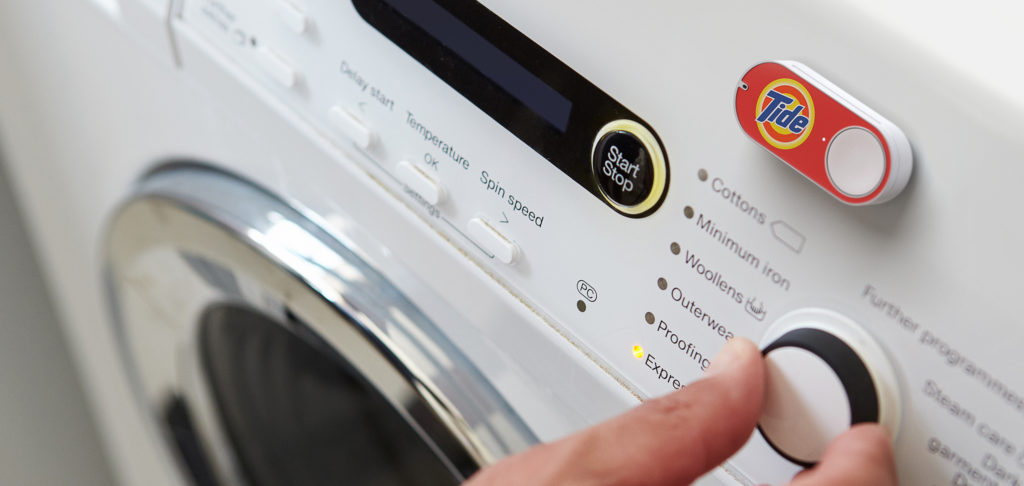 Amazon has announced that the end-of-life for its Dash button is rapidly approaching. If you've been dying to try it, better move quick – Amazon will completely disable the system just three short weeks from now on August 31st.
What went wrong with Dash? Read on…
Amazon continues to pursue new ways to deliver friction-free commerce – first with their "one click purchase" website button that allowed you to purchase anything on their website with just one click. Another innovation from the company that launched to a lot of skepticism was their Dash button – a single button to place in your home dedicated to a one-touch reordering of some home staple.
The idea was that you would place a Dash button near the place of usage…for example, one near your washing machine in your laundry room that with one touch reorders Tide Pods laundry detergent as you run out. Then, almost auto-magically, a new box of Tide Pods are delivered as quickly as the next day (depending on which market you are in)…shipped free to Amazon Prime members. One push of a Dash button was about as close to instant gratification as the e-commerce giant could get.
Over 100 Different Dash Buttons
At one time, Amazon had more than 100 different Dash buttons covering all sorts of consumables. In addition to Tide detergent, the company had Dash buttons for Gillette razors, Sheeba cat food, Folgers coffee, Puffs tissues, V8 drink, Dial soap, Trident gum, Quilted Northern toilet paper, and more. Later, the company branched off into offering office-centric Dash buttons for consumables such as printer ink.
But soon, Dash will be no more. Already, Amazon had announced back in February that they would stop making new Dash buttons available. But it has continued to offer the service to their installed base of existing customers using the Dash system.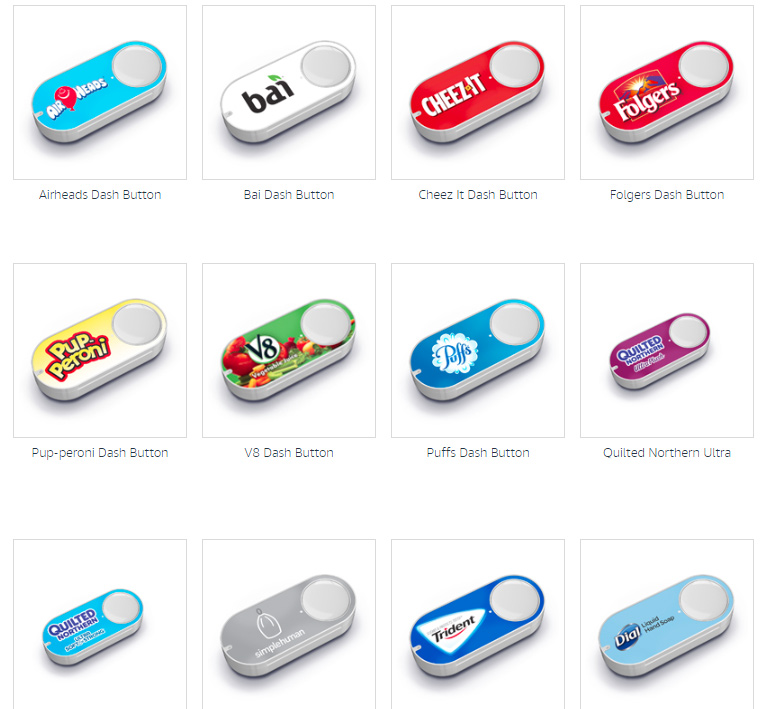 Dash Usage 'Has Significantly Slowed'
According to a report by Cnet, an Amazon spokeswoman admitted to them at that time in February that usage of the Dash system "has significantly slowed." This appears to be the motivation for closing down the whole program altogether.
Although the company does not break out sales figures for their Dash buttons, they always claimed the program was a big success. It was a way to tap into the smart home buzz back in 2015, before the category had really picked up steam.
Smart Homes Can Still Dash…Just Differently
But now, smart home technologies are in high gear, fueled in no small part by Amazon itself who offers its Alexa voice-controlled smart speakers, Nest thermostats, and more. Now, instead of spreading Dash buttons throughout your home for single use purposes – you can simply turn to your Echo or Dot and say "Alexa, place an order for Quilted Northern toilet paper," and just like with Dash it shows up on your doorstep the next day.
In fact, Amazon Echo Show devices (with a touch screen) even show virtual Dash buttons that operate much like a real button…but on a touch screen. All of these new smart products have, in essence, rendered the Dash button…well…obsolete.
Dash is Dead, Long Live Dash
So the Dash button is being swept into the dustbin of technology history…but the Dash concept lives on…
Visit Amazon at: www.amazon.com.