Earlier this week, I had a consequential visit with Crestron Electronics Corp. in which company executives talked about the overall business environment, supply chain issues, several new products, and their strategy going forward. It was quite revealing not only in content…but in tone.
It quickly became clear to me that after a period of playing defense, Crestron is going on offense…
See more on what I learned from my visit to Crestron
In a separate post, I wrote about my visit this week to the Crestron campus in Rockleigh, NJ. Although I live in New Jersey, I quite literally have to go through New York to get to Rockleigh, which is a quiet little community in the very northeastern tip of the state. Once there, you come upon a fairly good-sized corporate park nestled in a wooded area once almost completely owned by auto giant Volvo. In fact, the buildings are all mostly off of Volvo Drive.
I Had No Idea What I was About to Experience
Volvo is mostly gone now, but there are several buildings owned by Crestron in the park, which represent the company's collective headquarters. It is quite scenic…even pastoral…but make no mistake, business happens at an intense pace inside these buildings with the big blue Crestron logo.
As I mentioned in my other post, I really had no idea what I was about to experience. But after several hours there including a meeting with Chief Sales Officer John Clancy and Executive Vice President of Global Marketing, Brad Hintze…as well as a tour of the company's expansive new residential showroom and a full presentation on its latest Crestron Home OS 4 operating system…my eyes were opened.
This Time Felt Different
I have visited Crestron before – four years ago in 2019, just a few months before the COVID-19 pandemic changed everything. But I can say unequivocally, that this time felt different. Something had changed. Not something I saw, or heard…it was more something I sensed. Everyone seemed upbeat and enthusiastic.
COVID whipsawed the world's population, including erasing almost 7 million people off the face of the earth. It was truly a tragedy of epic proportions. Ironically, it also provided a boost to the technology industry, as consumers were stuck in their homes 24/7 and needed to upgrade their entertainment systems, network backbones, and home offices for a new work-from-home and learn-from-home environment.
More Than Its Fair Share
But a nasty side effect of all of this explosive rush of demand was it caused massive supply chain issues with shipping/delivery issues and myriad component shortages. These issues affected all businesses and were a struggle for all to try to adjust to. And even now, many industries/businesses are struggling in the post-pandemic period as the tailwinds that had previously provided additional momentum, have subsided.
Crestron seemed to have had a little more than its fair share of challenges on the supply chain front. There were many reasons for this, some systemic, some due to company philosophies – but nonetheless, their challenges seemed a bit more extreme than some others had experienced.
We sat down to discuss business in a thoroughly modern style of hybrid meeting, with John Clancy and myself seated in a meeting room in Rockleigh, with Brad Hintze joining us via a video call, seated somewhere in the world. Supply chain issues seemed to be a good place to start.
Supply Chain Problems Have Diminished Greatly
John Clancy, who was promoted to Chief Sales Officer for the entire company only just four months ago (previously, he was head of the residential division), was happy to jump on the question of how they are finding business conditions. First and foremost, supply chain issues have diminished dramatically, Clancy told me.
"So 80% of our SKUs (stock-keeping units) are available right now in inventory," Clancy said with a tone of triumph. "And out of the 20% that we don't have actually in stock right now, half of those have a lead time of only 12 weeks or less. And the lead times across the board are continuing to come down at a very, very rapid pace. We estimate that by the end of this calendar year, the maximum lead time – and this would be in extreme circumstances – would be 12 weeks."
Just a year or so ago, he admitted, those numbers were reversed.
Returning to a Sense of Normalcy
Clancy went on to say that for most dealers, to have 12 weeks as the worst-case delivery scenario is acceptable. Certainly, in the case of new home construction, where lead times can be up to a year or so, this would seem quite reasonable. But also in the case of retrofit installations, with careful planning, it should be fairly easy for integrators to deal with this lead time.
Brad Hintze added that they believe that at the end of this year or the beginning of next year, the company will be able to further reduce the lead time to a reliable 8-week window. Again, this remains an issue for only a subset of their line – out of the thousands of items they offer, eight out of ten of them are in stock now.
Some Component Shortages Linger But to a Lesser Degree
But Hintze adds: "Now the outliers are the ones that will then require some planning, is if you're doing a big MDU (multi-dwelling unit) and, and you suddenly need thousands of processors and thousands of keypads. That will require some more planning."
The Crestron executives told me that component shortages are continuing, but at a much more manageable level. Clancy said Dan Brady (Head of Operations) recently told him, "Just a few weeks ago we were chasing a couple of hundred components. Now it's a couple of dozen."
So things are definitely improving there, according to Crestron.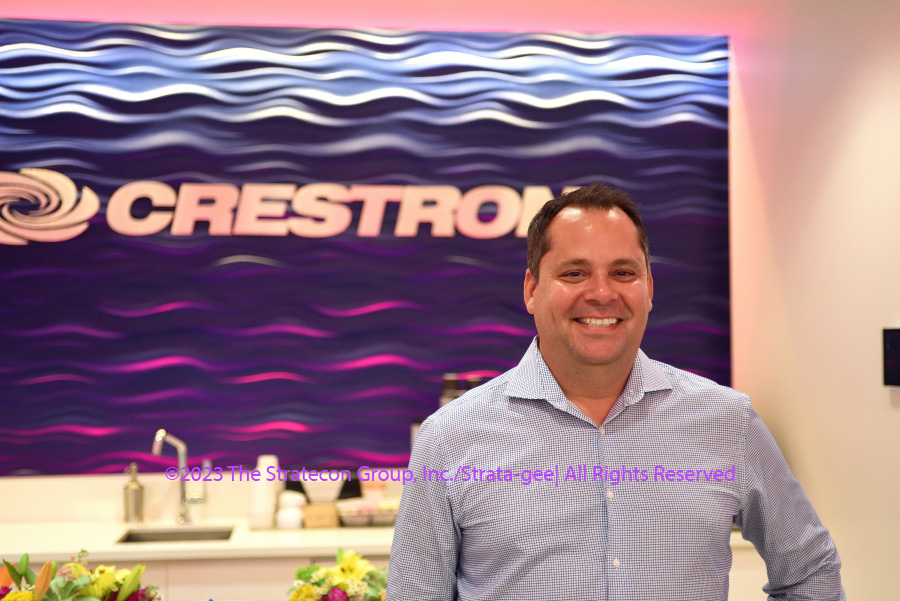 Is Crestron Impacted By Market Turmoil?
We turned to the topic of perceived market turmoil. Looking at the major control companies for example, I mentioned that Snap One has already had a couple of quarters of sales declines and have said they don't expect to see any sales growth for the remainder of 2023. At the same time, Savant just made major changes to their dealer program that have many integrators upset, and the rumor is that it may cut back on the number of integrators it does business with.
So I asked Crestron for their perspective on what is going on in the field and what their plans are going forward.
Hintze said you have to consider the greater context of what is going on. He noted that during COVID, "…we saw such an explosion of demand as people adjusted to the realities of living in their home. Suddenly, making their home their castle became paramount, and so people were really investing in there. But as as the pandemic has evolved, and come to a close, when people started to go back to work, it's had an impact on our market."
What Follows is Predictable
What follows, is predictable, Hintze suggested. As "other manufacturers are seeing downward pressure on their revenues and their growth, they couldn't sustain that pandemic surge and so I think that they're scrambling. Some of them have public market pressure (i.e. Wall Street) to continue and maintain that revenue growth. And so they're going in all these different directions."
Hintze goes on to suggest from feedback they've heard, things don't seem to be working out too well for those folks going in different directions. But what does this mean for Crestron?
Crestron Plans 'to Embrace Our Customers;' No Program Changes Planned
Clancy said that with their past supply chain issues mostly behind them, the company has found itself in a relatively good position, relative to what others appear to be going through. He said: "We don't plan any disruption in what our go-forward plan looks like."
My goal is to do the opposite of what we're hearing from others. It is to embrace our customers, bring them closer, and deliver the things to them that they really want and need. As far as our programs are concerned, there are no plans to change or upset those at all. There's no change to our go-to-market strategy. There are no changes at all, except for continuing to evolve our platforms and our products. And so stay the course is really what it's all about.

John Clancy
Market Demand for Crestron Products Remains Strong
Hintze added: "We know there's a tremendous amount of opportunity today. We know that the only way to drive growth is to continue to build and deliver solutions. And through a commitment to your channel partners in delivering an ecosystem and integrated products that really deliver a compelling experience for end users. And so what you'll see from Crestron, which is distinct from some of those other brands, is just a doubling down on those things that built this company and are the centerpieces of how we'll continue to grow."
BUT, I asked them, is Crestron experiencing the post-pandemic slowdown like some others?
Surprise! Multiple New Products Coming From Crestron
One of the bigger surprises of my visit is the company shared with me several new products and initiatives they have developed. First, there is an all-new expanded residential showroom which offers a very nice introduction to the entire Crestron Home ecosystem. When I was there four years ago, residential had just one wall space in a giant commercial showroom.
Residential has clearly arrived at Crestron.
Second, I was shown the all-new Crestron Home OS 4 interface. A major step forward, the company refined the visual user interface, streamlined the command flow, and expanded functionality – all while offering an easier-to-use system. Read more on Home OS 4 here…
The formal announcement for Crestron Home OS 4 mentions a new lithium ion-based battery-powered motorized shading solution. So we'll call that the third surprise new product.
A Breathtaking Burst of Innovation
And then I was physically shown two more brand-new products that are problem-solving solutions that dealers are going to love. And I was additionally told of yet another all-new product that dealers are sure to embrace as well. Many of these products resulted from suggestions from integrators themselves.
Unfortunately, Crestron is not ready for me to reveal these new models just yet, but all-in-all it was a breathtaking burst of innovation. And that tells me something…
After a span of time where the company found itself on defense, Team Crestron is clearly ready to go on offense. I think the excitement surrounding this new reality is exactly what I was sensing from everyone at Crestron on this visit. Now I know why…
See the all-new Crestron Home OS 4 by following this link…