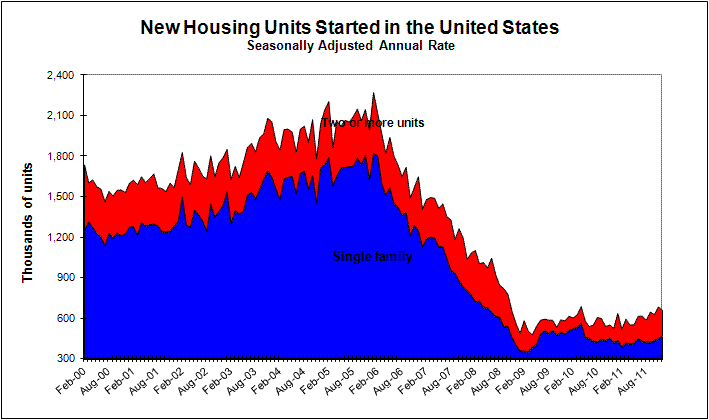 New residential construction data from the Commerce Department released today showed that single-family housing starts dropped in July to 502,000 units or 6.5% below June's revised rate of 537,000 units. And while this figure is still a solid 17% over July 2011's rate of 429,000 units – it was a bit of a disappointment as single-family starts have increased for the last four months in a row, leading some to conclude that the housing market was on a rebound.
But other housing data suggests the  bumpy road for housing continues…
Overall housing starts – data that includes multifamily as well as single-family dwellings and therefore a broader indicator – also showed a decline…although a more modest one down 1.1% to 746,000 units versus June's rate of 754,000. The total market remains 21.5% over July 2011's rate of 614,000 units.
The broader overall starts rating had not featured the same 4-month growth trend that the single-family rating had shown. While the overall starts level had increased in June as compared with May…May had been off from April's rate and in general, the overall market has been growing in fits and starts – a bumpier road to growth.
Regional results really vary…
On a regional basis, an analysis of the results for overall starts and single-family starts showed declines in every region with the exception of overall starts in the Midwest, which grew a solid 17%. And in one case – the Northeast – single-family starts showed a startling 27.1% decline from June's 48,000 units to July's 35,000 units.
The Commerce Department's data also tracks the issuance of construction permits which is generally considered a leading indicator of future construction. On this front, there is better news with the issuance of both overall and single-family permits up, 6.8% and 4.5% respectively.