Artison announced last week the availability of a new freestanding subwoofer called the RCC Nano 1. This seemingly mighty miniature looked appealing on several fronts and we were curious to learn more. We read the release with interest…something about the Nano looked and sounded familiar to us. Then we remembered…we've seen it before!
See where we – and our loyal readers – saw the remarkable Artison Nano before…
It was two years ago at a dealer show in New Jersey put on by NY Metro-area rep firm Audio Associates, that we met up with Christie, a well-respected industry figure, who showed us a new product under development. It was obvious that Christie was very proud of his latest achievement, a subwoofer about the size of a bowling ball…but one that he says will bowl you over.
The RCC Nano 1 is an incredibly compact design that measures a tiny 7½″ x 8″ x 9″including feet and grills, but is said to pack a punch. With a 300 watt Class D power amp and back-to-back 6½ long-throw aluminum woofers, Artison says the Nano 1 has the "piston area of an oversized 8″ woofer.
Balancing Design & Performance
The goal of the Nano 1 was to create a freestanding subwoofer that was unobtrusive and easy to place anywhere in the room. Targeted as a custom integrator problem solver product, integrators may end up making the Nano their standard go-to subwoofer.
"Many installations and audio configurations benefit from a freestanding subwoofer," said Cary Christie, founder and chief designer for Artison. "With the Nano 1 suboofer, our custom installer and CE dealer partners can help their customers achieve optimal bass and special effects reproduction from an ultra-compact unit that complements any décor."
As Christie told us two years ago, it takes a lot of creative engineering to produce deep, believable bass frequencies from such a tiny package. The designer reached deep into his bag of tricks to make that happen.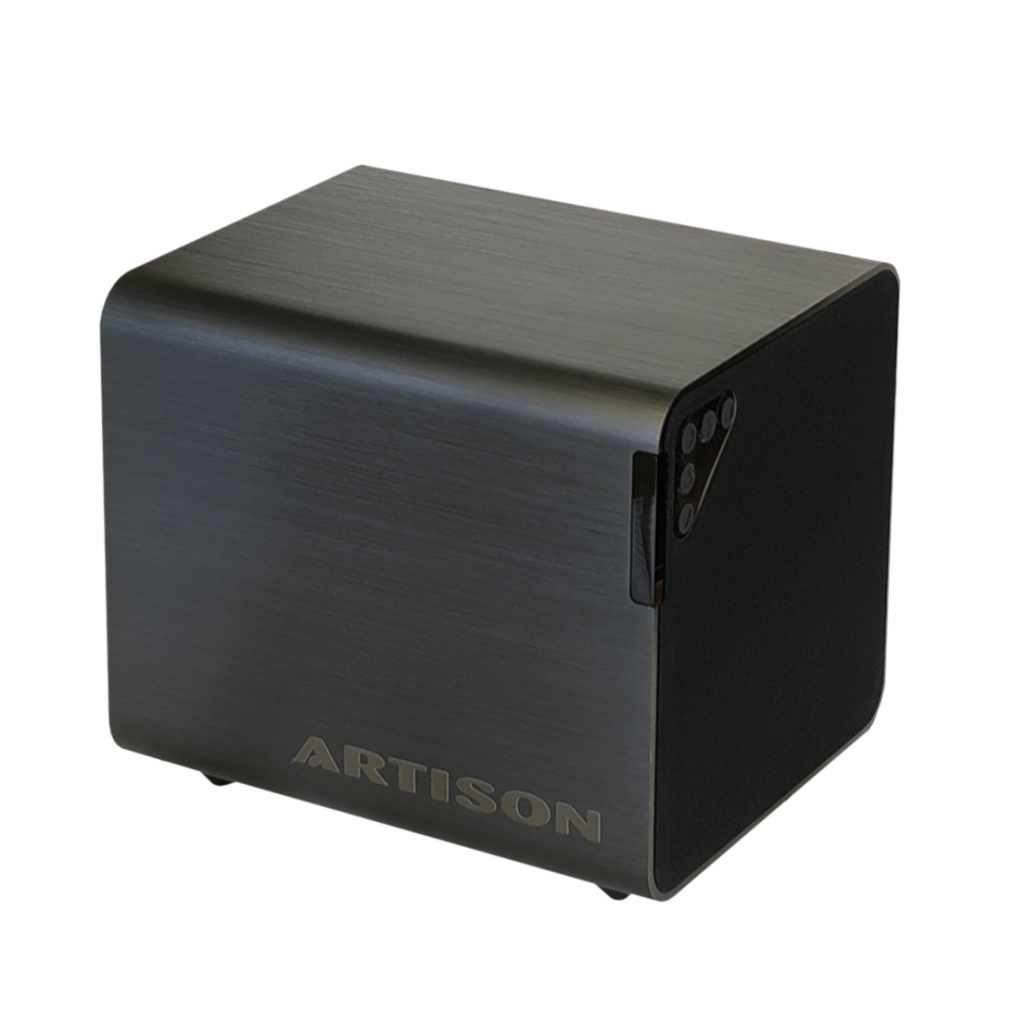 Killing Vibration for Pristine Performance
RCC stands for reactance cancelling configuration, an Artison technology that eliminates vibration – something that is important in any speaker, but especially so in a subwoofer. Vibration can cancel out or otherwise disrupt certain frequencies, so Artison RCC technology eliminates that possibility and elevates the Nano 1 to high-performance status. Another contributing factor to squeezing more performance out of the tiny Nano package is the material the cabinet is made from – 6061 T6 Aluminum. The company says this material is an optimal combination of rigidity and thinness.
The company also packs the Nano with Absorbing Damping material to eliminate any wave reflections or other vibrations. Clearly, that Nano is not just meant to be a cute little package – it is meant to perform with the big boys.
Alluring Algorithm
The company says that, in addition to all of this technology, the Nano employs a neat little technology that, in effect, "tricks" your ear into hearing what's not there. Artison refers to this in current materials as a "bass-enhancing algorithm" and back in 2013, Christie explained to us how this technology – he then referred to it as MaxBass – worked.
The subwoofer, Christie claims, reproduces frequencies cleanly down to about 32Hz. This is a pretty amazing accomplishment itself. But with MaxBass, the listener's ear thinks it's hearing fundamentals down to an even deeper 20Hz. This feat is accomplished by reproducing the harmonics of the fundamental. For example, if our ear hears 160Hz, 80Hz, and 40Hz harmonics…our brain fills in the blank and, in essence, generates the 20Hz fundamental. Remarkable stuff.
We didn't see any reference to the term "MaxBass" in the current product announcement, but that's how Christie referred to the algorithm back when he first introduced us to the prototype in 2013. In general, as far as we can tell, this new Nano pretty much follows what he described to us back then except that it has a 300 watt amp now…back then we were told it would be a 400 watt amp. This is not a big change.
Swings Both Ways – Wired or Wireless
Another interesting design element of the Nano 1 is that it offers the ability to feed it a signal through a wired connection, or wirelessly with an optional wireless transmitter that sells for $99 MAP. Like its diminutive design, this expands the positioning possibilities for the system designer – or interior decorator.
Artison includes a very complete jack pack and control capability that includes some features sure to be appreciated by custom integrators. The Nano 1 has high-level inputs, low-level inputs, wireless input, input for a 12-volt trigger, a multi-voltage power supply, a variable crossover, a phase control, IR input, selectable crossover slope control, and more.

Deja Vu – Did We See This Before?
So is this 2015 RCC Nano 1 the same model as the Nano 1 prototype we saw in August 2013?
"Yep, it's the same subwoofer technically but it was drastically changed both cosmetically and acoustically as we evolved the design," Christie told us in an email response to our question.
Back at that 2013 dealer show, we asked Christie when the Nano 1 would be shipping. He told us then that it could ship as soon as October (2013). But it is shipping now, almost two years later. We asked Christie why there was such a long delay.
"We decided to postpone the production of the Nano One due to the discovery of a number of design opportunities while finishing the final development of the design," Christie explained. "It has now become a miniature computer that acts as control of the unit and the DSP, amplifier, drivers, Power supply, etc. have all been upgraded. Unfortunately, this delayed the production for over a year and we have been doing quiet field testing in the meantime."
This all new and improved RCC Nano 1 is shipping now and sells for a MAP (minimum advertised price) of $999. The Nano 1 is offered in a black and a white finish.
SPECIFICATIONS
Wireless input
High-level AND low-level inputs
12-volt trigger
Auto-sensing
Multi-voltage power supply (use the Nano 1 anywhere in the world)
Digital phase shift control
Variable phase shift control
6061 T6 aluminum enclosure
Dual powered 6.5″ long-throw aluminum drivers
Reactance Cancelling Configuration (RCC)
Absorbtion damping
Hidden input panel for clean design
300 watts of Class D power
IR control window and input
Frequency response: 32Hz – 160Hz
Dimensions: 7.5″ x 8″ x 9″
Weight: 18lbs. (out of the box)
Learn more about the RCC Nano 1, and all of Artison's products, at: www.artisonusa.com.



EDITS:
7/16/2015 – An edit was made to add-in the weight of the Nano 1 in the list of specs.