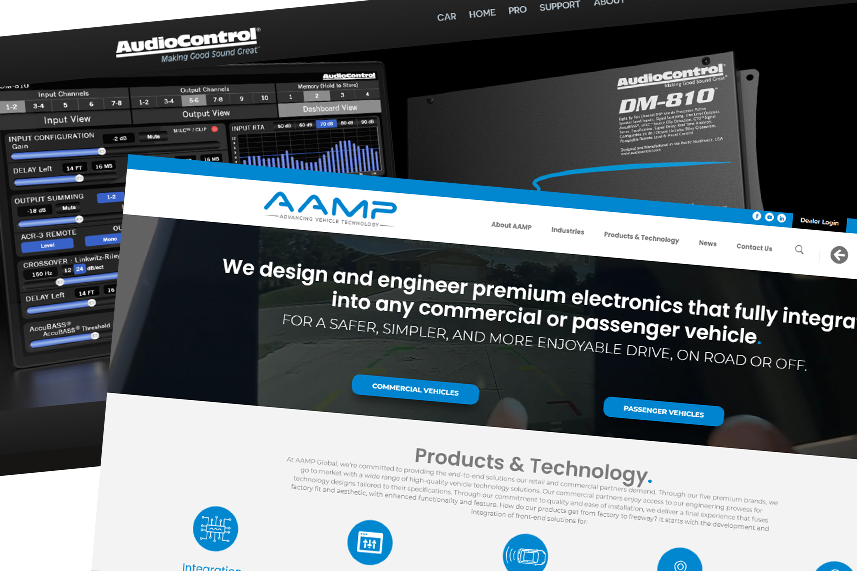 AAMP Global, a leading global manufacturer of a wide array of technology products for the personal and commercial vehicle markets, announced today the strategic acquisition of AudioControl – the well-known specialty manufacturer of electronics products for the automotive, residential, and commercial audio channels. The terms of the transaction were not disclosed, but AAMP says that AudioControl's Seattle, WA-based operations and team will continue to operate as an independent facility under the AAMP Global umbrella.
I spoke with top executives of both companies to learn more about what drew the parties together and just what is meant by a "strategic" acquisition.
See more on the AAMP acquisition of AudioControl
Clearwater, FL-based AAMP Global is a 300-employee company that designs, engineers and manufactures a wide array of technology products for the private automotive and commercial vehicle markets. The company says it is a leader in highly engineered integration solutions that enable aftermarket audio, safety, and infotainment products to work seamlessly with factory systems. Products are marketed under brand names such as PAC, Connects2, Stinger, EchoMaster, Phoenix Gold, and Simple. With facilities in the U.S., U.K. and Sweden, the company serves multiple industry segments, such as the automotive aftermarket, commercial fleet solutions, and OEM.
Two Engineering Driven Companies Come Together
Strata-gee readers are very familiar with AudioControl, whose innovative technology solutions span both the mobile or automotive electronics space as well as the residential and commercial custom integration space. The company has come to assume an important place in the industry – and in many integrators' assortments – thanks to its dogged pursuit of innovative technologies, advanced engineering, and creative product designs that better meet the needs of the customer – whether 12-volt or residential. And, as the company likes to say, a company that makes good sound great.
As an engineering-based provider of premium entertainment solutions supported by award-winning service, AudioControl is a natural fit as part of the AAMP Global brand. These core competencies combined with AAMP's unique vehicle integration capabilities and best-in-class service will help to position us as a leader in the core audio market. Alex and team will be driving this exciting initiative and we couldn't be more pleased to welcome them to the AAMP family.

AAMP President and CEO Scott Forst in a prepared statement announcing the acquisition
Forces Drew Them Together, Like a Space Age Tractor Beam
Both companies felt strong, almost pulsating, magnetic forces drawing them together like some space age tractor beam. As AudioControl CEO Alex Camara told me on a Zoom call, not only are the two companies offering related but differentiated engineering-driven solutions in the same space, but their corporate cultures are remarkably similar as well.
We saw an immediate synergy across the values that we both share, as well as the industries we both serve. We saw a lot of the same passion around product development. As you know, at AudioControl, product development is key to our success and they see the same thing in their business. So they love our product development, they love the engineering that we have and that they have as well. They like the values of the company, which are very, very synergistic with their own values – they are a very people-oriented company with a very strong company culture.

What was important to me was to make sure that we partnered with the right company that shares those values that we have today. We didn't want to be in an all-out war situation with the company, so the fact that AAMP has very shared values with us is really cool.

Alex Camara, AudioControl CEO in a Zoom call with Strata-gee
Corporate Culture was a Comfortable Fit
As Camara mentions above, the corporate culture fit was really important to him as he considered the long-term ramifications for both his team and himself. Multiple companies have approached AudioControl over the years with proposals, but this time – with this partner – the combination felt right. It is well known among corporate strategy experts that one of the leading causes of acquisitions that fail is a cultural mismatch. So Camara's concern to find the right cultural fit is both admirable and pragmatic.
I also had the opportunity to speak with Herb Brown, AAMP Global President of North America, to get his thoughts on how the two companies came together. What he said was quite interesting.
We could talk for an hour on that question! I think on the surface and one of the attractions that we've always had to AudioControl was that here was this really kind of boutique, high-end audio company that calls itself AudioControl. And the foundational core when you talk about AAMP Global really is its ability to integrate [technology] into the vehicle. In our sense, it would be the language of the vehicle. And in Alex's sense, it would be the language of audio and the language of amplification as it relates to adding these these things into the vehicle. And so for that reason, there was always an attraction there – a mutual respect. And, you know, we always had this feeling that the two companies were very, very like-minded, even before we started having discussions with Alex. Things like their trajectory, the quality of the product, the way that they talked about their products, the investment they have in training, and the high value they place on their customers – were all very similar to us.

So this was a natural conversation for us to start having. And then there's this whole piece that they have and you know, they have these very caring, high quality individuals that work in the home side of the business. I see this personally [the home side] as a diamond in the rough.

Herb Brown, AAMP Global President of North America
Camara Joins AAMP's Leadership Team
The formal announcement notes that Alex Camara is joining the AAMP Global leadership team and will head up the company's "audio growth strategy for both the automotive and residential businesses." Camara tells me that he continues to retain an ownership interest in the company and is excited at the opportunity for personal growth as he will not only serve as President of AudioControl, but also will contribute to the AAMP Global business as well.
There is a seemingly strong synergy between the two partners. For AAMP, AudioControl offers an expansion for them into upgraded or premium audio with decades of experience in the automotive aftermarket audio space. This is a great fit for AAMP's automotive multimedia business and offers the opportunity for market share expansion in the audio category.
Partners See an Abundance of Mutual Opportunities
At the same time, the partners see an opportunity to embed AAMP's automotive integration technology into AudioControl's 12-volt products, which will serve to broaden their opportunities in the greater automotive channel and drive exceptional growth. Also, Camara tells me that AAMP is stronger in international regions, so AudioControl will benefit from that increased international market share as well.
For AudioControl, Camara tells me that after several years of double-digit growth, the timing was right to find a partner that could offer them a solid foundation, added resources, and added capabilities to launch the next phase of growth for the company.
The Icing on the Cake for AAMP?
What's the icing on the cake for AAMP? AAMP says they are enthusiastic at the prospect of diversifying their business into the residential and commercial custom integration space. AudioControl's expertise in adopting a similar upscale market approach in both 12-volt, residential, and commercial spaces feels like a great fit for them as well.
Terms of the deal were not disclosed, as both companies are privately owned. AudioControl is owned by Alex Camara and AAMP Global is owned by private equity powerhouse The Halifax Group. The deal closed at the end of March, so starting today, AudioControl is now part of AAMP Global.
Learn all about AAMP Global by visiting their website at: www.aampglobal.com.
See more on AudioControl at: audiocontrol.com.