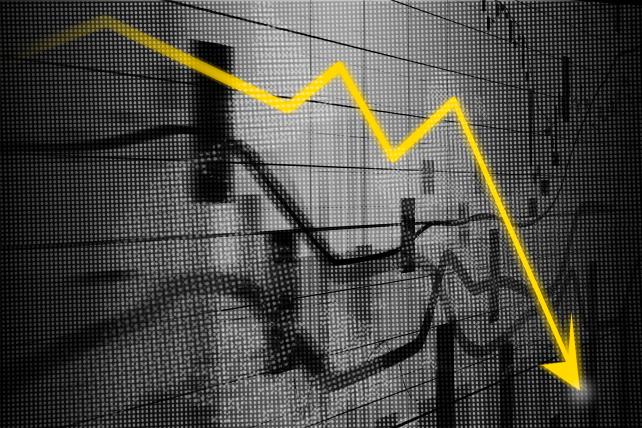 I would hope that by now long time Strata-gee readers had already anticipated this day, and now it's official that this day has come – the U.S. economy is in a recession. It really shouldn't surprise anyone. However, I know that there are some I've spoken with who were expecting a "rubber ball" rebound where – almost magically – everything, including business levels, would bounce back to normal quickly. This seemed to be based more on wishful thinking, or just general optimism, rather than anything factually based.
I suspect some of those folks might be a little surprised to learn that the economy is sliding into recession.
Learn more about our 2020 recession…
So, perhaps you think this is CRAZY…a recession??? Look at the stock market – it's taking off like a rocket…hitting all new highs (actually, as I write this, the market is off triple digits, but still has increased back to pre-COVID-19 levels.) So please, READ MY LIPS, Wall Street is NOT a reliable indicator of economic health.
As former Fed Chairman Alan Greenspan once said of Wall Street, they are susceptible to "irrational exuberance." It could be that is what is happening now…or perhaps even something darker is at play (retail speculators buying up distressed properties).
The Economy Turned Downward in February
Nonetheless, even though many states are in the process of dropping their stay-at-home orders and incrementally phasing in business openings and allowing groups of people to gather – the National Bureau of Economic Research's Business Cycle Dating Committee has determined the the U.S. fell into recession in February. And it was a rapid and deep recession, members of the committee note.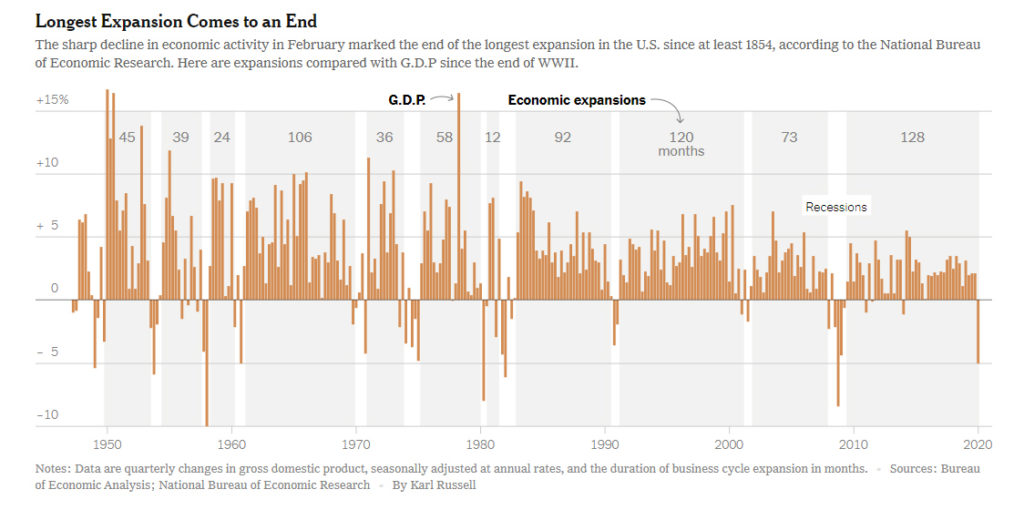 To most economists, a recession begins when the economy reaches a peak of activity and ends when it reaches a trough. This is the first recession since 2009, which ended with the longest span of economic expansion – a period of 128 months – ever experienced in the United States. Or at least the longest expansion since as far back as 1854.
A Painful…But Hopefully Short…Recession
According to a report by the New York Times, most economists anticipate this recession to be particularly painful with a dramatically steep GDP (gross domestic product) decline, but perhaps shorter lifespan than most other recessions…maybe even just a matter of a few months. However, it is hard to say definitively this will be the case, as the country has never found itself in the double-whammy of two great conflagrations running simultaneously – the COVID-19 pandemic, and the social unrest resulting from the police killing of George Floyd.
"The committee recognizes that the pandemic and the public health response have resulted in a downturn with different characteristics and dynamics than prior recessions. Nonetheless, it concluded that the unprecedented magnitude of the decline in employment and production, and its broad reach across the entire economy, warrants the designation of this episode as a recession, even if it turns out to be briefer than earlier contractions."

National Bureau of Economic Research, Business Cycle Dating Committee
Has the Recession Already Ended?
Earlier this week, the Times noted that there were some economists who stated they believed that the recession has already ended and growth has resumed as states reopen their businesses. Robert Gordon, an economist at Northwestern University (and a member of the dating committee) suggested a recovery may have begun in April or May. This would mean the recession was potentially only a couple of months long. Not all economists agree with this opinion.
"There is no way you can observe that happening (the sharp drop in business activity and the skyrocketing unemployment numbers of February/March) and not call it a recession," Gordon told the Times. "Nothing like it has ever happened."
J.P. Morgan Chase reported that consumer spending collapsed during that same February/March time period, but has since resumed growing again in April. Still, consumer spending remains at levels well-below pre-coronavirus levels.
Federal Reserve Economic Projections are 'Grim'
Yet today, the Fed released economic projections that the Times called "grim." Wall Street, which had a mini-rally going on, promptly turned downward, losing more than 282 points to close at 26,989.99.

What did the Fed project? Disappointing many on Wall Street, the Fed outlook shows that they expect a slow economic recovery from this recession. The monetary regulator said they anticipate GDP to contract -6.5% by the end of 2020.
It Will Take Years to Get Back to Full Employment
The projections are that unemployment will finish 2020 at 9.3% or almost three times worse than in the period before cornoavirus. Furthermore, they forecast an unemployment rate of 6.5% by the end of 2021 and 5.5% by the end of 2022 – which means it will take a period of years to get back to full employment.

With all this in mind, the Fed chose to leave interest rates at near zero levels in their announcement on Wednesday. This is yet another sign of the severity of the diminished economy.
"The ongoing public health crisis will weigh heavily on economic activity, employment, and inflation in the near term, and poses considerable risks to the economic outlook over the medium term. In light of these developments, the Committee decided to maintain the target range for the federal funds rate at 0 to 1/4 percent. The Committee expects to maintain this target range until it is confident that the economy has weathered recent events and is on track to achieve its maximum employment and price stability goals."

Federal Reserve Issues FOMC Statement
The Fed's Powell Says Millions of Jobs Lost for Good
In a question-and-answer session following a Fed press conference on Wednesday in which Fed Chairman Jerome Powell spoke, he was asked if there were jobs lost in this recession.
Powell made sure that reporters understood that – while there are many structural issues that need to be addressed in the U.S. economy, such as the vast disparity of wealth – the focus of the Fed right now "is to get our labor back."
And that lofty goal, it seems, will take years to accomplish.