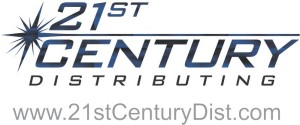 Garner, NC-based 21st Century Distributing, a consumer electronics distributor based in the Southeast, announced this week that it has reconfigured its usual dealer show, converting it into a roadshow with an all-new mobile demo display. Scheduled to hit six major markets throughout the Southeast, the event is now called the Integration Innovation Roadshow.
See more on this dynamic new event…
According to materials from the company, 21st Century Distributing, like many distributors, held an annual dealer show that was typical of those types of events – static, with dealers traveling to attend it. Now the company has completely re-conceived the event…taking it to the dealers.
Central to this new event, the company built a special "demo station" that it says will show off the hottest solutions. This demo station is made up of ten 4′x8′ side panels that the company says are interactive. Featured in these panels are devices from select vendors such as: Vanco, CoreBrands, 2GIG, Alarm.com, Elk, JVC, Kwikset, LiftMaster, Milestone, New Leaf Warranties, ProMounts and more.
Get hands-on…
Attendees at each local stop will get the opportunity to go hands-on with these top devices to experience how they look and operate. This contrasts with the usual display-only type of display that is common at other shows.
 "Each year we look forward to reconnecting with customers, while providing value-added resources that truly help our dealers and specialty professionals improve and organically grow their businesses," Don Vincini, Owner of 21st Century Distributing said in a prepared statement. "The Integration Innovation Roadshow is taking this mission to a whole new level. Alongside the ability to share exciting new products and inventive installation techniques, this tour will provide the perfect atmosphere for a genuine discussion surrounding the benefits presented by the smart home and IoT – a major growth opportunity for the channel."
Face time…
The company says it will have representatives and key personnel from many of their major suppliers, offering dealers and integrators the opportunity for face time and direct interaction. Dealers should be sure to bring their questions with them.
21st Century Distributing's Integration Innovation Roadshow schedule is as follows:
Orlando, FL – May 28, 2015
Jacksonville, FL – May 29, 2015
Atlanta, GA – June 2, 2015
Nashville, TN – June 4, 2015
Charlotte, NC – June 9, 2015
Raleigh, NC – June 12, 2015
ESX, Baltimore, MD – June 25-26, 2015
All this and cocktails too…
As you can see from the schedule above, the company plans to wrap-up the roadshow at the Electronics Security Show (ESX) in Baltimore.
The roadshow event in each market will follow a consistent schedule. Demonstrations will run from 2:00PM – 7:00PM…followed by a cocktail hour from 7:00PM – 9:00PM. All times are Eastern Standard Time.
For more information on 21st Century's Integration Innovation Roadshow, see: www.21stcenturydist.com.