Worst Company in America Contest
<March 21, 2012> It's March Madness – the time of year that college basketball fans wait 12 months for – and the time of year when we hear talk around the water cooler of "How's your bracket doing?" Brackets represent the team standings and fans can track the results as each of the games play out. And this year, popular consumer blog Consumerist is mimicking the event by using brackets to track their annual "Worst Company in America" survey.
This is the seventh year in a row that Consumerist has held the contest. Starting with 32 companies that were nominated by visitors to the Consumerist blog, technology companies were well represented with Best Buy, Sony, Electronic Arts (EA), DirecTV, Dish Network, Comcast, Time Warner Cable, Sprint, Facebook, Apple, Google, Verizon, AT&T, Walmart, GameStop, Qwest, Charter, Paypal all amongst the nominees.
Not-so-sweet 16…
Consumerist then conducted a first round of head-to-head voting to yield what they call the "Sweet 16" who advance to the next round of voting. The first round yielded some expected results…and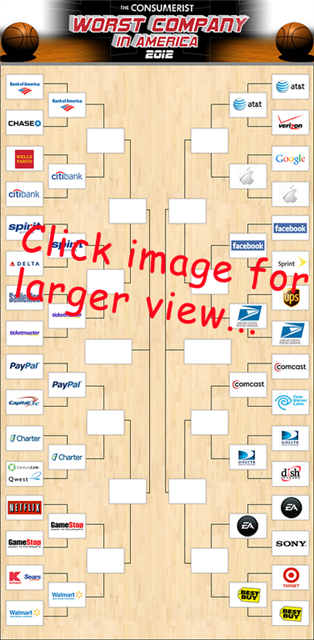 some surprises.
For example, Bank of America – a runner-up for 2011 Grand Champion Worst Company in America – easily beat out Chase Bank this year, garnering 83% of the votes in the process. Bank of America still seems to be suffering from their plan to add charges to debit card transactions – even though this anti-consumer plan was ultimately abandoned.
Sony is a loser (winner?)…
But in a surprise, first time nominee Spirit Airlines was able to prevail over Delta Airlines…a much larger company. And EA – another newcomer to the contest – beat out powerful Sony to move to the next round. EA not only beat Sony, but did so with 80% of the vote…a handy margin.
But Best Buy was able to beat even that wide of a margin in its round. Up against the mighty Target, Best Buy blew them out of the water with 86% of Consumerist visitors voting them as the Worst Company in America. Consumerist notes that Best Buy is a "veteran" of this contest – having been featured in years past. Now, Best Buy goes up against EA in what is sure to be a tougher round.
"Perennial bracket juggernauts like Walmart, Comcast and Ticketmaster keep finding new ways to irk consumers and maintain their status as 'the companies to beat' in this competition," said Chris Morran, Deputy Editor of Consumerist.com. "We're curious to see how far Bank of America's new debit card and checking account fees will take them and if a dark-horse like Facebook, with its slew of user privacy issues, might make a surprise run at the Championship."
Vote for Worst Company in America…
Voting begins today in the Sweet 16 round. On March 27th, the voting for the Elite 8 begins. On March 29th, consumers will begin voting on the Final Four. All of which leads up to April 2nd for voting in the Championship Battle. Consumerist will announce the "winner" on April 4th.
First up in the Sweet 16 round – Best Buy vs. EA. Voting begins today and continues on until 11:59PM Eastern on Thursday, March 22, 2012. Currently, EA is leading with 52% of the vote versus Best Buy's 48%.
Want to help the Consumerist determine who the Worst Company in America is? Click this link to cast your vote in this first contest of the Sweet 16 round. Or for more general information, visit: www.consumerist.com.