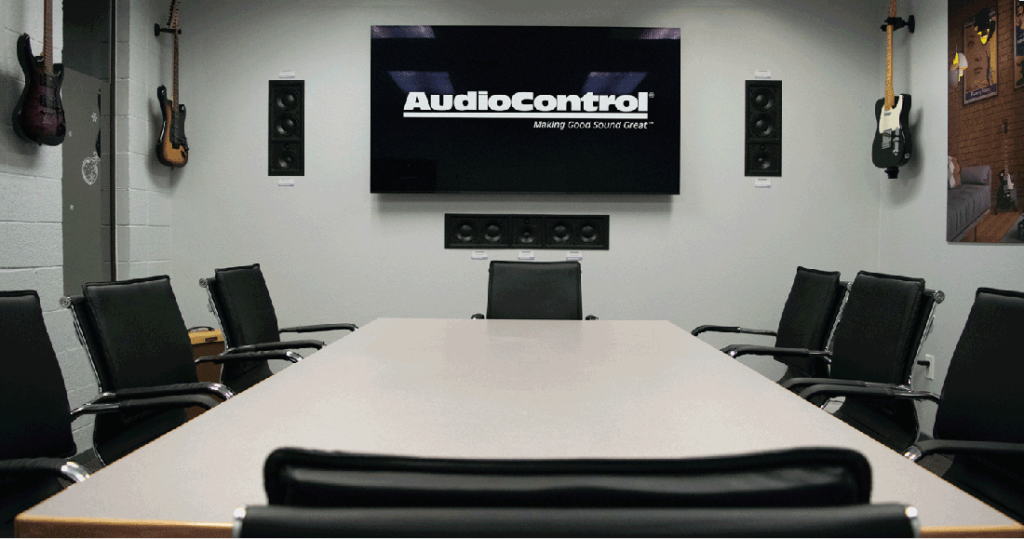 AudioControl, a specialty electronics manufacturer of residential, commercial, and mobile audio products, had several announcements at last week's CEDIA Expo Virtual. While many of those were announcing, for example, the shipping availability of previously announced products, one announcement in particular caught my eye. And it's not about a product at all!
See the announcement from AudioControl that I feel is the most significant…
So what is this announcement that seems so significant to me? AudioControl has released an all-new firmware update, called Director 2.0, for their popular line of Director network amplifiers. This firmware upgrades the system setup interface could be a bit of a game changer, or at least a more significant upgrade than meets the eye.
This Director 2.0 firmware update introduces new and potentially highly useful features that integrators are likely to embrace. But perhaps even more importantly, it revamps the graphical user interface – or GUI (pronounced gooey) – that I think will dramatically enhance usability. Not to mention it's easier on the eyes.
A Key Issue for Me
This has been a key issue for me throughout my career in the tech business. Much of what we design and sell is engineering driven. Now don't get me wrong, I love quality engineering. But what most engineers tend to undervalue is the "soft" skills…such as a product's interface design..
Yet the interface design is what drives what I believe to be the most important connection…the HUMAN connection. Better design makes a product easier to use…and to more efficiently derive higher quality results. Keep in mind, most of users and installers of custom integration products are not engineers.

This firmware update from AudioControl is the kind of things that SMART companies do. Many companies, I'm afraid, would rather introduce and sell a new box. But AudioControl understands that by helping integrators more easily and more efficiently drive to a better result with existing products…the more AudioControl products they'll want to install.
Director 2.0 Firmware: A Big Step Forward in GUI Design
So, let's get into it. This firmware upgrade from AudioControl represents both a product refresh…and a refreshing upgrade to their entire line of Director Series and RS Series DSP amplifiers. For all your installations with these products included – which is probably a lot if you're an AudioControl dealer…BOOM, just like that – they've all been upgraded (once you institute the firmware update).
With this firmware update you get a MUCH improved graphical user interface (GUI). The company really took time to study how people use their products and came up with a much cleaner design that is also way more efficient – literally cutting out multiple steps saving integrators time to achieve faster adjustments.
Here is the Existing GUI for Director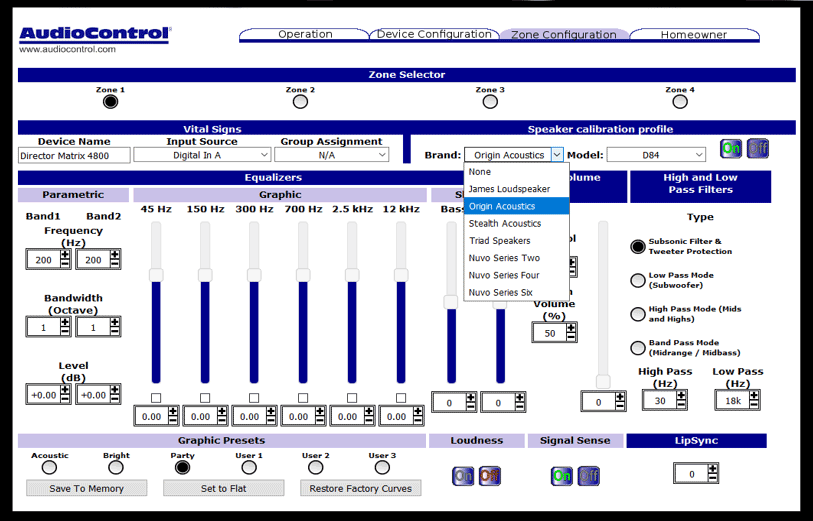 In the existing GUI for controlling Director amps, you see a lot packed on this page. It's all readable and not a bad design. However, notice the tabs at the top of the screen ("Operation, Device Configuration, Zone Configuration, Homeowner") – clicking on each of these tabs changes the page and options.
While I'm sure most integrators are used to this interface and undoubtedly work well with it – certainly, it has a lot of flexibility. But could there be a better way through a better design?
Here is the New & Improved GUI for Director 2.0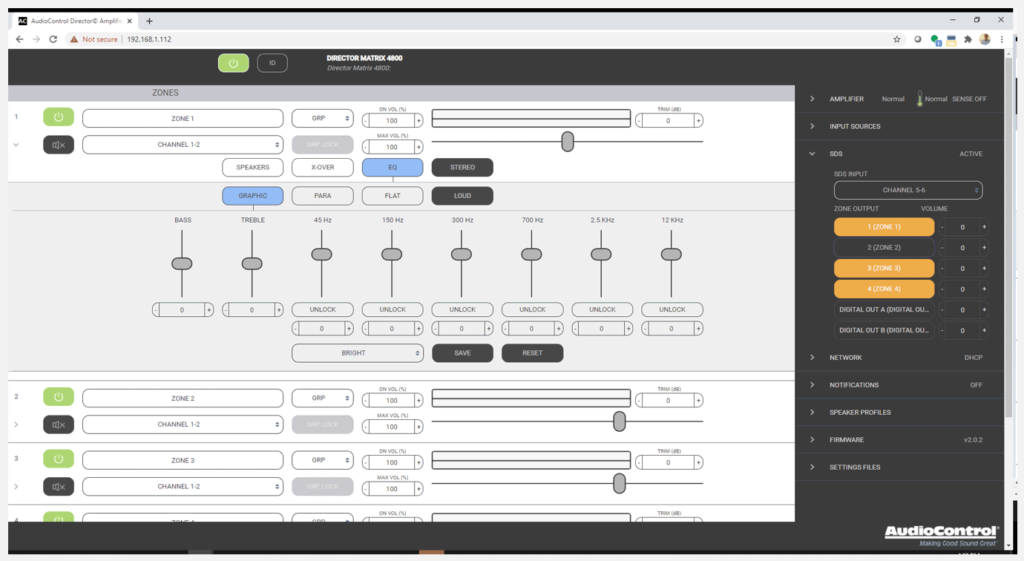 So there are a couple of things to note in the new design. First, it is much cleaner and less cluttered looking. Don't mistake that for a lack of flexibility…it is simply a smarter design. This new interface has just as many options available – in fact, more even – but with a cleaner and easier to operate look.
Notice also, the tabs at the top of the page have disappeared. But at the same time, there is a new panel on the righthand side of the screen offering options and selections – without the need to change screens. With everything all on one page, this is just good design.
More Than Just a Pretty Face
But there is much more to the Director 2.0 firmware update than meets the eye. It is indeed, more than just a pretty face (with the new GUI) – it brings all-new features and capabilities to your Director amplifier. These new features include the following items.
Parametric EQs – What has always been a strong suit for AudioControl – EQ capabilities – just got much stronger with this update. The new D2.0 firmware adds 6 more parametric equalizers for a total of 8 in the system – giving integrators the ability to implement even greater fine tuning.
Pink Noise Generator – OK…this might seem like a small thing, but having a pink noise generator built into the system just makes testing adjusting, and calibrating multiple zones that much easier with no additional hardware or plugins required.
SDS Priority Input – SDS stands for Signal Detecting Switch – a cool new feature that allows you to designate a priority input – say, someone ringing your smart doorbell – triggering the muting of your entertainment system and passing that signal to any and all zones, per your setup programming. This works with lots of different types of devices (think voice interface systems) and adds another level of system functionality and customization that your clients will appreciate.
Working Harder to Earn Integrators' Support
AudioControl keeps showing integrators that they really understand their daily challenges and want to do more to help ease their way to faster and better installations.
The new Director 2.0 firmware will be available to download off the AudioControl website shortly – within the next two weeks or so.
For more information, please visit AudioControl at: audiocontrol.com.