BREAKING NEWS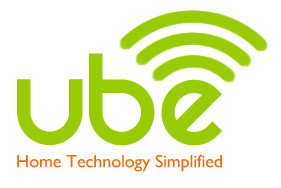 Ube, a start-up company that combines the processing power of your mobile device with the capability of cloud-based software to create a new level of affordability in home automation products for the rest of us, has successfully completed a funding project on the crowdfunding site Kickstarter. As a result, the company's first product, a Wi-Fi-enabled smart dimmer, is fully funded and will be built and shipped in just a matter of a few months.
See more on this exciting development and on Ube…
We have been closely following Ube since its initial formation. Ube was co-founded by well-known industry personality Utz Baldwin, once CEO of CEDIA – the principal trade association of the custom integration industry. Baldwin joined forces with Glen Burchers who previously worked for Freescale Semiconductors, to create a new concept in affordable automation products that harnessed the power of the mobile devices we all carry around in our pockets and purses.
This concept, if it takes off, could potentially be disruptive to the custom integration industry – an interesting bit of irony considering Baldwin's former occupation. But also probably the inevitable direction of the technology as consumers become more and more obsessed with their smartphones. (Baldwin thinks the impact on custom integration would be modest at best as it is largely an upscale market as opposed to the more mainstream Ube target market.)
Smart devices everywhere…
Ube has developed prototypes of a smart dimmer, a smart plug, and a smart outlet. To get the products launched, the company created a funding project for its Wi-Fi-enable smart dimmer first on crowdfunding website Indiegogo…but ultimately moved it to the more prominent Kickstarter on February 18th.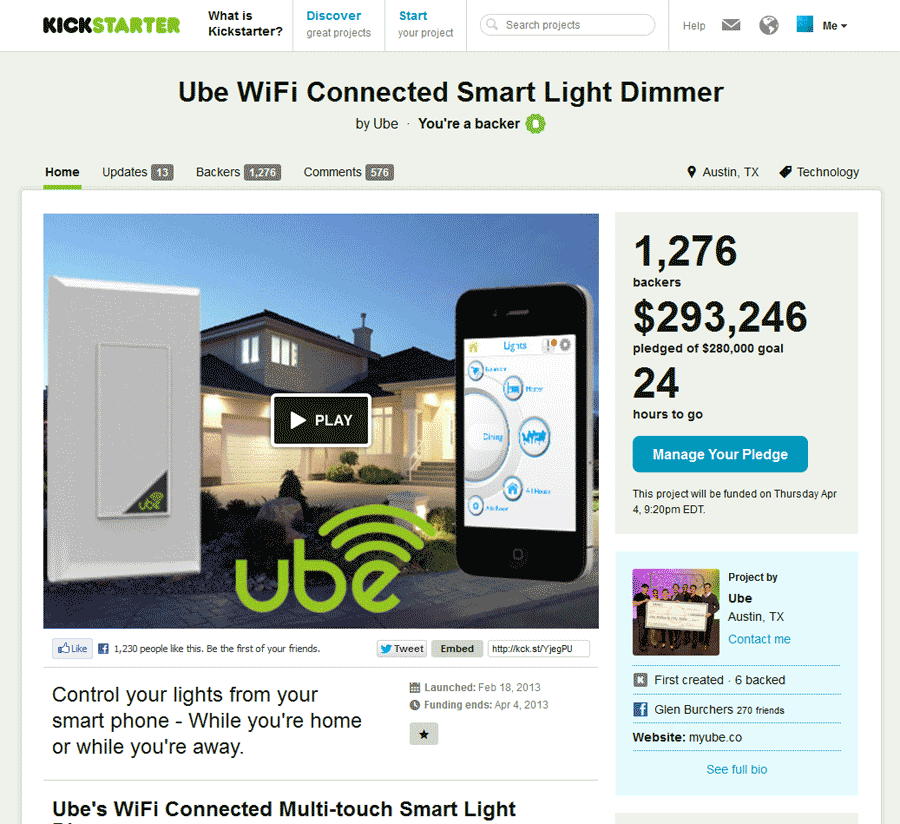 The funding target – or goal in Kickstarter lingo – was $280,000. This is the amount the company needed to contract a manufacturer to build their first product in a reasonable quantity. Although the project end date is April 4, earlier today they surpassed their $280K funding goal and, as of this writing, are funded at over $293,000 with exactly 24-hours yet to go.
Co-founder is both exhilarated and exhausted at successful campaign…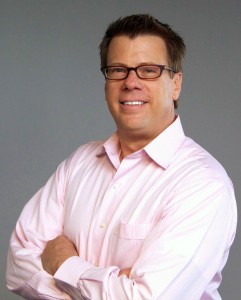 We spoke this evening by phone to co-founder Baldwin who was both exhilarated and exhausted. Kickstarter campaigns can take a lot of work both in promoting and interacting with the literally thousands of backers.
"I had no idea the profound impact that this campaign would have on me," Baldwin told us. "I feel an emotional attachment to the backer. There is a connection with the people that supported us that is unlike any other."
As we've heard from other company founders who turned to crowdfunding, the relationship between the project creators and the backers is really special. But, as Baldwin told us, "It was a real roller coaster ride."
We asked Baldwin how is the group at Ube was feeling now that they've achieved this milestone.
"Quite satisfied – elated," he enthused. "And its not just because we generated $300,000 in pre-sales – it's the energy and the fanatical behavior of the backers talking about our platform – our solution. And really just affirming our assumptions that we're heading in the right direction. This is the kind of technology that people want."
Coming this summer…
Ube expects to be able to deliver their first batch of smart dimmers to consumers and other users in July. Then in August, they will deliver an even more affordable – but slightly de-featured – version of the smart dimmer.
By successfully funding their smart dimmer, Ube has a real proof-of-concept that consumers and users will want to buy their products. They also will get access to valuable feedback from these users – all of which helps them tailor their future introductions.
For more information on Ube, see: myube.co.
RELATED STORIES:
Former Harmonious Head of CEDIA Delivers Disruption – Launching ube Today
Start-Up ube Wins $1 Million People's Choice Award
10 Connected Technology Companies Debut The Internet of Things Consortium at CES 2013
Ube Launches Indiegogo Campaign to Crowdfund the Manufacture of 10,000 Wi-Fi Smart Dimmers
Ube Announces It Has Expanded the Capabilities of Its New Smart Dimmer