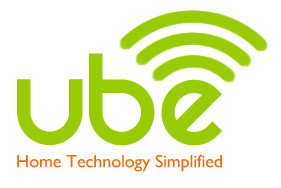 Ube – a start-up company that offers new ways to implement the processing power of smartphones interlinked with cloud-based software to bring new possibilities to consumers at affordable prices – announced today that it has expanded the capabilities of its first product, a smart dimmer. This announcement was made in conjunction with the company's launch of their smart dimmer project on crowdfunding site Kickstarter.
See the expanded capabilities of Ube's smart dimmer, and the progress of its project, below…
We first told you about the initial launch of a crowdfunding project to launch their unique Wi-Fi enabled smart dimmer on Indiegogo – a different crowdfunding website. Shortly after launching that campaign, the company was offered an opportunity to have a project on Kickstarter (a very popular crowdfunding site) and they decided to move the project over there immediately. While the project was somewhat stagnant on Indiegogo, it took off almost immediately on Kickstarter and the company is confident they will reach their funding goal.
Although Ube has plans for several products, they chose the Wi-Fi enabled smart dimmer as their first item to launch. Now, the company says it has expanded the capabilities of the smart dimmer in a way that should make it even more attractive to consumers.
Control your lights from your smartphone…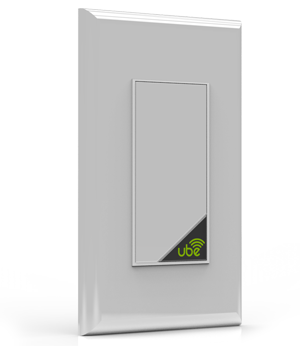 Ube's smart dimmer is based on a 32-bit ARM processor with Android embedded. The dimmer also features a Wi-Fi interface to allow it to access the Internet wirelessly. The smart dimmer replaces a standard dimmer to control normal incandescent, LED and CFL lights from the dimmer – or from your smartphone via a Ube App.
Ube's smart dimmer also includes a multi-touch capacitive panel that simply and intuitively responds to logical finger touches, such as increasing light intensity as you slide your finger from the bottom to the top. And thanks to Ube's machine-to-machine capability (the various dimmers "talk"to each other), with a two-finger motion such as the familiar pinch motion – all of your lights will respond by shutting off.
Newly expanded capabilities water your lawn or protect your home…
Now, Ube has expanded the function of their smart dimmer, such that it can control any IP-enabled device. For example, drawing a "W" on the touch panel could send a signal to turn on the homeowner's sprinkler system to water the lawn. Or tracing an "A" figure with an upward stroke could arm an IP-enabled home security system.
This "gesture" capability can be programmed by the user – so they will be specifically logical to that user…and completely secure. Ube says they have filed for a patent on the design.
Ube goes green, sort of…
Since Ube has launched their Kickstarter project, they have connected with other projects that feature IP-enabled devices. This has already yielded a partnership with Greenbox, a Wi-Fi connected home irrigation system. The company says more such announcements may be forthcoming.
For more details on Ube, see: www.myube.co.


RELATED POSTS
Former Harmonious Head of CEDIA Delivers Disruption – Launching ube Today
Start-up ube Wins $1 Million People's Choice Award
10 Connected Technology Companies Debut The Internet of Things Consortium at CES 2013
Ube Launches Indiegogo Campaign to Crowdfund the Manufacture of 10,000 Wi-Fi Smart Dimmers