BREAKING NEWS
Deal Could Be a Blueprint for Rep Deals in Other Markets

We learned this week that two large New York Metro area rep firms have joined together to create a mega-rep firm offering an impressively large assortment of largely custom integration-oriented lines. The two firms are Audio Associates of Somerset, NJ and Thea & Schoen of Clifton, NJ…and the news is sure to shake up the market.
See the ramifications of this deal…
The news of two major New York Metro rep firms joining forces is, in this case, particularly intriguing as each firm has built a business serving the custom integration channel…but from two entirely different perspectives. Thea & Schoen comes to custom integration from a lighting and associated products background, and Audio Associates approaches custom integration from a solid A/V background. Each has built up an impressive assortment in its own right – but by coming together, the new entity offers a mind-blowing array of brands covering most every aspect of custom integration.
The new organization will be known as Thea A/V, according to Bill Thea, whom we interviewed by phone on Wednesday. Thea, who will head the new organization, was quite enthusiastic about the situation and sees immediate benefits – as well as future opportunities for further growth.
I Got It Immediately
The idea to join forces came from Ron Meyerowitz, principal of Audio Associates, who approached Bill Thea to discuss his thinking. Upon hearing Meyerowitz's proposal, "I understood it…I got it [immediately]," Thea exclaimed. Thea noted that both companies had built strong businesses from different perspectives.
"We're [Thea & Schoen] very much in the construction space," Thea said. "So we start selling at the specification and contracting level. Our product offering breaks down into several different categories and in the audio, visual & security space. We go to market with a line called Lutron…and Lutron is right at the very top of the food chain in its reputation and execution."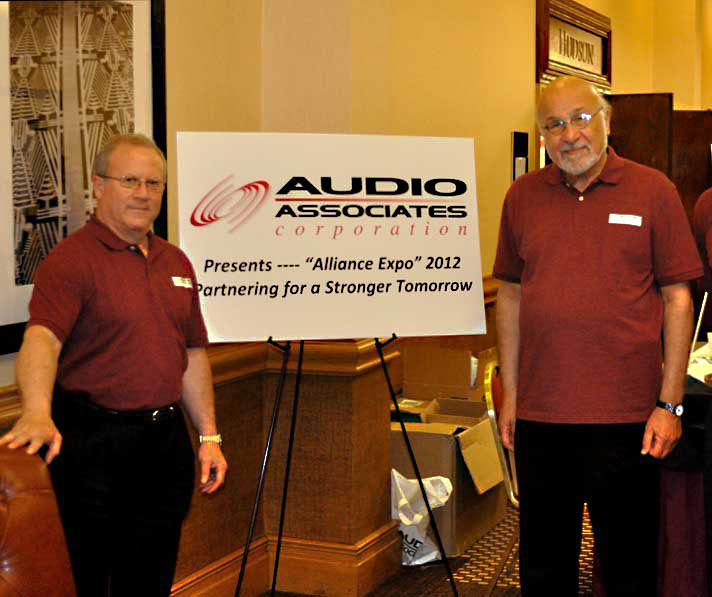 Shining a Light on the Deal
Lutron, of course, is a major brand for many custom integrators. And Thea & Schoen is one of the largest Lutron rep firms in the country.
In the case of Audio Associates, Ron Meyerowitz and Michael Lefkowits have approached custom integration from the A/V side, building a stable of strong brands such as Denon & Marantz, Harman/Kardon, Infinity, JBL, The DaVinci Group, Chief, Da-Lite and more. These brands are predominately sold to and through installers and integrators.
An Unusually Complementary Combination
So from a product perspective, there is really no conflict and in fact, this arrangement provides for an impressive and highly complementary combined assortment. [See the full Audio Associates assortment here… See the full Thea & Schoen assortment here…] But, by joining with Thea & Schoen, there is also a complementary fit as far as the market approach as well – Thea & Schoen on the specifier and construction side…Audio Associates on the custom integrator and retailer side.
"Our plan is to be the dominant salesforce in the custom A/V market…period," Thea said. "This deal serves that purpose by adding talent – with the team from Audio Associates, and it adds lines – so immediately overnight we become a much more significant rep to the marketplace."
In surveying the rep scene, Thea noted that, in the case of most A/V rep firms, the economics are such where they are forced to run with relatively small teams…literally two or three outside sales reps. But this new combined force at Thea A/V will field no less than eight reps in the field with a rockstar assortment of products to meet just about any need for integrators.

The Six Pillars of Market Dominance
"I believe we can become dominant," Thea said with conviction. "I believe that it will be hard [for competitors] to keep up with what we bring to manufacturers."
Although Thea A/V will address the custom A/V marketplace head on, parent Thea & Schoen fields significant resources. Thea & Schoen Enterprises employs more than 115 people with – get this – no less than 65 salespeople. The company addresses what Thea calls its "six pillars" of business segments, which includes:
lighting
wire & cable
AV
controls
construction materials/supply goods/shelf goods
logistics
Thea mentioned in particular their logistics business which offers warehousing, trucking, and delivery from Boston to Washington DC. The bulk of their logistics business is in and around the New York Metro market…predominantly with their brands. It would be reasonable to assume that this gives Thea A/V a significant advantage in quick delivery of goods to integrators as compared to other, less fully configured rep firms.
The Whole is Greater
By joining forces with Audio Associates to create Thea A/V, it is clear that the intent is to create a powerful sales representative solution – and one where the whole that is greater than the sum of its parts. Thea told us that there are immediate win-win benefits for both dealers and manufacturers with the new organization's larger sales team, broader line assortment, and greater dealer support structure. And beyond these initial benefits, Thea sees even greater growth opportunities down the road to employ A/V into other business segments in which Thea Enterprises is well-positioned.
This new Thea A/V manufacturers representative firm kicks off February 29th. For the immediate future (at least a year), the team from Audio Associates will continue to utilize their facility in Somerset.
A Template for Other Markets
From our point of view, this is a very interesting deal. Putting two rep firms together can be tricky business. Oftentimes line conflicts or other business conflicts can get in the way. In this case, both firms approached the same market from such a different perspective that these differences turned out to be actually complementary. This is a model or template that might start a trend across the country, as we know many rep firms struggling with the difficult economics of business today.
"We are extremely excited and looking forward to the future," Thea emphasized to us with great enthusiasm.
See more information on Audio Associates at: www.audioassocs.com.
Learn all about Thea & Schoen at: www.theaschoeninc.com.