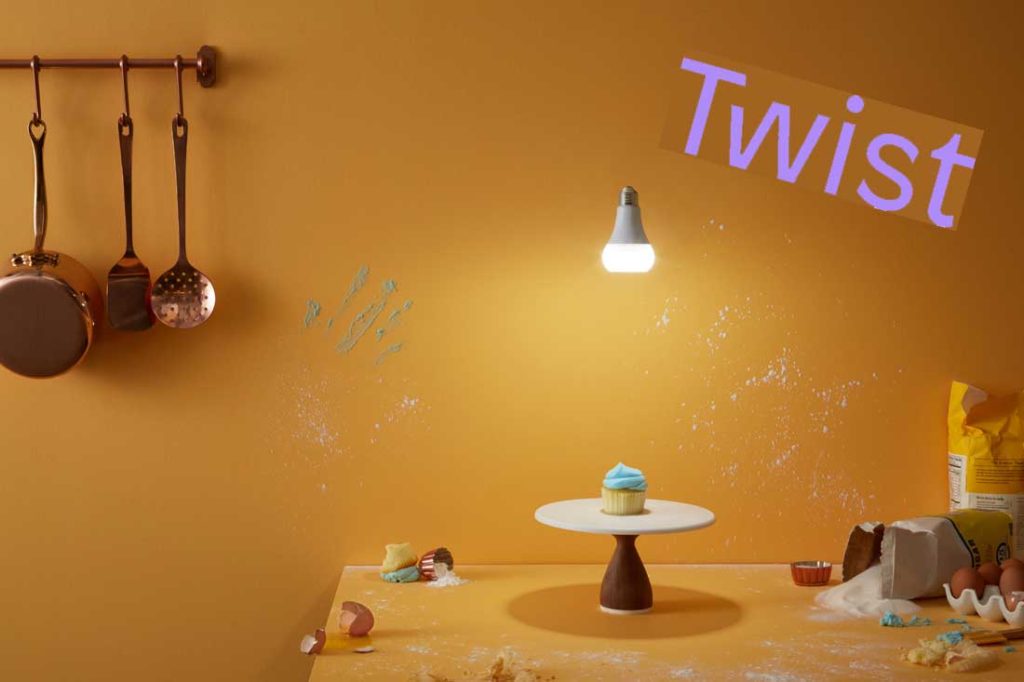 Products designed to address the simple smart home market continue to be introduced at a dizzying pace – most of which will end up in the dust bin of not-so-useful, not-so-innovative app-controllable nonsense in the future. But every once in a while we stumble across items that catch our eye, and Twist is one of those.
What is Twist? If you can screw in a lightbulb, you can have a smarter home lighting and wireless audio solution.
See more on Twist, a smarter smart home solution…
One of the areas that various surveys have identified as items home owners are interested in upgrading to smart technologies is lighting. In fact, at the most recent CEDIA 2016 show in Dallas, Houzz shared results of a homeowner survey they had taken identifying lighting as the top item homeowners were choosing to upgrade.
Of course, many integrators are already installing sophisticated smart home lighting controlled through their favorite automation control solution. But what about the other 99% of Americans who aren't installing $100 thousand systems in their homes?
Pretty Darn Smart
Enter companies like Twist, who are introducing more affordable smart home solutions that are – well – pretty darn smart. Twist offers two products:
TwistLight – A "biologically-correct" LED light bulb that is designed to mimic the light of the sun – a bright white light in the morning, a more muted yellow towards the end of day/evening
A 3-Step Process
Converting your home into a smart home is, according to Twist, as easy as one-two-three. ONE: screw in a Twist bulb or bulb/speaker; TWO: download the Twist app; and THREE: start enjoying your smarter home with app controllable lighting (TwistLight and Twist Speaker) and multiroom wireless music (TwistSpeaker).
The Twist bulb is designed using a standard base, so you can use Twist in any location throughout your home that uses a fixture with a standard light bulb base. There is no need for a hub or "wires, integration, or installation" for a super simple setup. It doesn't get much easier than that.
The Science of Light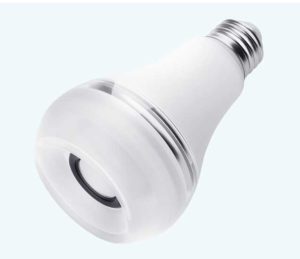 The company is very proud of the fact that it bases its products on science. In fact, their press release notes that the company has partnered with Thrive Global, a company founded by Arianna Huffington, and a company which Twist says has a "mission to end the epidemic of stress and burnout by offering science-based solutions to enhance both well-being and performance."
So what about that science? Twist's lighting technology is based on what they call a transitional, adaptive lighting technology. This patented technology changes the color emitted by the bulb to mimic the changes in the natural light we get from the sun. So in the morning, your Twist bulb emits an "energizing": white light that transitions to a "calming" yellow light in the evening.
It's a Biological Thing
This gives consumers access to what Twist likes to call a "biologically-correct" lighting solution. The company goes on to describe how they took pains to make it easy to use and available to both home owners and even renters,who can unscrew their smart home and take it with them to their next apartment.
TwistSpeaker takes the experience to the next level by adding wireless music to your smart home experience. The company chose to use AirPlay over Bluetooth, saying AirPlay is more flexible and more seamless in room-to-room use. The speaker is controllable separately from the light so, yes, you can turn the light off and go to sleep to your favorite Spotify channel if you like.
It's Crystal-Clear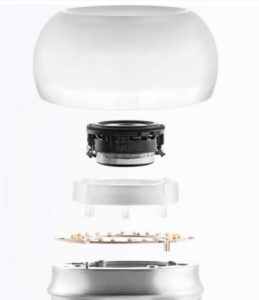 The company doesn't provide a lot of information about the speaker or audio quality other than to say that, thanks to its "specially designed driver," it provides "crystal-clear" premium lossless music. Using iTunes on a laptop, you can stream music to multiple speakers in multiple locations. Using an iPhone or iPad, you can directly stream to any one speaker at a time.
The Twist bulb is LED, so it's very energy-efficient. The company says it can produce 800 lumens of light at only 10 watts. And they are estimating 12-15 years of use before you'll need a new one.
It's Affordable…Not Cheap
While Twist is more affordable than the typical smart home integration project – it's not cheap. For a single TwistSpeaker or a TwistLight 2-pack, you'll be set back $149. The company also offers a TwistSpeaker 3-pack or a TwistLight 6-pack for $399.
Twist is available for pre-order only at this time. The company is promising a March delivery.
For more information on Twist, see: www.hellotwist.com.