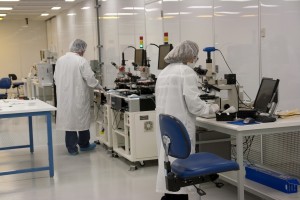 Toshiba Corp., in a bid to drive its LED lighting business, said today it will acquire LED technology research and development (R&D) assets from American start-up company Bridgelux, Inc. The assets Toshiba seeks to acquire are related specifically to the R&D of the company's white LED chips.
See more on this acquisition including how much Toshiba has agreed to pay…
According to a report by the Nikkei, Toshiba will pay "several billion yen" (each billion yen equals around US$10 million) to acquire the assets, including research facilities and Bridgelux's white LED technology. Toshiba will also acquire approximately 40 engineers as part of the deal.
Founded in 2002 in Livermore, CA, Bridgelux partnered with Toshiba in January of 2012 to jointly work on further developing its GaN-on-Silicon, Gallium nitride (GaN) LED technology. According to Bridglux, its GaN LED chips "delivers the industry's leading cost-per-lumen performance for warm white, cool white and RGB applications."
Not just the technology, an expanded strategic partnership…
As LED lighting is a potentially huge market, Toshiba had been working on white LED chip development at its facility in the Ishikawa Prefecture. However, as a result of this deal, Toshiba will move all development to Bridgelux's Livermore facility.
An announcement from Bridgelux also noted that the two partners will expand their licensing and manufacturing partnership. Calling it a "strategic relationship" Bridgelux said that this agreement provides for new business development as the partners create "next generation LED chips and packages, or platforms" based on the GaN-on-Silicon technology. Furthermore, Bridgelux is pleased to have Toshiba contribute global-level manufacturing capabilities.
"This agreement also allows us to focus on what we do best, and what we think the market needs most at this point in time: commercializing, productizing and bringing to market LED-based solid state lighting technologies alongside a proven global scale semiconductor manufacturing partner," said Brad Bullington, Chief Executive Officer of Bridgelux in a prepared statement. "We are one step closer to becoming the world's leading solid state lighting technology architecture company."

"We are so excited with this deal that gaining GaN-on-Silicon technology and related assets will contribute to drastically strengthening our LED business, and bring us a high performance and competitive product line-up," said Makoto Hideshima, Executive Vice President of Semiconductor and Storage Products Company, Corporate Vice President of Toshiba in the same prepared statement. "We fully expect our new Livermore team to play a leading role within Toshiba in the development and rapid market GaN-on-Silicon LED chips."
For more information on Bridgelux's technology, see: www.bridgelux.com.
To learn more about Toshiba, see: www.toshiba.co.jp/index.htm.