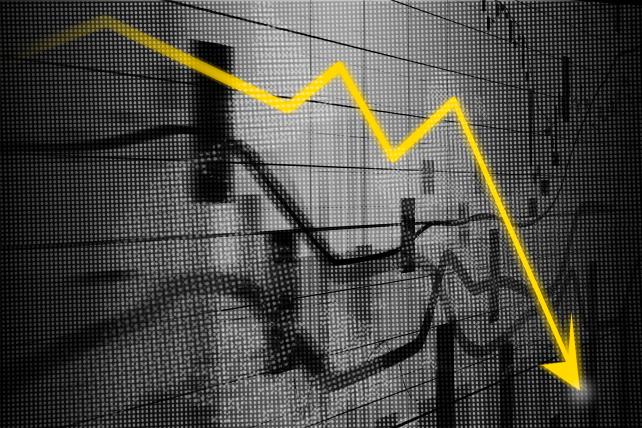 You knew it was coming, but we just couldn't see it until statistical data caught up with the rapidly changing U.S. economy. But now, we are getting a snapshot of these changes and they are breathtaking…and a little scary. Hold on tight…it's going to get worse before it gets better.
See a selection of data showing the economy hitting the brakes…
While most of the data coming in now is for the month of March – the first half of which was relatively unscathed with a changes hitting in the last half – it is already showing a harrowing turn in our economy. I have collected some of this data which is presented below in no particular order.
Consumer Sentiment
The University of Michigan has released their latest Consumer Sentiment survey and it is a stunner. It shows consumer sentiment dropping 18.1 index-points in early April. As U of M notes, this is "the largest monthly decline ever recorded" in the history of this survey.
When you add this to the drop last month, the two month total shows that consumers are feeling really bad about the economy as the overall reading has droped an unprecedented 30.0 index-points – another record result that is fully 50% larger than ever before. These are record setting results, but not the type of record we want to set with consumer sentiment.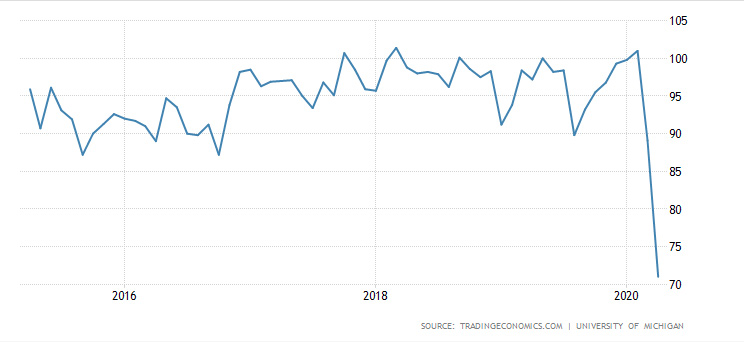 The danger, of course, as I am always preaching – fully 70% of our entire economy is based consumer spending. If consumers feel good and optimistic, they buy stuff, take trips, eat out at fancy restaurants, etc. But if they are not feeling good, consumers don't spend…they save for a rainy day.
U of M analysts commented, "Consumers need to be prepared for a longer and deeper recession rather than the now discredited message that pent-up demand will spark a quick, robust, and sustained economic recovery." Ouch!
Housing Starts in Big Drop
Residential housing construction is a key indicator for the custom integration industry and, as such, I follow it pretty closely. In the last recession of 2008-2009, housing crashed big time as one of the two fundamentals (along with credit) that drove the country into that recession.
So far, this time housing has been relatively unscathed…until now. According to the latest data from the U.S. Census Bureau and the U.S. Department of Housing and Urban Development, housing starts in March came in at 1,216,000 on a seasonally adjusted annual rate. This is a sharp drop of 22.3% below the February rate of 1,564,000.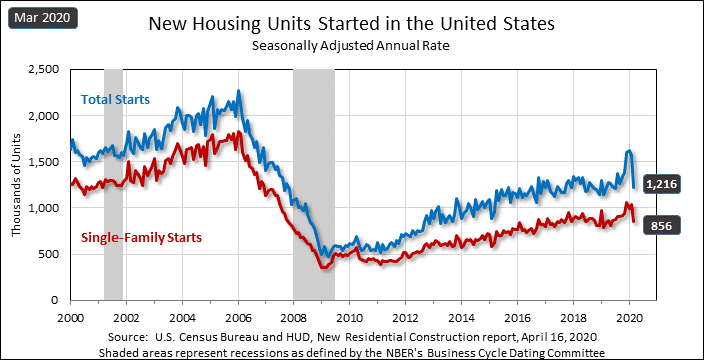 Single-family housing starts were 856,000 or 17.5% below the February rate of 1,037,000. All regions showed double-digit declines for both overall and single-family starts except for a 6.1% rise in single-family starts in the West. The Northeast saw overall starts drop an amazing 42.5%.
New Homes Sales Slide
The flip side of housing starts is new home sales, the reading of how all those newly constructed homes are selling. Sales of newly constructed homes dropped in March, with sales of new single-family homes coming in at 627,000 units or 15.4% below the sales of 741,000 units in February, and 9.5% below the sales of 693,000 units in March 2019.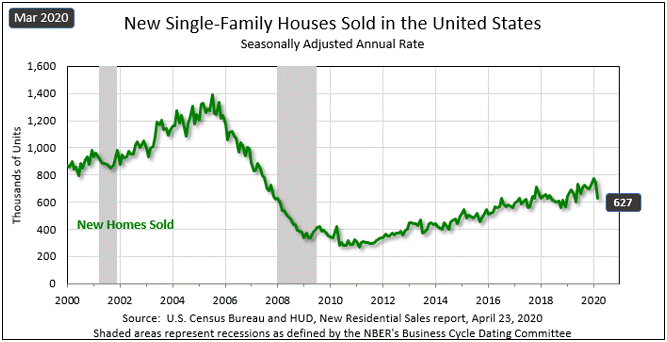 Sales dropped in all regions, with the smallest decrease of only 0.8% seen in the South and the largest drop of 41.5% in the Northeast. Because of this large overall drop in sales, the inventory of unsold homes jumped to 6.4-months of on-hand inventory versus 5.2-months of inventory in February.
The median sales price for a new home in March was $321,400, well off the $330,100 in February. The average selling price was $375,300 in March as compared to $387,200 in February.
Unemployment Claims
Another 4.4 million of Americans filed for unemployment last week, resulting in a five week total of 26 million Americans now out of work. That is a huge jump and means nearly one out of every six Americans is unemployed. This number is likely to continue to grow over time as more companies' resources run out forcing them to layoff more workers.
One problem is that the flood of newly unemployed Americans is overwhelming states' ability to process them. This is why many experts say we still don't know the real number yet, as not every person out of work has been able to file their claim.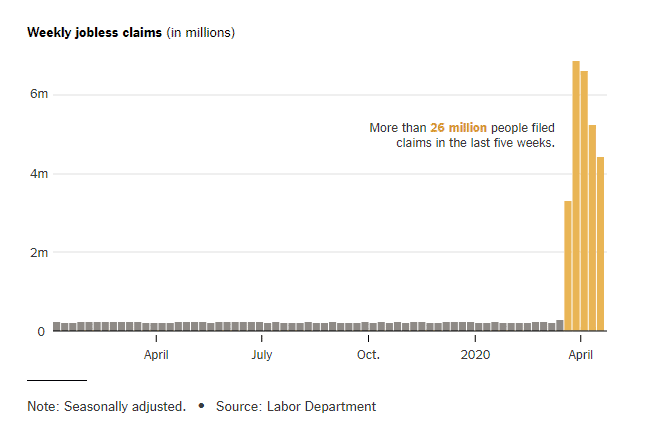 Another problem is that most states are not paying the enhanced unemployment rates (an extra $600 per week) as promised, due to myriad problems in administering the administration's Pandemic Unemployment Assistance program.
Stimulus money from the government may provide some relief, but it is unclear how many jobs will be preserved as a result of these programs, which have been plagued with execution problems. Millions of Americans are still waiting for their $1,200 checks from the IRS – a process that has spanned weeks and could approach a month delay.
Ugly Corporate Results
Delta Airlines is reporting a loss of $607 million for their fiscal first quarter results. This is the company's first quarterly loss in five years…but is likely just the beginning.
The company says that it expects second quarter revenues to decline by a stunning 90%.
Coca-Cola reported that, after an initial surge in stockpiling, it had a 25% drop in sales volume in March. This may strike some as odd, given it is a popular consumer staple at a time when people have more time than ever to drink it as they are stuck in self-isolation.
But in reality, the company derives a significant share of its sales from the B2B commercial market. This includes sales to restaurants, movie theaters, events (like concerts), and vending machines. Of course, with most states in some form of lockdown, these are all places that are now closed.
Coke will likely see further deterioration in their numbers in the second quarter, when the Coronavirus really took hold of the country.
Economic Data for Q2 Will Be Tough to Take
Almost all of the above report on deteriorating economic data refers to the first quarter – which in general wasn't deeply impacted by Coronavirus until the back half of March. This means that the second quarter – April-to-June – is the one likely to be most impacted.
Eventually, much as the pandemic will someday subside, the economy will hit the bottom…and then begin to build again.