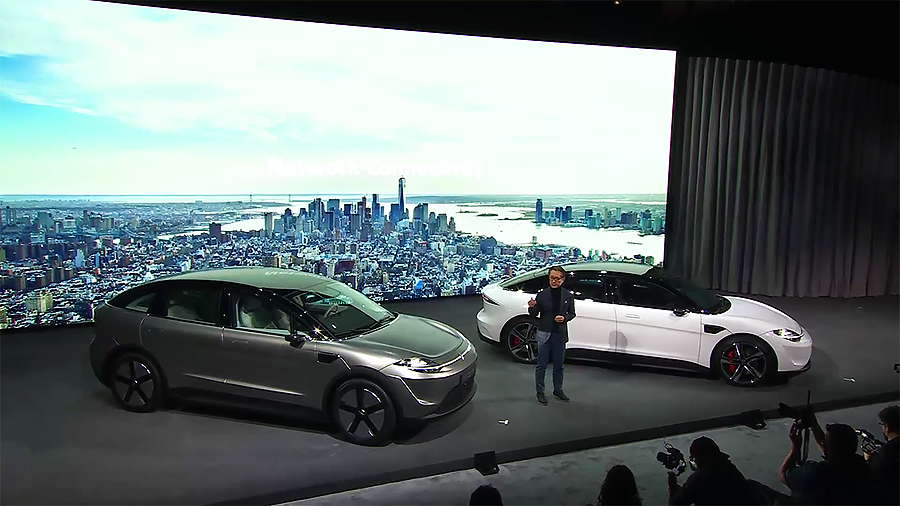 Warning: A Favorite Acronym has been Co-opted
So let me start by saying there was a veritable slew of introductions at CES 2022 Media Day, which took place on Tuesday before the show opened. Most of them were incremental advancements of existing product lines. Only a couple of announcements rose above the noise to catch the attention of just about everyone who attended those presentations. One from an industry stalwart…and another from out of left field (almost literally).
See the two biggest stories from Media Day at CES 2022
OK, you don't need to get very deep into the lead-up to CES, and in the buzz around Media Day, without hearing an alphabet soup's worth of acronyms and abbreviations to which the Tech industry seems to take a particular affinity. So, much as in years past, we hear about AI, 5G, automation, AR/VR, EV, drones (OK not an acronym), machine learning, cloud computing, and the like. BTW, There were even some innovative combinations of acronyms. My personal favorite? Sony PS 5 VR2. I assume you know what all of these acronyms mean without me further spelling it out…because most of you reading this are in the Tech industry.
Over the many presentations on Media Day, we also heard a lot of talk about green matters…not gray matter…green matters. Companies told us all about their commitment to the environment, their efforts to reduce greenhouse gas emissions, reduce their carbon footprint, to encourage diversity and inclusiveness – in general, to make the world a better place. Or even…to save the world! This is all more of a beautiful dream or wishful thinking, rather than actual reality.
Two Stories on Media Day Really Popped
The real reality is that manufacturing technology products today use a lot of materials that are bad for the environment. And since the industry has opted to make products with firmly planned obsolescence – landfills are filling up with yesterday's DVD player or LCD flat panel TV (only HD, now you want 4K…or 8K!), or the previous version of Apple TV.
But after wading through impressive, highly polished, carefully worded live and video presentations, with companies extolling their innovation and their product breakthroughs, there were only two announcements that really surprised me. Two that seemed to be particularly, truly significant stories. One of these stories comes from a well-known industry stalwart technology company – Sony. While the other story comes from a very old company that has only recently become a "technology" company – John Deere. Although they will tell you that they've always been a technology company. It's just that non-farmers didn't know that.
Sony's Winding Road
Let's start with Sony. The Sony presentation covered a lot of ground, initially with its "corporate responsibility statement." Sony CEO Kenichiro Yoshida said, "We want to contribute to the betterment of society and the planet through our businesses." And he spoke at length about diversity, inclusion, and the various funds they've established to help invest in local social organizations to facilitate change.
The hour-long presentation then went on to present much information from their many divisions, including entertainment divisions (both movies and music), gaming division (intro'ing the new Playstation 5 VR 2 game and talking about gaming software and tournaments), and more. The long and winding road, however, ended in a very interesting place.
The Megatrend of Mobility
Very late in the presentation, with about 15 minutes to go, Yoshida paused and said, "Let me talk about the megatrend of mobility." He stepped aside and a car drove onto the stage. This was not the first time we've seen this car – we saw it in last year's 2021 Virtual CES and it was first launched in the last in-person CES in 2020.
It is the Sony Vision-S 01 vehicle – a prototype created by the company housing all Sony technology. Sony is one of the world's largest manufacturers of sensors, and autonomous vehicles need a lot of sensors. When first introduced, the Vision-S 01 was a prototype designed to allow the company to test internally new sensor designs as well as other related technology. The company had "a goal of contributing to the evolution of mobility."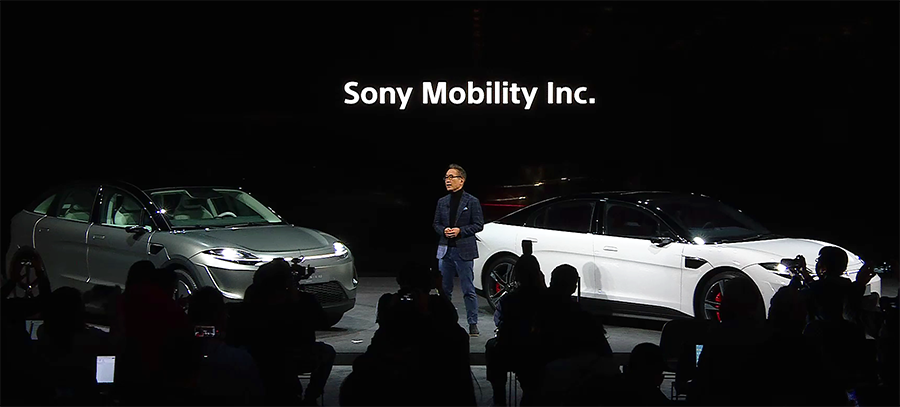 Sony Announces Sony Mobility Inc.
Sony's CEO went on to talk about how they believe that people's desire for mobility will be ongoing and they see "the opportunity to satisfy both people's desire to move safely…and be entertained." The reaction to their prototype was big and the excitement it generated encouraged them to further their program. And with that, the lights dimmed, a curtain opened, and we could see a line of lights from another vehicle driving onto the stage. This was Sony's all-new Vision-S 02 – an SUV.
But the real surprise is that the CEO announced the launch of Sony Mobility, Inc. (SMI). SMI will be a separate freestanding company that will pursue aggressively the potential commercialization of the Sony Vision-S line of electric vehicles…or in a language you technologists will understand – EVs.
Yes, that's right. Sony is going into the car business. I'd say that's pretty surprising news at the CES 2022 media day.
A Lot of Technology on the Farm
The second surprising announcement was from 185-year old farming implement manufacturer John Deere. The company has been coming to CES for a few years now and for those who took the time to check them out, it was a bit of an eye-opening discovery process. For those of us who do not work on a farm, it may surprise you to learn that there is a lot of automation and other technology in use on farms today. As Deere's Chief Technology Officer Jahmy (pronounced like jay' mee) Hindman put it, farmers are always on a mission to do more with less – and technology is a key tool to leverage this increased efficiency.
Think those John Deere farm boys don't get tech? You'd better think again. They know all about artificial intelligence, big data, algorithms, robotics, automation, and now…autonomy.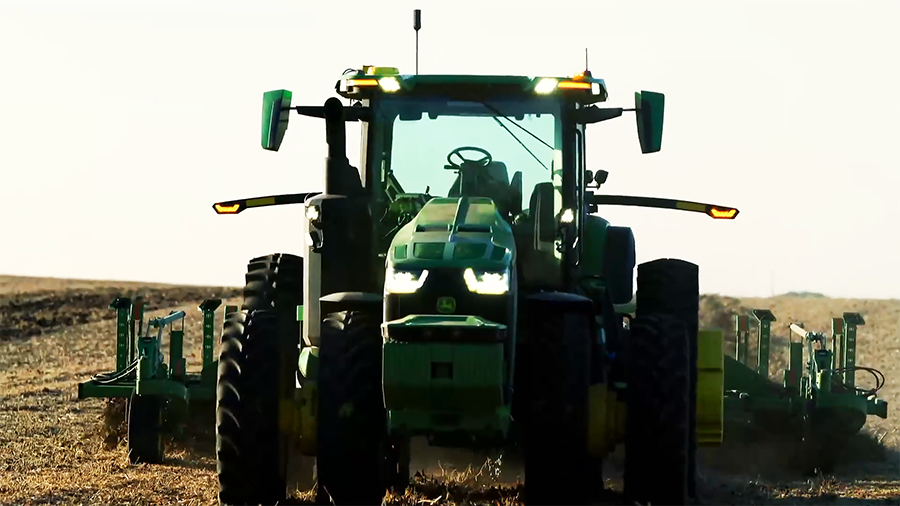 Deere Announces Fully Autonomous 8R Tractor
That big announcement? John Deere announced the availability of their newest product, the fully autonomous 8R Tractor. In an incredibly well-put-together presentation, with lots of video of the 8R at work, we learned that this product is NOT some pipe dream for the future. Nope, farmers will be able to acquire a production model 8R tractor to autonomously till their fields later this year.
This massive 40,000-pound tractor runs completely autonomously – without a driver on board – with full remote monitoring and control via an app on the farmer's smartphone. Like you, farmers really struggle to find skilled machine operators to work the long, day-after-day hours required on the farm. However, the 8R is always on time, never calls in sick, and can run 24/7 with only short stops every 8-10 hours for refueling.
Delivering a Whole Lot More to Farmers
This new tractor promises to deliver farmers more productivity, more profitability, and more sustainability. As Deere puts it, the future of farming starts today.
That was also a surprising announcement at CES 2022 media day.
AV Doesn't Mean What You Think It Means Anymore
Oh, and one last thing. At CES this year the acronym AV – a favorite of mine – took on a whole new meaning. Instead of the many decades when it indicated audio/video or audio/visual…now it means autonomous vehicle.
Learn more about John Deere products by visiting: deere.com.