Topics to Include Industry Trends, Product & Company Information
The Stratecon Group, Inc., a leading tech industry strategic marketing company and parent company of this website, announced  today that The DaVinci Group, LLC has selected it to develop, create, and produce content for a new support program for their dealers. This new program, which will be officially launched in a few weeks, is centered around the creation of news and information on industry trends,  technology trends, product news, and company information to be published on a regular basis for The DaVinci Group dealers.
Learn more about this announcement…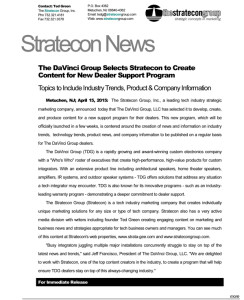 The DaVinci Group (TDG) is a rapidly growing and award-winning custom electronics company with a "Who's Who" roster of executives that create high-performance, high-value products for custom integrators. With an extensive product line including architectural speakers, home theater speakers, amplifiers, IR systems, and outdoor speaker systems – TDG offers solutions that address any situation a tech integrator may encounter. TDG is also known for its innovative programs – such as an industry-leading warranty program – demonstrating a deeper commitment to dealer support.
See more on this new program at the Stratecon website…