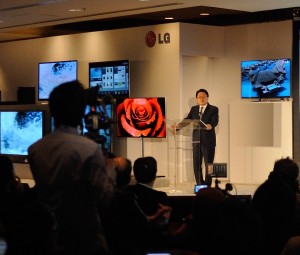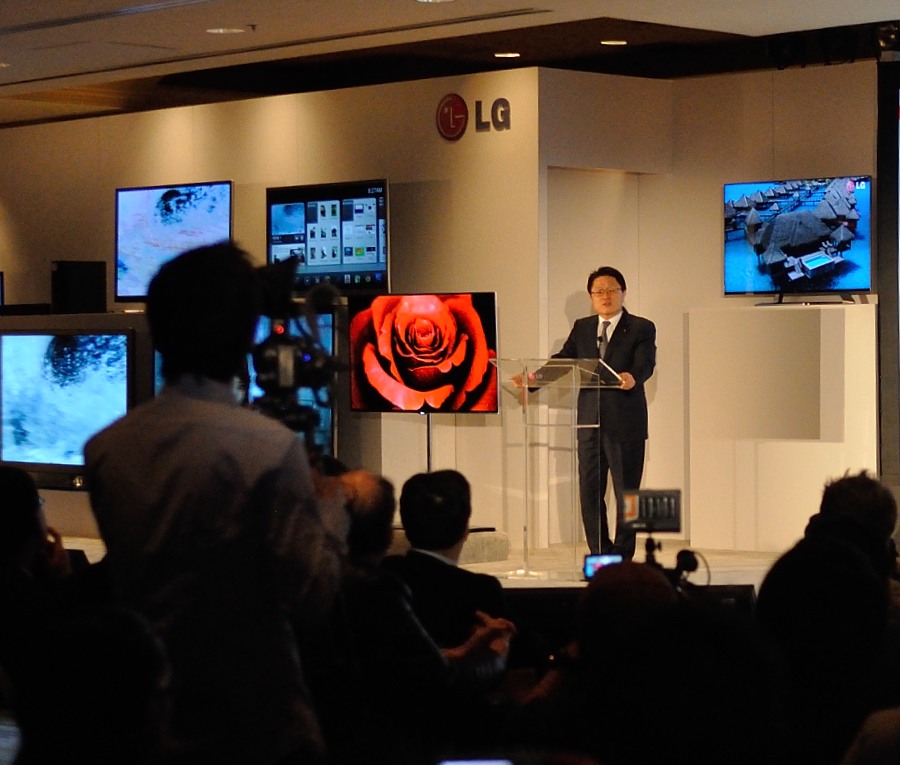 Just days after two major promoters of OLED, Samsung Electronics and Sony Corp., announced a pullback of their support due to serious production difficulties causing low panel yields and low profitability – word comes out of South Korea that LG Electronics has solved the puzzle on how to profitably produce OLED panels. And while their competitors are shifting their efforts back to 4k Ultra HD LCD TVs, LG is ready to ramp up a major commitment to OLED.
This could be good news indeed for fans of OLED technology…How did LG do it?…
Or maybe the question should be, what does LG know that its larger South Korean rival Samsung doesn't? We'll get to that in a minute. But certainly LG could use its advantage to finally get an upper hand on Samsung, which at $208.9 billion in revenues fairly swamps their significant but smaller $56.7 billion in revenues.
And it is particularly good news for LG Display, a division of LG Electronics, that is the largest manufacturer in the world of flat-panel displays (by volume). LG Display has been struggling with a worldwide drop-off in demand for display panels. If they are the only company producing the panels, and OLED TVs pick up in popularity – well, happy days are here again.
LG says they've solved the OLED manufacturing puzzle…
Simply put, LG has rather boldly proclaimed that they have solved the mystery of how to efficiently produce OLED panels with better yields and less breakage than – so far as we can tell – any other player in the game. Just last week, both Samsung and Sony, announced that they would be scaling back their investment in OLED – refocusing their energies on LCD TVs with 4K Ultra HD resolution.
The secret sauce appears to be the type of OLED panel that LG was using. Most of the manufacturers trying to drive the OLED market, used the same types of basic panel as was used in smaller OLED screens – such as those made for smartphone screens. They also used the same manufacturing process that was used on the smaller panels, on new larger format panels.
Lower yields, higher costs…
But the results were disappointing. The larger panels were simply harder to produce and there were a lot of problems with panels being damaged during the manufacturing process. This caused lower yields of acceptable panels…which kept the cost of manufacturing – and the corresponding retail price – just way too high for mainstream market acceptance.
According to a detailed report by the Nikkei, LG has developed a proprietary OLED panel that differs in significant ways from the other manufacturers. The secret? LG's panel uses a unique four-pixel system called WRGB.
Pixel configuration is the key…
The LG WRGB system uses a unique pixel configuration as well. While others are usually a horizontally configured pixel pattern – only LG's WRGB system places the green and blue pixels in a vertical configuration with an additional White sub-pixel incorporated. This unique system is said to greatly reduce color interference on the panels and lowers the cost of producing large OLED panels with "bright and sharp color."
In addition to the configuration advantage, LG is said to use oxide thin-film transistors (TFTs) to control electrical signals while other manufacturers continued to use the standard poly-silicon TFTs they used on their smaller panels. But oxide TFTs are said to be faster and offer "more sophisticated color processing."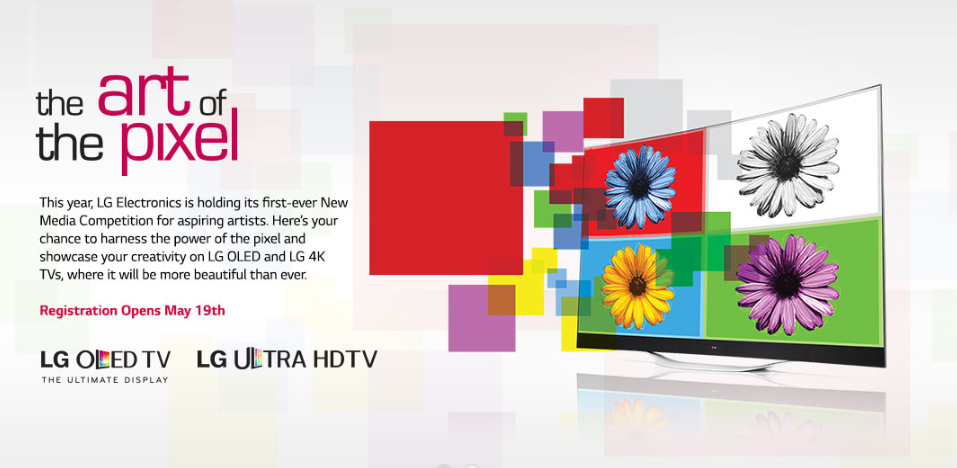 On the crest of significant opportunity…
LG finds itself on the crest of a significant opportunity. OLED offers a visibly superior picture to LCD. As the only manufacturer who has cracked the code on how to efficiently manufacture it, LG could become the industry's key supplier of OLED panels. It is likely that they would be only too happy to cut deals with all of the other major brands to become their exclusive supplier of OLED panels.
Assuming these reports out of Asia are accurate and the LG is able to drop the cost of OLED market pricing…and assuming LG can convince the industry to set 4K LCD TVs aside in order to market OLED TVs…then this could be a once-in-a-lifetime windfall for the company. But a lot of assumptions have to fall into place for that to happen.
A little Apple polishing is in order…
Not only that, but LG – who already earns about 20% of its revenues by supplying Apple, stands to reap the benefits of a deeper relationship as Apple is rumored to be pushing forward with larger OLED screen sizes in forthcoming smartphone products. Some industry analysts think it inevitable that Apple would rely heavily on the industry's OLED manufacturing expert.
And LG needs a big win. Last month, LG Display reported its worst quarterly performance in almost two years with operating profits dropping a substantial 38%. The company faces a worldwide glut of LCD panels and displays – and that glut is also driving a huge drop in pricing.
Desperately seeking a win…
This fact, coupled with the failure of plasma TV, leaves the company desperately seeking a big win in a new area. And OLED just might be that win for them.
Market researcher iSupply forecasts sales of OLED TVs to rise from 50,000 units this year to 10 million units by 2018. Most market researchers are forecasting that LCD will begin to decline in popularity.