Foxconn Technology Group, a Taiwanese company with manufacturing plants in China, and the world's largest manufacturer of electronics – is looking to build one or more factories here in the U.S. The company, mostly known as the primary manufacturer of Apple's popular iPhone, is in negotiations with Arizona and Colorado, according to a report by Bloomberg. But four other states have thrown their hats into the ring as well.
See more on this turn of events, a Taiwanese company building factories in the U.S….
In addition to building manufacturing facilities here in the U.S., Foxconn is also investing $10 million into a venture with Carnegie Mellon University for research into robotics and manufacturing. These bold moves are designed to both better serve their U.S. customers (i.e. Apple) by getting closer to them, and to position the company for further growth.
Foxconn is looking to set up advanced manufacturing plants here, largely to make tools, molds, and connectors, company spokesperson Simon Hsing told Bloomberg.
Six states compete for a factory…
In addition to Arizona and Colorado, the company has also received offers from Texas, New York, New Jersey and Louisiana. While none of the states would confirm the reports (Texas told Bloomberg they can't comment on "potential ongoing negotiations"), Foxconn specifically says it met with Arizona Governor Jan Brewer this past November.
Hon Hai Precision Industry Co., Foxconn's largest subsidiary, announced in November that it will spend $30 million in Pennsylvania through Foxconn Interconnect, a division that makes computer and smartphone connectors. This investment is separate from the Carnegie Mellon grant.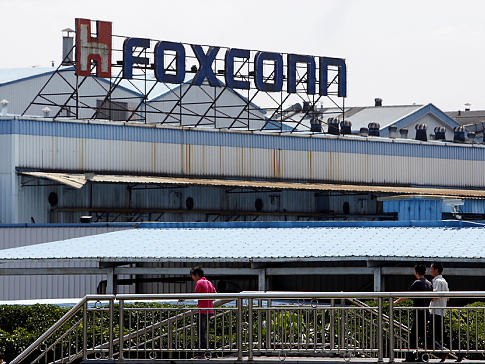 Knowledge and content-based factories…
Company founder and Chairman Terry Gou told reporters in Taipei on January 26th that any plants built in the U.S. will not be for labor-intensive processes, such as assembling smartphones or tablets. Rather, they will seek to focus on "knowledge and content-based skills."
In addition to getter closer to key customers, Foxconn also seeks to get closer to supply partners here in the U.S. Key suppliers such as Applied Materials, Inc. and Corning, Inc. are based in the states.
And besides Apple, Foxconn also manufactures items for Microsoft Corp. (game consoles), Amazon.com, Inc. (tablets), Dell, Inc. (computers), and Hewlett-Packard (computers). Most of this manufacturing takes place at their China factories. Foxconn employs 1 million people in China and another 20,000 in factories in Mexico.