What the Future Holds for the CEDIA Show
"Do I need to 'prepare' for anything?" Emerald Expositions Marketing Manager Brianna Morris asked us in a firm tone as we met to set up a date for an interview. "Prepare?," we asked. "Yes…we're read your stuff," she said in a deeper tone.
I could tell right then, it was going to be an interesting interview.
See our interview with Emerald's CEDIA show marketing manager…
At the appointed hour, we sat down with Ms. Morris to learn more about just what Emerald Expositions had in store for the future of next CEDIA Show, the first under their total control. She presented us with her business card, which immediately caught our attention as it had no logos or company names – just a web address: www.cediaexpo.com.
Her title will be with CEDIA Expo, she told us…not Emerald Expositions…as this show is her primary responsibility. She noted that she will also be helping out with a couple of other events, but CEDIA Expo, will be her main mission.
The #1 B-to-B Tradeshow Company in N. America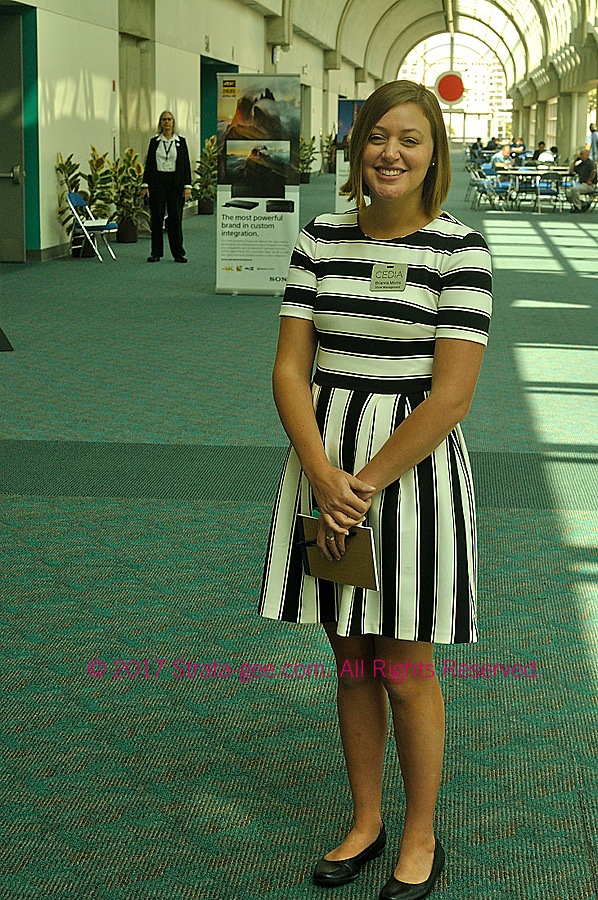 Morris was poised and articulate during our interview. She was clearly prepared and literally leaned forward in her seat anticipating our questions…often enthusiastically launching into her answer before we had even finished expressing the question.
Emerald Expositions is the number one trade show promoter in North America, Morris told us proudly. With 30 of the top 100 trade shows in their portfolio, no one knows how to put on business-to-business tradeshows better than Emerald.
Other Tech shows owned by Emerald include InterDrone and RFID – "I don't think we are tech-absent by any means," Morris said. But the CEDIA show promises to be the true Tech showcase for the Emerald, and as you will learn below, has tremendous strategic value to the company.
Also, Morris stated unequivocally that their strength in the trade show business allows them to both see cross-pollination opportunities and bring greater resources to bear than any independent company could possibly muster.
How Did This Happen?
We asked Ms. Morris for Emerald's take on how they become interested in buying a tech show that, on the face of it, seemed outside their other show portfolio – and how that transaction came to pass.
"Our Senior Vice President Brian Pagel has been involved with CEDIA for a long time," she said, her response spoken in a quick staccato. "He has run the Kitchen and Bath Show for a long time…he's been an advocate for involving the integrator with the home builder/architect/design community, for a long time. He's got friends with Lutron, with Crestron – and so, he just had personal relationships that he knew this was something that he wanted – to start bridging the gap."
Upon meeting former CEDIA CEO Vin Bruno, discussions began that quickly became serious. This all makes sense, Morris says, "because Emerald has a very strong design and construction portfolio."
With so many shows involved in different aspects of building and design, to Emerald the synergistic pull of this deal was strong.
The Power of Cross-Pollination
"We have a strong relationship with the National Kitchen and Bath Association and the International Home Builders Association – and so we see that as a strong area of growth for CEDIA, the show, to begin bridging the gap."
Emerald, she says, "wants to create the value proposition to the architects." Currently, Morris said, architects view the integrator as just another sub-contractor that they have to manage – rather than as a partner in the process.
"We want to educate them that this is really a key part of your business that you're missing out on, whether it's a revenue stream – really to work with these integrators…and vice versa," Morris told us.
This concept, sort of a cross-pollination of the organizations associated with the various shows they own, was a theme Ms. Morris came back to time and again. Clearly, Emerald believes that by exposing related trades from their various shows, they can – not divvy up the pie to more slices – but, rather, bake a much bigger pie.
The Future of Construction
Ms. Morris was emphatic in suggesting that Emerald has the relationships to influence the architect/builder/design community.
"We had a CEDIA Pavillion this past year [at the KBIS Kitchen & Bath Show] and saw a lot of interest," Morris said. "And I think that we'll continue that relationship – I don't know in what regard – but we want to educate that community on why they need to pay attention to what's going on in this community [CEDIA]…for their business and for their clients…because all of it is with then end-consumer in mind. They need to be educated on what's going on here, because this [smart homes] is the future of construction. We see that…and we want them to see that."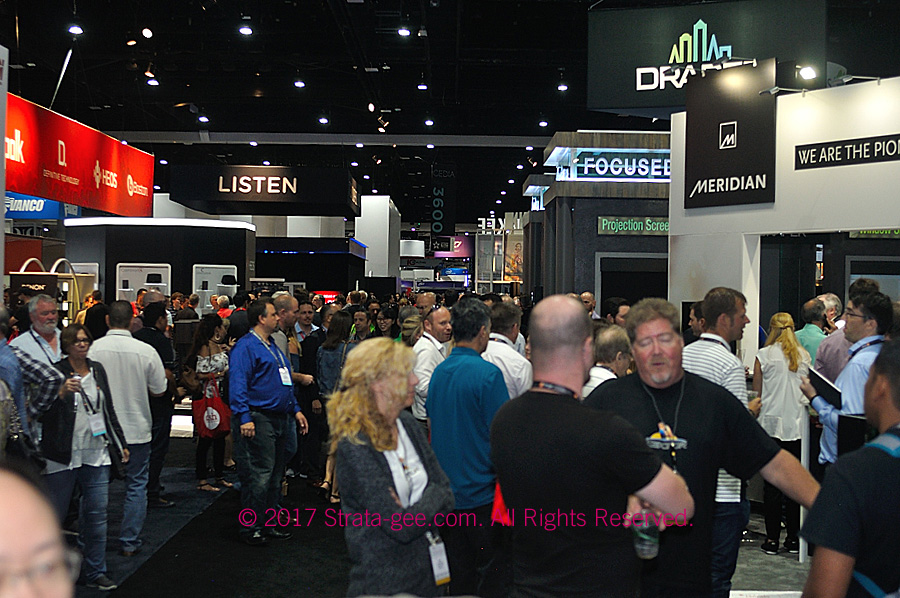 There are parallels to the rapid technical development of smart homes and what Emerald sees going on in the hospitality business with what she called "smart spaces." Emerald has already done some test marketing to this parallel industry and they have been successful in raising some attention…a positive sign.
"A lot of people don't know what CEDIA is, outside of CEDIA," Morris told us. This is, Emerald appears to feel, a real opportunity. "We want to broadcast what's going on here…there's a lot here in this market and we want to give a platform for that."
The Lost Connection Between CEDIA the Association & CEDIA the Show

We spoke to Morris about the trepidation that many CEDIA members and exhibitors have expressed by the decision of the organization to sell off the show. What influence, some have asked Strata-gee, will integrators and tech exhibitors have with a large national exposition company? We went from being a big fish in a small pond, to a small fish in a big pond…will they even care about our feelings about the show?
"Well, we care a lot..we care a lot… Part of the reason that we have this transition period is because we are not wanting to come in and bulldoze what CEDIA has done," Morris said emphatically. "CEDIA has run this show, and they have done a lot of things really well. We look at this [transition] as a research opportunity."
They had sent out flyers to CEDIA members asking for feedback, "We want your feedback," Morris proclaimed. "We want to know the good, the bad, and everything in between. What can we improve upon?"
But, Morris acknowledged, "We don't want to promise the gold at the end of the rainbow. We know that change takes time and we want to build a relationship with this community, to say, 'We want you to trust us.' But we know that takes time."
At CEDIA 2017, Emerald convened an Exhibitor Advisory Council made up of a group of existing exhibitors, to whom they can bounce all of their ideas on before actually roll any changes out. Topics they are already considering: Do we keep bouncing around to different cities every year or two? Or do we want to put down roots in one place?
There are about ten to twelve exhibitors on this council, but Morris didn't have the list of names with her. She promised to publish that list and make it public.
Morris also said that they will continue to work "in lockstep with CEDIA." There is a new strategic plan in the works at CEDIA, and Emerald is waiting to see where that takes the Association, to determine how they can provide support for any new strategic goals.
What Changes are Coming to the CEDIA Show?
Morris told us that Emerald already has some interesting new ideas for the 2018 show. At that show, Emerald is launching something they call a Smart Stage, a centrally located stage with rotating events to further engage attendees and also provide opportunities for exhibitors as well.
As part of this initiative, a program called Tech Bites will launch as well. Tech Bites are 5-minute time slots that exhibitors can apply for to showcase a new product or service with a quick elevator pitch. Now exhibitors have a chance to show off their hottest items not just to the attendees who come to their booths, but on a big stage to a larger audience of attendees.
Emerald believes that Tech Bites will help to encourage innovation and will come to be an important asset to both attendees and the media, with concise presentations on hot products.
The Smart Stage will also be used for Tech Talks – a program of short presentations from industry leaders on topics such as current trends, market changes and other general industry topics delivered in the style of TED-Talks. This added content will further add value to motivate integrators to attend CEDIA.
Emerald notes that exhibitors will also have the opportunity to utilize the Smart Stage to offer "sponsored content" – in other words, advertising.
This Smart Stage, Tech Bites, Tech Talk idea is a popular feature at other Emerald Expositions trade shows, and it is a proven winner, they say.
Reworking the Show Floor Map
Another area where their multi-show expertise comes to play, Morris tells us they are already changing the layout of the event to enhance the attendee and buyer experience.
"For example, there will be a 20-foot aisle down the [center of the] main floor, to easily get from one section to the other," Morris said. "That's a pain point for attendees that we can address easily."
What were the Terms of the Purchase of the CEDIA Show?
Morris told us that she was not with the company at the time this deal went down, so she is unaware of why it was conducted so secretly. However, given the fact that the company was going public, perhaps, she suggests, that was the issue.
We'll return to this issue, the deal surrounding the sale of the show, later.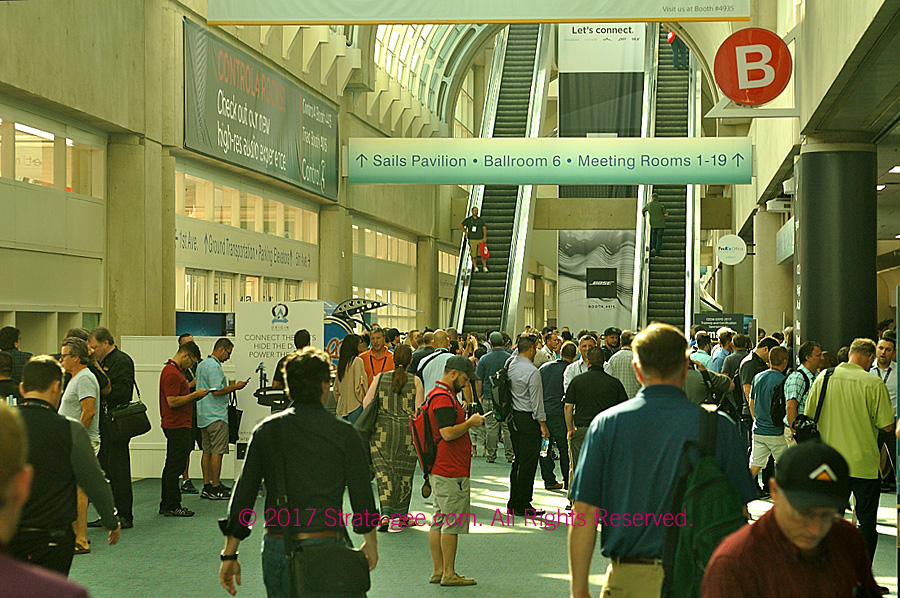 CEDIA Moving to Atlanta? Well the Show Team is There At Least
Emerald Exhibitions has assembled a team specifically designated to handle the CEDIA show. Ms. Morris is part of that team. This team is located in Emerald's Atlanta facility.
Ashley Sprengnether, formerly with CEDIA, has joined the Emerald team, and Morris offered her as an example of the steps the company is taking to bring greater continuity to the transition.
Will Prices Go Up?
Morris told us that for the 2018 show there is a space fee increase of 5½%. She quickly added that from 2016 to 2017, the increase under the previous CEDIA regime, was 11%.
Increases, she told us, are standard over all of their shows, based on cost increases to Emerald. But the increase this year was modest – half of the increase CEDIA passed on last year.
There are a couple of newly added fees:
Corner Fee – These are a standard fee for almost all trade shows. It recognizes that booths that sit on the corners of aisleways are in fact a premium space. The fee is a $150 add-on.
Marketing Fee – "That is something that helps us to market on behalf of the exhibitor." This fee runs $99. One application of this fee was for a tool called Exhibitor Invites, which provided for personalized custom email tool for exhibitors.
What Will Be the Most Obvious Differences Be at CEDIA 2018?
"They should notice very little [difference]. They'll notice the 20-foot aisle, they'll notice the Smart Stage, they may notice signage…but overall we want the attendee experience – and the exhibitor experience – to be seamless," Morris told us. "We want it to feel natural…it will feel like their show still."
Will CEDIA be called Expo again? "Maybe," Morris said. "We're looking at it."
Ms. Morris promised us greater transparency, a topic she brought up, perhaps to prove that she has indeed read our coverage of CEDIA (the Association), which has often been critical of the organization for its operating opacity. In all of this interview, she said all the right things. Now we'll watch to see if Emerald truly delivers on all she promised.
We're optimistic…
Learn more about Emerald Exposition at: www.emeraldexpositions.com.