Like the hero in their anime movie Demon Slayer, Sony has blown away investors with their latest (and probably last) revision to their fiscal year net profit estimate. Announced on Wednesday, the company now says that it forecasts that it will set a new all-time record net profit for the fiscal year that ends in March. The major reason? A shift in focus away from hardware to services and content revenues and profits.
See more on this latest report from Sony…
On Wednesday, Sony released new details on their progress in the current fiscal year ending in March, including revising their forecasted end-of-year net profits. Not only was the revision surprisingly big…it was the second time during this fiscal year that they raised it.
Sony now says it expects to see its fiscal year-end net profits to come in at an impressive ¥1.085 trillion ($10 billion). This is no less than an 86% increase over the net profits earned at the end of last year.
Investors React by Driving Up Shares of Sony Stock More Than 10%
Investors reacted strongly, driving the stock up more than 10% in Tokyo to a 20-year high according to Bloomberg News. It was their biggest intraday gain since May 2019.
Like many tech companies, Sony has greatly benefitted from the pandemic, which has forced quarantined consumers to rely on technology for work, education – and most importantly to Sony – for entertainment. But the company has also benefitted from a strategy to refocus their business on services and content…and away from hardware.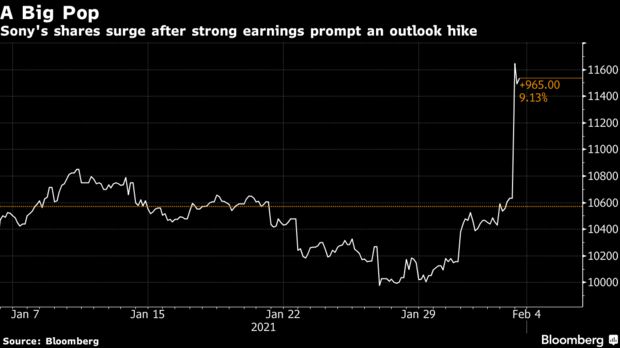 What's Powering This Success? Games, Anime & Music
The company said their results were largely due to an exceptionally strong performance in entertainment content, like games, anime, and music streaming.
The company also says that they can now project their fiscal uplift is in multiple areas, a selection of which is shown below.
Other Key Milestones for Current Fiscal Year
Revenues – projected to increase 7% to ¥8.8 trillion
Operating Profits – expected to increase 11% to ¥940 billion
PlayStation 5 shipments – just introduced in November, now looks as though PS5 shipments will exceed 7.6 million units. This is a far faster pace than they experienced with PlayStation 4
Gaming division-only Operating Profits – now projected to increase 42% to ¥340 billion
Music division-only Operating Profits – expected to increase 26% to ¥180 billion
The company also noted that their gaming services – which are sold as subscriptions – have seen a major jump. Subscribers to PS Plus have grown to a total of 47.4 million users at the end of December – a 22% jump over the number in December 2019. In fact, in just one 90-day period, the service added 1.5 million new subscriptions – almost 17,000 new subscribers a day! This service is said to be quite profitable for them.
A Heavy Reliance on PlayStation for Growth in 2020
The company has increasingly turned to their PlayStation brand to drive growth. And while the PlayStation 5 hardware has far exceeded expectations in terms of unit shipments, the company loses money on every one of those shipped. More importantly, the add-on attachment sales of a variety of accessories – and most importantly, games – is where the company makes their profits.
The good news for Sony is that the success of PS5 has resulted in sales of over 4 million copies of its most popular game – "Marvel's Spider-Man: Miles Morales." The success of that game alone has offset the initially higher marketing and promotional expenses, according to a report by the Nikkei.
Company Warns of Global Chip Shortage
Still, Sony points to a couple of vexing headwinds as it looks to finish out this fiscal year, and launch into the next one. First, the company is facing much criticism over their inability to meet demand on the PS5 globally…but especially at "home" in Japan. Second, the company notes it is being forced to deal with "a global chip crunch."
In an press conference on the company's fiscal results, company CFO Hiroki Totoki said, "We expect PS5's high demand to continue into next fiscal year and will do our best to meet that demand."
CFO Says, 'We Will Make Efforts to Secure Enough Materials'
He went on to say that they now forecast PS5 sales in the next fiscal year to come in a more than 14.8 million units. To which he said, "We will make efforts to secure enough materials," he promised.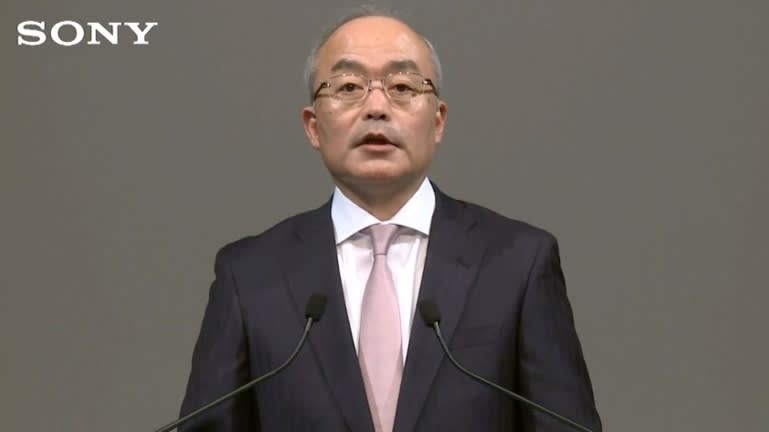 During this fiscal year, Sony upped their anime game, launching what the Nikkei called "the smash-hit anime movie 'Demon Slayer,'" Demon Slayer was co-distributed with Sony's music division and is said to have boosted the unit's sales significantly.
Anime Movie – First Released in Theaters – a Huge Success
Interestingly, the company initially released Demon Slayer in movie theaters in Japan this last October. But then COVID-19 closings led to a surge in demand for a TV anime version that was then offered by the company on streaming platforms.
Noting that their PlayStation business is the company's "top contributor," Chief Executive Officer Kenichiro Yoshida has told the heads of Sony's other business units to model their divisions after the videogame's "recurring revenue" model. In other words, they must place greater emphasis on services and content.
See more on Sony by visiting: sony.com.