Sony Marketing Discusses Growth Plans with Japanese Media
Sony told the Nikkei this week that – to paraphrase – after years of painful dieting, the company has reached its fighting weight and is ready to go to battle to grow its sales worldwide. The company has spent the last few years spinning off divisions, cutting back on employment levels, and reducing overhead – all for the express purpose of improving profits. That goal achieved, the company will now focus on sales.
But the plan that Sony's chief marketer outlined has some concerned…
In a meeting with Japanese media, Masaru Tamagawa, chairman of Sony's marketing, outlined the go-forward strategy to drive Sony sales worldwide. He told reporters that for some time now, the consumer segment of the company has been very focused on the bottom line. However, now they are gearing up for a "major global sales drive."
Sony, he says, will prioritize the U.S. and Asian markets for sales growth. The company will also target its audio equipment sales in Latin America.
U.S. is Profitable, Now It's Time to Drive Sales
As far as the U.S., Sony said that three years ago it began "downsizing" and "consolidating its sales channels" in an effort to cut fixed costs. The company said its efforts worked and the consumer electronics business returned to profitability in 2014.
Now in the U.S.: "We want to expand sales in this high-potential market to make the operations more lucrative," Tamagawa told reporters.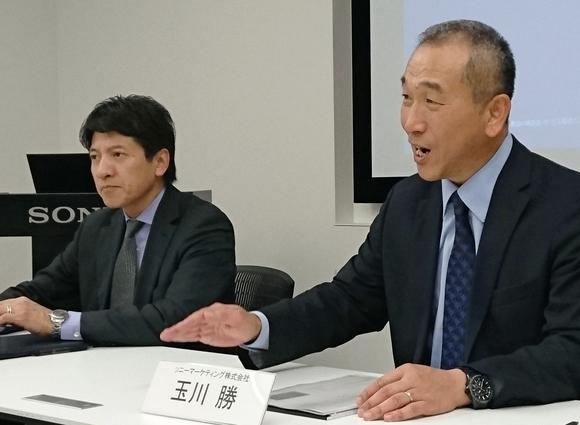 TVs are Now Profitable
Another area where the company has seen recovery is in their TV segment, which through a combination of spinning off the division and focusing on higher end 4K TV sets, has returned this business to profitability. Although sales data shows the division has seen sales steadily decline since 2010.
Like the U.S. market, Sony's overall TV segment also returned to profitability in 2014, as did the company's overall consumer electronics business the year after that. So the pain the company went through definitely produced results. Now, it's time to get back on a growth track.
Heading Global Sales Operations
Tamagawa assumed responsibility for global sales operations this past April. According to the Nikkei, Tamagawa is credited with retaking the top market position in TVs in India from Samsung. As well, he was said to have helped European operations return to profitability in 2014.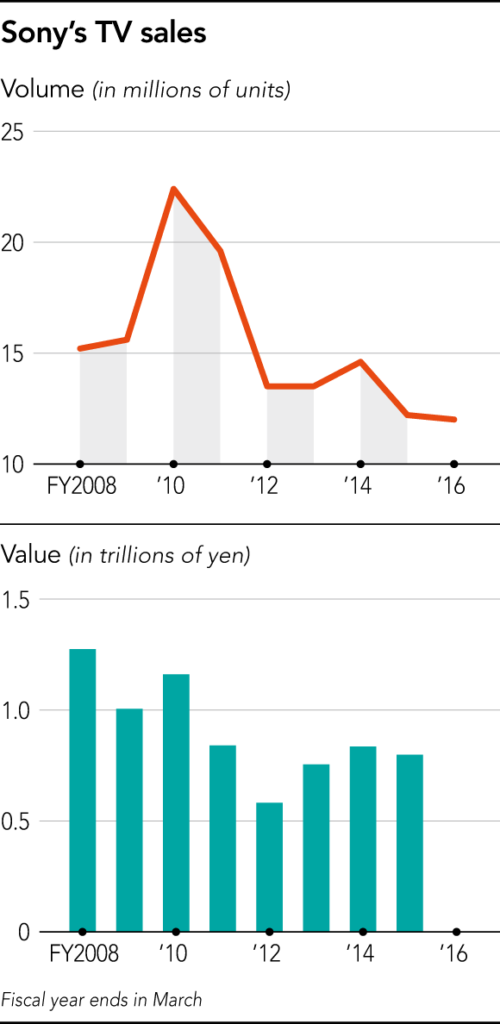 His formula for success, involves eliminating inventories through the use of data on "volumes, market share, and the number of stores carrying each type of product." With this data, he can then apply specific sales channel strategies for each market.
Looking to Online Sales of Headphones and Small Gadgets
The Nikkei report says he will take this approach with the U.S. and European markets. Sony is said to be planning on "enhancing online sales" of headphones and other small gadgets.
Somewhat surprisingly, Sony plans to use TVs and digital cameras to lead the charge in driving sales growth. The company says that both of these divisions are profitable, largely through focusing on upsell, higher performance products.
Upscale Models Brought Profitability, Now Sales is Targeted
In TVs, this means top-of-the-line 4K, large screen models. In the case of cameras, the company has found success with full-frame, high-end, digital SLR (single lens reflex) models with large sensors.
It remains to be seen how Sony intends to drive sales volume with high-end products. In the past, this has led the company to either deeply discount those products to drive sales…or shift focus to lower-priced, lower-end models.
Perhaps this time will be different now that the company has found a new religion to worship – praying at the altar of profit.