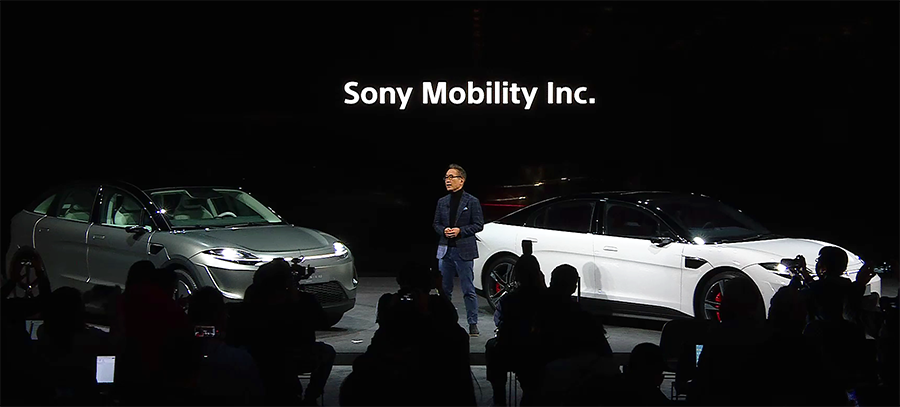 New Financial Info Shows Sony Continues to Transform Biz
On the eve of closing out their current fiscal year (fiscal 2021) on March 30, 2022, Sony Group announced their latest financial results for the first nine months of the fiscal year…and included a surprising new upgrade of their forecast, now saying they'll have a record operating profit for the year. This was a high note for the company, a company that has benefitted from consumers spending more time at home playing video games on their PlayStation, thanks to the COVID-19 pandemic.
But the company also answered the question that many – including me – had about Sony entering the automobile business via their new Sony Mobile division – and in so doing, reiterated their plan to move away from a hardware-centric business.
See more on where tech leader Sony is headed
Another fiscal quarter, another earnings report from industry tech bellwether Sony Group (yes, that's their new name). There are always interesting things to learn from these reports, but particularly so in the case of Sony – a company that is going through a major transformation of their business, shifting away from a hardware-centric strategy, to more of what they now call an "asset-light" strategy. You might say Sony's going soft…to software, services, online "cloud," and "network" opportunities.
Travelling the Road to Financial Performance
Before we get to the issue of Sony cars, let's stay on the road to their financial results, which is elevating nicely, if a little bumpy. As the headline above notes, the company has increased its forecast for the fiscal year-end "operating" profit – a key performance indicator (KPI) that is more often focused on by Japanese companies rather than American companies who tend to focus on net earnings.
Sony says it will close the year out with a record operating profit of an impressive ¥1.2 trillion ($10.5 billion). This is 26% higher than the previous operating profit in the last fiscal year, and an all-time record for the company. Prior to this revised upgrade, the company had been forecasting a 9% increase to ¥1 trillion – so another couple of hundred billion yen is an impressive upgrade.
Sony is Feeling Pretty Optimistic
Sony is feeling pretty optimistic, as their earnings report for the fiscal third quarter of the year – the period that ended December 31, 2021 – showed new highs in both revenues and operating profits in the quarter. According to a report by the Nikkei, Sony saw 3rd quarter revenues jump 13% year-over-year to ¥3.03 trillion…and operating profits rose 32% to ¥465.0 billion.
The company said 3rd quarter results benefitted from strong sales in motion picture and music streaming businesses. They particularly pointed to the blockbuster motion picture Spider-Man: No Way Home, which debuted in December – just in time to boost the quarterly results. The company said that this movie had a global box office proceeds of $1.7 billion – and, yes, that's a new record for a Sony motion picture.
But is it All Peaches-and-Cream?
On a year-to-date basis for the first nine months of the fiscal year, Sony saw its revenues jump a substantial 13% to ¥7.6 trillion. And, as is the theme I would imagine you are picking up on, booked an operating profit of ¥1 trillion – a 19% YoY increase over the same period the year before. These are all pretty spectacular numbers folks…
But is everything peaches-and-cream in their financial report? Read on…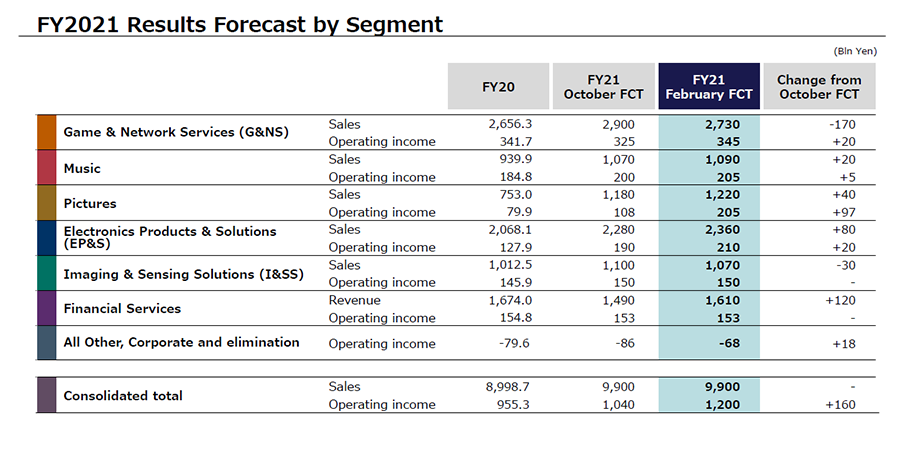 Turning to the number that is generally watched more closely on this side of the ocean, Sony's net profit fell a disconcerting -20% to ¥771 billion. The company said this was a result of tax breaks from the previous year expiring. They now forecast a net profit of ¥860 billion, -16.5% lower than the same metric last year. This is especially surprising because Sony enjoyed a ¥70 billion windfall from selling off their GSN Games mobile gaming subsidiary. However, it is better than analysts' expectation of a net profit of ¥780 billion, based on a survey of analysts by data provider Refinitiv.
Company Commends CEOs for Financial Performance
The company attributes this overall positive financial performance to the transformation of their business begun under former CEO Kazuo Hirai and current CEO Kenichiro Yoshida. Sony made tough decisions to shut down underperforming hardware divisions such as VAIO laptops and Xperia mobile phones – divisions (black holes?) that the company had previously dumped a ton of money into – which in so doing, according to the Nikkei report, "allowed Sony to strengthen its financial position to make more strategic investments to compete."
And investing in new businesses is something that the company has aggressively pursued. Sony has a plan to make "strategic" investments of no less than ¥2 trillion through the next two fiscal years to the year that ends March 2024.
Sony Chief Financial Officer Hiroki Totoki says the company has already invested ¥850 billion on opportunities that include Zee Entertainment (an entertainment network in India), Crunchyroll (an anime business previously owned by AT&T), and Bungie (a U.S. based video game maker). Says CFO Totoki, "We are right on track to evolve our business portfolio into one that enables us to achieve long-term growth."
What About Sony Getting into the Electric Vehicle Building Business?
It is interesting to note that Sony's CFO took advantage of a public press conference in Japan to address the question of whether Sony is entering the electric car business. Strata-gee was one of the first to report on this stunning development as part of my CES coverage. Sony's presentation definitely gave the impression that it had decided to jump feet first into the car business…showing two different car models with Sony Vision-S 01 on one license plate, and Sony Vision-S 02 on the other, a new SUV model.
Many media reports agreed with my thinking (including the respected Future Today Institue)¹ that the two biggest stories from the somewhat stunted 2022 CES were the John Deere autonomous tractor, and Sony entering the car business. Now, Sony's CFO suggests that this is NOT the case…Sony will NOT enter the car business. At least, not in terms of their manufacturing an actual vehicle.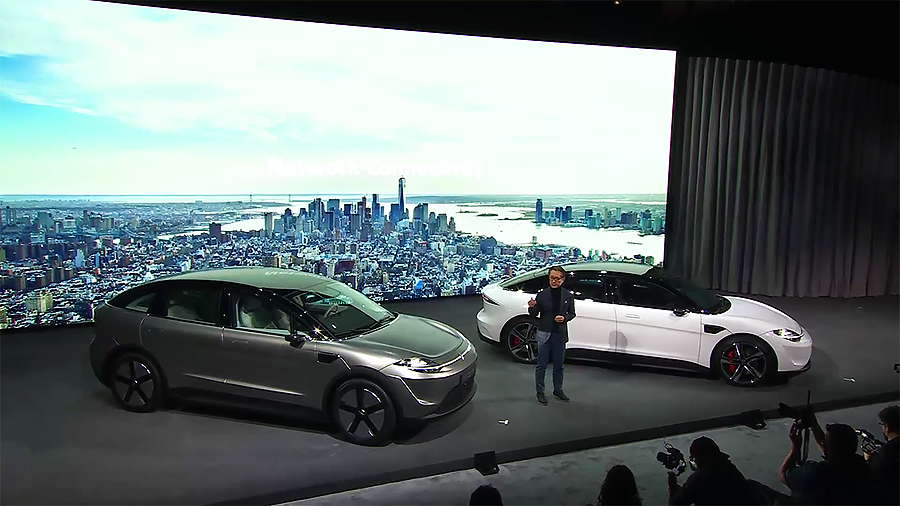 CFO Confirms It Wouldn't Make Sense to Build Hardware (Cars, at Least)
Instead, he sought to dispel that thought right away, saying that the company will NOT invest heavily in this field.
We will not start making batteries or vehicles ourselves. We take a stance of 'asset-light' and will proceed with electric vehicle investment on the premise that we form partnerships.

CFO Totoki
So there you have it. One of the main reasons the CES announcement caught my attention is that Sony has been saying for a couple of years that they are transitioning away from a hardware-centric business plan. Then they enter the car business?? It doesn't get much more hardware-centric than that!
Looking for a Car Building Buddy; But is Gaming Crashing?
But the idea of them working with a partner – likely one of the major Japanese automobile companies – to manufacture the cars that embody Sony's broad range of technology, such as sensors and AV entertainment gear, may make some sense. But it still seems quite speculative to me.
Finally, the company noted that the gaming business – which is a substantial 30% of their overall revenues – is slowing. There are understandable factors impacting this, such as COVID and supply chain problems. On top of this, competition is heating up, as Microsoft recently purchased Activision Blizzard -a major game studio that was behind the super-popular "World of Warcraft" game – for an eye-popping $69 billion. It was the largest acquisition in the history of the company.
Let's Make a Deal!
The day the Microsoft deal with Activision was announced, the value of Sony's stock dropped a gut-wrenching 13%!
Sony ultimately responded with their own acquisition, the $3.6 billion purchase of Bungie, a videogame studio behind the "Halo" and "Destiny" game franchises. Sony's CFO notes that the acquisition is not just about those games, but rather about acquiring "Bungie's knowledge and creative talent in live gaming…" Furthermore, they believe that Bungie can develop new properties that will link up with Sony's music and motion picture platforms – a big strategy of the company.
The day Sony announced the Bungie acquisition, their share price jumped 5%.
See more on Sony in terms of corporate info here: sony.com/en.
For more information on their products, or to buy one, see: electronics.sony.com.
---
CORRECTIONS
Changed to the Future Today Institute from the original incorrect Future Tech Institute