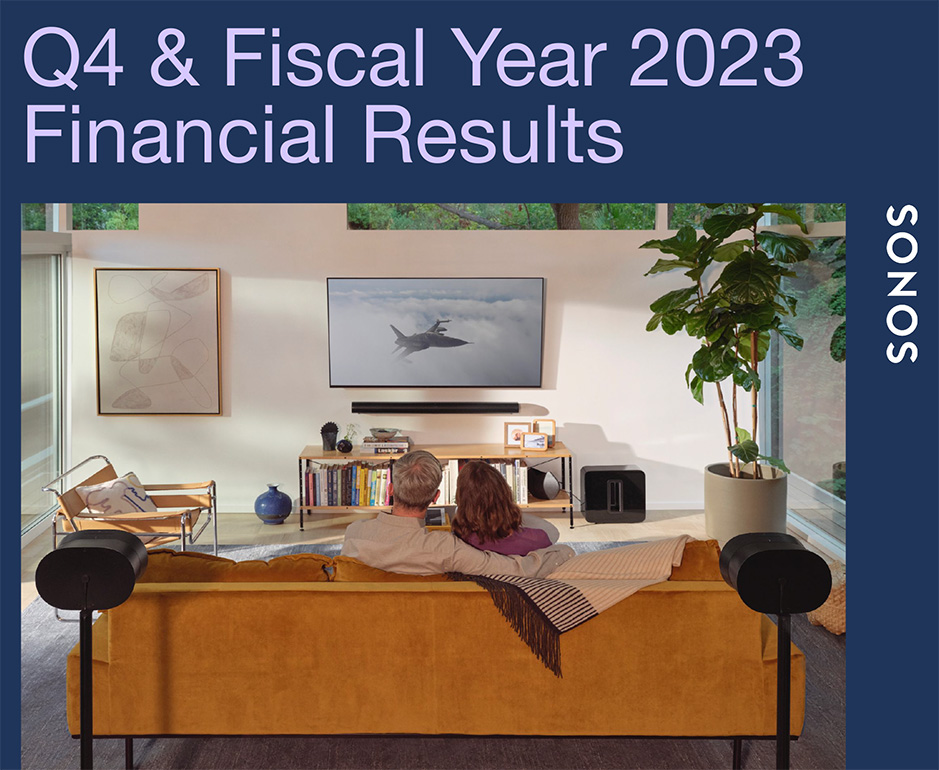 Fiscal 2023 Total Sales Drop 6%…Installer Sales Decline 7%
After the close of markets on Wednesday, Sonos released its Fiscal 2023 fourth quarter (Q4) and full-year results. As one of the industry's top consumer brands, Sonos' latest quarterly and full-year earnings put the post-COVID strain in full display as the company was hit with both sales and profit declines even though it took aggressive steps to adjust to an adverse consumer market.
The company says loyal customers are its greatest buffer against macroeconomic headwinds, but those headwinds were particularly daunting in 2023.
See more on the Sonos Fiscal 2023 Q4 and Full Year results
Sonos, Inc. (NASDAQ: SONOS) has released the results of its final quarter of fiscal 2023, along with the full-year results. In a statement accompanying these results, Sonos CEO Patrick Spence acknowledged that 2023 "was a challenging year in the categories in which we play."
A Challenging Year
And the very tough results are proof of just how challenging the year was. The company reported that overall 2023 revenues came in at $1.655 billion, a decline of just under $100 million ($97.1 million) or 5.5% as compared to sales of $1.752 billion in fiscal 2022. Sales dropped in every product category and in most of the regions in which the company does business.
In regards to the profit picture, the company swung from a fiscal 2022 net profit of $67.383 million to a net loss of $10.274 million this year. That is a significant $77.7 million swing from a profit downward to a loss. On a per share basis, that works out to a fully diluted loss of $0.08/share this year as opposed to earnings of $0.49/share last year.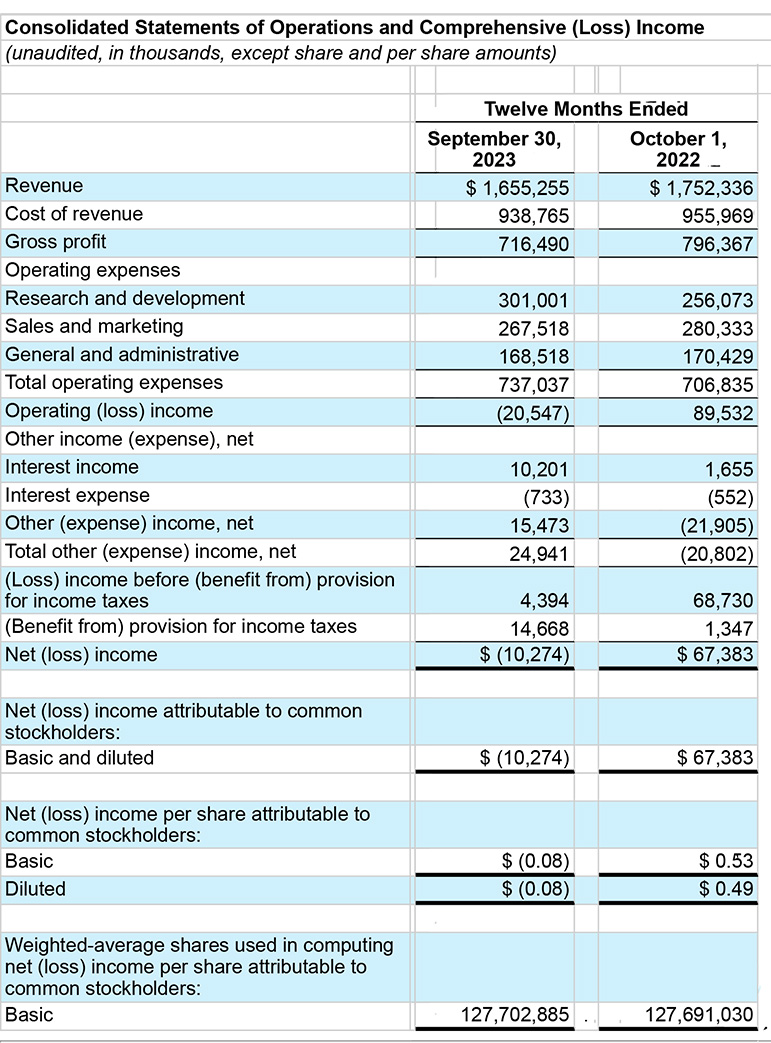 What Went Wrong?
With these results, Sonos clearly missed the market's expectations. So what went wrong?
Like most in our industry, Sonos saw its business whipsawed from massive backorder shipments as supply chain issues subsided in late 2022, which caused inventory issues throughout the chain from producer to customer throughout 2023. Then, demand softened and manufacturers struggled to get inventory and operations right-sized.
To be prudent, we have built our fiscal 2024 plan with the assuption that the weak consumer demand we saw in this quarter will persist. This is far short of what we believe the growth rate for our company can be in normal times. But we believe this is prudent given that we have been in a post-pandemic downswing in the cycle for our categories that may not yet be at its end. As I've lived through multiple times in my 25 years in tech, we fully expect that consumer behavior will normalize in time…

Patrick Spence, Sonos CEO on a conference call with financial analysts
A Deeper Dive into Sonos Numbers
So let's take a deeper dive into the numbers. As reported above, overall sales declined 5.5% to $1.66 billion. Sonos attributed the decline to "partner channel inventory reductions, softer consumer demand in the second half of the year, FX (foreign exchange fluctuations) and tough compares due to FY22 backorder fulfillment…"
The company broke out sales by geographic region and that further told the story of an overall sales decline.
Americas – Sales were flat (0% growth) compared to fiscal 2022
EMEA (Europe, Middle East, Africa) – Sales were down 10% compared to fiscal 2022
APAC (Asia Pacific) – Sales were down 32% compared to fiscal 2022
Sales by Channel
Also looking at sales disaggregated by channel, we see that Retail and Installer Solutions (IS) both booked sales down 7% this year compared to the same category last year. Direct to Consumer (DTC) saw the same sales this year as it did last year.
I noticed something else in the table provided by Sonos to analysts. As you look at the table above, you see that installer solutions had sales of $343 million, down 7% as compared to sales of $371 million the year before. Going back in history, you see that the category had zero growth between 2018 to 2019, and then took off in 2020. growing by 16%. No surprise there, thank you COVID. Then in 2021, the category saw sales grow by 41%. Again, this is during the time of COVID when we were all running to keep up with artificially inflated consumer demand.
A Pattern Appears
Look a little closer at the area I highlighted in the red circle. For Sonos' IS sales growth, 2021 was the high watermark. In 2022, sales went up 28%, a more moderate pace than in 2021, and then in 2023 – post-COVID – sales dropped 7%. Now, do you see what I see? The same or similar pattern of declining growth is seen in every channel…2021 was the high watermark in terms of growth. However, DTC broke the pattern a little, recovering from a 5% drop in sales in 2022 to flat in 2023.
By the way, why did installer solutions sales decline? According to Sonos: "Decline [in installer solutions is] due to channel destocking throughout Fiscal 2023." Just like Snap One, Sonos says installers (integrators) were over-inventoried and pulling items to install out of their own warehouses rather than buying new stock from Sonos.
The Pattern Repeats Itself – Sonos Customer Analysis
The company dumped a lot of data on analysts in their slide deck, but the more I looked at the numbers, the more I saw the same pattern repeat itself. Consider the issue of the company's success at selling more and more products to the same Sonos customers. It's a key bragging point for the company, and justifiably so.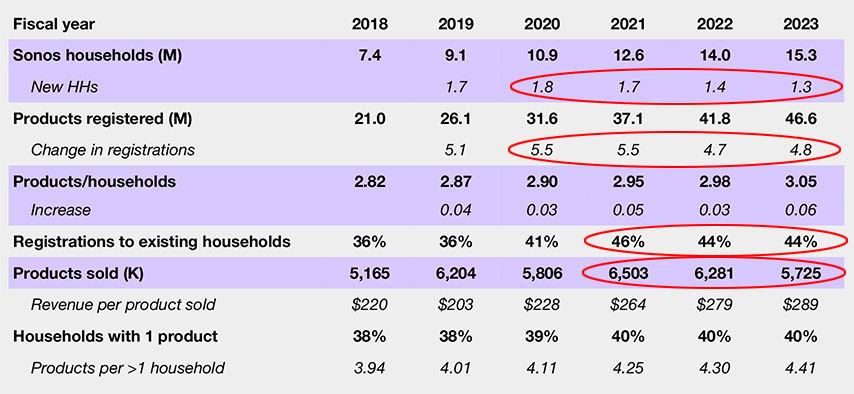 Looking at the table above, if you look at the far-right column, you'll see the data that Sonos is most proud of. Right now, their products are in 15.3 million households. A total of 46.6 million products are registered with the company, which is probably how they get the 3 units per household. Finally, the company sold a total of 5.7 million units in 2023.
New Households are Being Added at a Declining Rate
Here again, with this table, I began to notice a pattern. If you look at the area I highlighted at the top, the "Sonos households," you'll see under the number of households is the rate new households are being added. In 2023, 1.3 million households were added. But look at the rate of new households added over the years – it has been declining since 2020 when 1.8 million were added.
Similarly, the change in (product) registrations seems to have peaked in 2020 at 5.5 million and began declining in 2022. Registrations to existing households appear to be stagnant and – perhaps most importantly – the number of products sold has been steadily declining.
In spite of the sales decline the company experienced in fiscal 2023, just like I reported in my post on Snap One's third quarter, like Snap One Sonos says they are gaining market share. Again, this could only be true if other companies are declining even more than Sonos.
Gross Margin Compression
Three other points to make about Sonos' fiscal 2023 earnings report. First, many investors are taking note of the rather large decline in the company's Gross Margin which dropped more than 2% for the year from 45.4% to 43.3%. The company says gross margin declined due to a "return to normal level of promotional activity as compared with 2022, higher component costs, and "excess component provisions and FX headwind."
Spence assured analysts on the conference call, "In closing, I want to reiterate that we are laser-focused on what we can control, and our long-term commitment is to drive both top and bottom-line growth."
Sonos: Post-Pandemic Downswing Will Continue in 2024
Second, the company issued guidance for fiscal 2024 that was in many ways uninspiring – at least in terms of expected Revenue. Spence was quite clear that the company felt the prudent route was to assume 2023 trends will continue into 2024. So if you look at the table below, you'll see that the midpoint of the projected revenue range is essentially the same level as fiscal 2023. However, Sonos believes that it can better control its expenses to improve its profit picture. Note the 5% improvement in gross margin dollars they are projecting.
Think About This for a Moment
So think about this for a moment…in fiscal 2023, Sonos sales declined, gross margins declined, and the company delivered an eight-figure net loss. It did not meet its expected metrics. As long-time readers of Strata-gee know, this typically means that Wall Street punishes the company with a massive sell-off of its stock. But the day after the earnings report was released, Sonos stock climbed – opening at $11.35 and closing at $13.29…up 17.09%! Why?
That brings me to our third point. Spence announced to investors, in a bit of a tease, that the company will be entering a new "multi-billion dollar category" in the second half of fiscal 2024. He made a big deal about it and even told analysts, who were clearly intrigued and even a little excited, that this new product would bring in $100 million in revenue.
New Product in a 'Multi-Billion Dollar Category' is Coming in 2024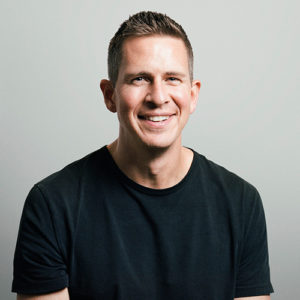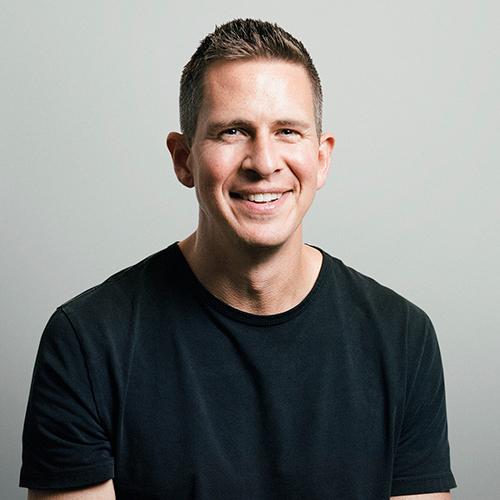 This year marks the beginning of a multiyear product cycle, which will demonstrate the payoff of the investments we've made in research and development over the past few years. In the second half of the year, we will be launching a major product in a new multibillion-dollar category that will complement our current offerings, excite customers and drive immediate revenue. All told, we expect to generate over $100 million from new product introductions this year with this exciting new product accounting for a large portion of this revenue in the second half.

Spence to analysts on a conference call
And presto! chango! Just like that, all concerns about the company's performance shortcomings were forgotten and excited speculation began as to just what this new product will be. Rumors have flown all around Wall Street – and to my knowledge, the company has yet to confirm – that this new category is headphones.
It was an incredibly clever move to change the topic like a magician pulling a shiny diamond out from behind your ear. Now, everyone looks to the future…and forgets about the past.