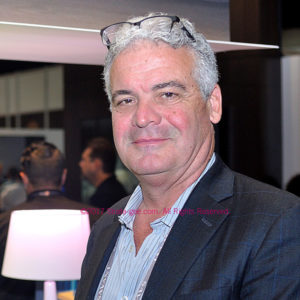 At CEDIA 2017, Savant displayed and demonstrated a whole roster of innovative new products – the very fact of which was an in-your-face proclamation that this new company era under founder Bob Madonna intends to use innovation to drive growth. And while we had only a limited time available at Savant, we were fortunate enough to grab a few moments of Mr. Madonna's time to get a real cook's tour of a couple of his latest offerings.
See what new products Madonna showed us at CEDIA 2017…
In its early days, Savant was sort of like the red-headed stepchild of the industry. As the first major control company to base their system on Apple's intuitive, graphical interface, the company clearly showed it was not afraid to machete its own path through the tech market jungle.
The company quickly became a favorite of many integrators who often appreciated their sometimes irreverent approach to product design and business structure. Savant grew quickly from a bit of an oddity…to nearly mainstream.
Then came a weird period of time when Madonna stepped aside, a new CEO was brought in, and the company began to experiment with more general consumer goods. Whatever the motivations for that period of the company's history, things quickly changed – resulting in the re-emergence of Mr. Madonna as head of the company and a new mission to employ innovation to drive further growth. Also, the company firmly and convincingly recommitted to professional integrators.
A Clear Demonstration of Commitment to Pro Integrators
This CEDIA 2017 show was really their first opportunity to show that commitment to integrators. And given how busy their booth remained throughout the event, we'd say they succeeded in this mission.
When we connected with Mr. Madonna, we mentioned that we had only a limited time available. We asked him to show us a couple of his most major announcements.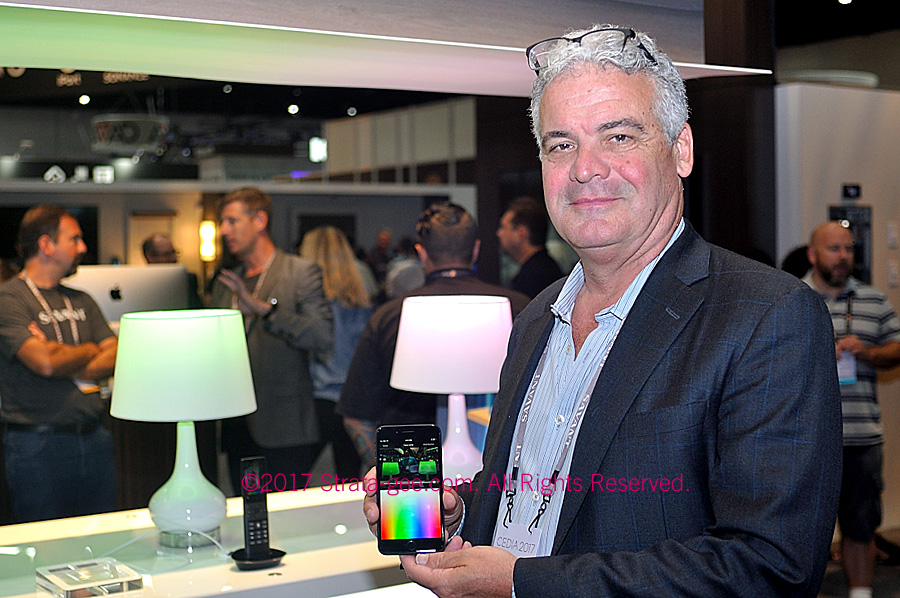 TrueImage – Easy and Amazing Lighting Control
With that, he took us to their display of TrueImage, a clever and very client-friendly technology that will literally wow the end-user with its simplicity. And how about this, one of the industry's top engineers was showing us just how simple TrueImage is to use – and how much fun the user will find it.
The key to TrueImage is a major software upgrade that will change the way your clients interact with intelligent lighting control. Using Savant's control app on your smartphone, tablet, or on Savant's Pro Remote, the system uses their virtual lighting concept.
Total Control…In the Palm of Your Hand
Take a close look at the smart phone Mr. Madonna is holding in the image above. (You can click on it to enlarge it a little.) If you look closely enough, you can see a photo of the lamps on the screen that you can also see behind him in the booth. From that image in the app, he can set the color and brightness of those lights right on his smartphone screen…and then on the lights themselves. In fact, by dragging your finger on the screen you can select just about any possible color. With another touch, the lamps behind him changed to the same green color you see on his screen. It is simple and fun to do, with no need for any special lighting control panel or complex sequences of steps.
Pretty cool… And, by the way, a great demo to show a potential client who is considering working with you. Let them play with it…they'll be hooked.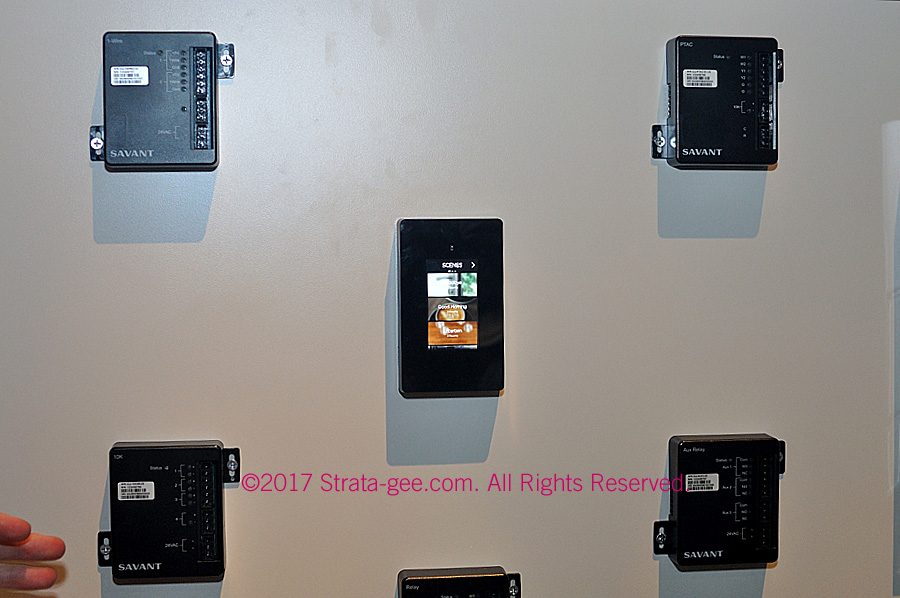 This Isn't Your Typical Space-Age Thermostat
Then Madonna took us to his next major introduction, an equally impressive wireless touchscreen thermostat, called the Multi-STAT. At a time when everyone is trying to copy the Nest thermostat design in some form, once again, Savant has forged their own path, with a slick, elegant thermostat design that looks like something that came out of Apple in Cupertino.
With a sharp, colorful, multipurpose display, your thermostat has never looked this good. And, of course, it completely ties in with Savant's control system as part of the Savant Climate solution.
Multi-STAT conveniently places control and home automation functionality alongside the more expected climate control and temperature display capabilities. Most likely, clients will view it as yet another elegant, attractive part of an entire Savant solution.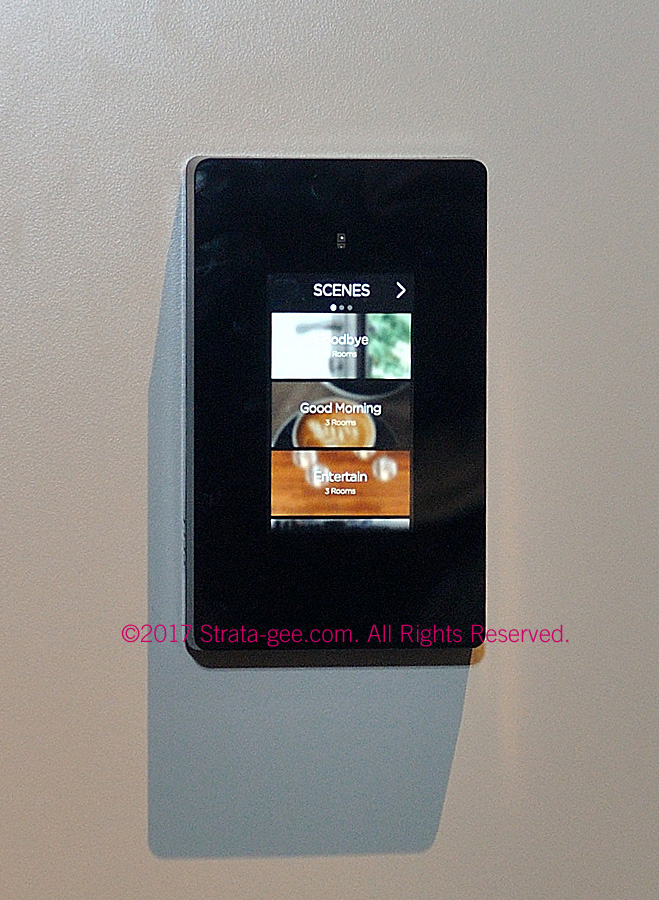 An Elegant Blending of Environmental and System Control
As you might suspect, the Multi-STAT works with Savant Scenes. The company says that, with the simple swipe of a finger on the screen, clients will have "instant access to numerous automation events in conjunction with climate control such as lighting, entertainment and others." And Multi-STAT functions can be accessed and adjusted on your favorite mobile device via the Savant Pro 8 App.
There's much, much more to know about both of these remarkable innovations. Find more details by visiting www.savant.com.