Popular home automation systems provider Savant Systems has been extending and expanding their product line-up with ever newer, ever smarter solutions for years. And now Savant says audio too can be smarter thanks to its new SmartAmp smart audio amplifier, being launched now in conjunction with their participation in the Pacific Coast Builder Conference.
See Savant's new SmartAmp audio amplifier
Savant has recently announced several new products that it groups into what it calls its Smart Series family. Smart Series products support AirPlay 2 and Apple HomeKit making it completely complementary with top wireless and home automation solutions today. Now they bring higher quality audio into the fold with their latest addition, the SmartAmp smart audio amplifier.
With 96K/24-bit high-resolution capability, low latency, and an available smartphone app that facilitates access to your favorite streaming music service, your home audio solution takes a dramatic upgrade in sound quality, as well as easier access, selection, and operability. And with 125 watts/ch of power, SmartAmp is an important new component that plays nice – and loud – with the rest of your Savant home AV system.
Built-In DSP Optimizes for Any Savant Speaker
SmartAmp has built-in DSP capability that allows the amplifier to be sonically optimized for any Savant speaker model integrated into your system – including their popular small aperature PoE speaker line. Furthermore, the DSP offers equalization for even more specific fine-tuning of the system for the unique construction and elements in any room.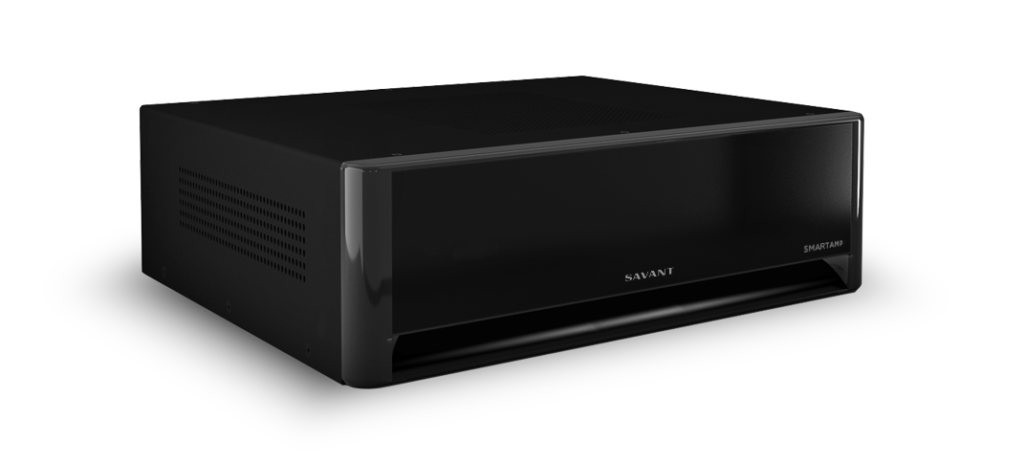 Perhaps one of the most important keys to the Smart Series family of products is their Savant Music app, which the company says provides for easy setup and customization that dramatically improves the customer's user experience (UX) in easily operating the system. Things like grouping rooms, creating "entertainment scenes," playlists and favorites…can be challenging on other systems, often prompting a call to the integrator to send someone to help them out.
Savant Music App Makes Setup, Configuration & Use Easy
But with the Savant Music app, this is all easily accomplished by the end user all on their own…no need for their integrator to roll a truck! Easy to set scenes have been a hallmark of the Savant system for years, and now this capability extends to its Smart Series Family of products…including the SmartAmp.
The company says that whether you are looking to drive an audio solution in one room, or throughout your entire home with multiple SmartAmps and architectural speaker solutions, SmartAmp and the Savant Music app are your key to simple setup, easy operation, and upgraded, premium sound quality than can be found with most systems from other providers.
Plenty of Connectivity
The company says that the SmartAmp offers "an array of digital and analog inputs and outputs" allowing the amp to flexibly interface with just about any type of system or configuration.
Savant's SmartAmp will be available this summer and is priced at an MSRP of $699. See your local Savant rep or distributor for more details.
Learn more at: www.savant.com.