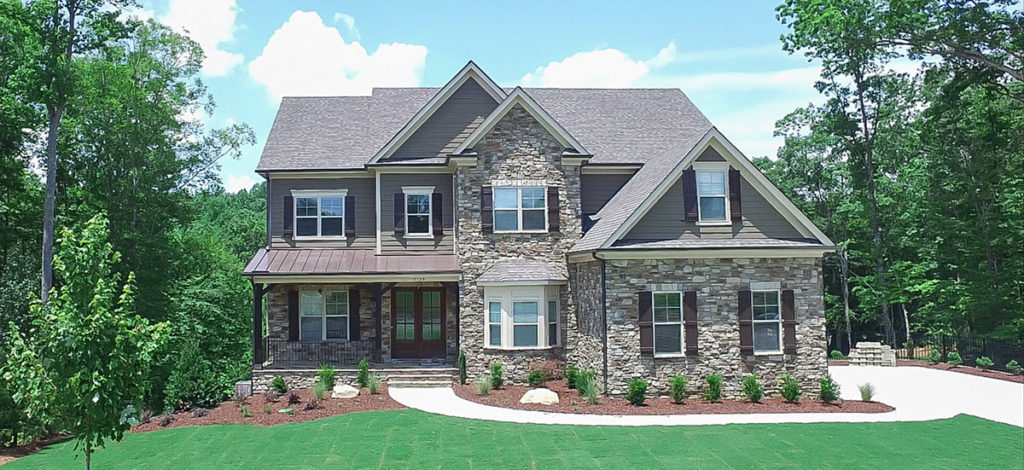 Is Housing a Bubble About to Burst?
After a spectacular run in 2020, it looks as though housing may be taking a pause to regroup. Strata-gee reported last week that residential construction starts had dropped by 10.3% in February. Now we learn that sales of newly built single-family homes have also dropped in February, this time by a scary 18.2% to a seasonally adjusted annual rate of 775,000 units. On top of that, existing home sales also dropped in February, coming in at 6.22 million units or 6.6% off of January's rate.
What's going on in housing?…
I follow housing fairly closely as I believe it to be an important indicator of the relative business level ahead for the tech industry – particularly for custom integrators. People buying houses purchase many items such as appliances, furniture, and technology to turn those houses into their homes. Wall Street investors and analysts also follow housing, as they find it a reliable indicator of the relative health – or lack thereof – of the overall economy.
As I mentioned in my post on February housing starts, 2020 was a great year for the overall housing market with housing starts climbing 7% to 1,380,300 units during the year. The same was true for new home sales in which the 820,000 units sold was more than 20% higher than the 683,000 units sold in 2019. Similarly, in the case of existing homes a total of 5,640,000 homes were sold in 2020 which was 5.62% higher than the 5,340,000 homes sold in 2019.
After a Big 2020, New & Existing Home Sales Decline in February
After a great run, especially in the last half of 2020, new home sales in February 2021 came in at 775,000 units or -18.2% below the 948,000 units sold in January, according to the latest data from the U.S. Census Bureau and the U.S. Department of Housing and Urban Development. However, this new rate was still 8.2% higher than the 716,000 rate from February 2020. The same report shows that the median home price was $349,400 and the average home price was $416,000.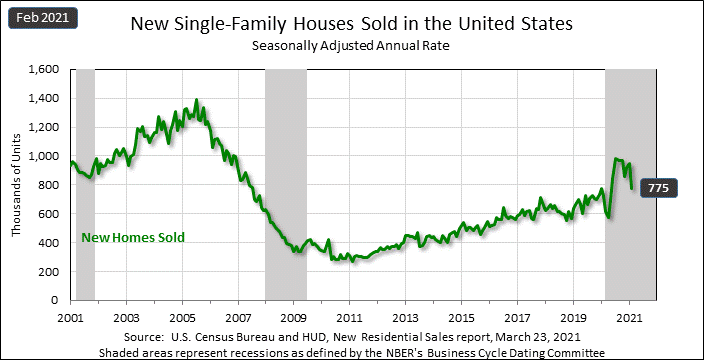 The regional breakdown on new home sales showed that every region declined in unit sales. Worst hit was the Midwest region which saw sales drop 37.5% from the January reading. The other regions showed smaller but still substantial, double-digit drops, including: West (-16.4%), South (-14.7%), and the East (-11.6%). The month's supply of new homes available for sale increased to 4.8 months, up 0.6 month from January's 4.2 month supply.
Existing Home Sales are Down MoM but Still Up YoY
According to the National Association of Realtors (NAR), existing home sales in February came in at a seasonally adjusted annual rate of 6,220,000 units. This is -6.6% below the rate in January of 6,660,000 units, but still 9.1% above the February 2020 rate of 5,700,000. The median price of an existing home in February was $313,000 while the average price was $344,200. Both the median and the average showed good increases as compared to the average prices in February 2020 of +15.8% and +12.6% respectively.
Finally, the NAR notes that the level of inventory of available existing homes for sale – known as months supply – was just 2.0 months in February. This is, the organization says, a record low level of available homes – and a key variable that is restricting sales. There just aren't enough homes on the market to sell according to the association.
What do Economists and Others Think About These Declines?
So what are all the experts saying about these declines? As I mentioned in my post last week, many economists consider this just a blip on the screen, a momentary pause to consolidate gains, and then the numbers will begin marching forward again. I suspect that some of these economists will change their tune when they see this latest data that shows all measures of housing industry performance turning downward.
Still others place the blame on the bad weather in February. It is logical to suggest that weather was a factor during the month, considering the fact that large swaths of the country had brutal, sub-zero temperatures for days on end. Also. ice and snow storms (we had nearly 18-inches in parts of New Jersey) hit much of the country. In many cases setting, the wild February storms set new records for cold temperatures and snowfall as far south as Texas caused major power outages.
Not Just Weather, Other Factors Impacted Housing as Well
However, other trends were also an impact in February. Lumber prices, as mentioned in last week's housing story, are sky high, having risen 79.7% in just one year. This and other materials cost increases means that a newly constructed home this year on average is $26,000 more expensive as compared to the same exact home built last February. That represents a significant hit to affordability for today's shoppers.
And the NAR is quick to point out that there is a confluence of variables contributing to declining affordability. For example, due to a lack of inventory of available homes to sell, housing prices have steadily increased. In fact, in a report by CNBC, home prices are rising at the fastest pace since the 2006. Some analysts are suggesting that housing prices are over-valued and rising at an unsustainable rate. There's a word for that…and that word is "bubble." And the problem with bubbles is they tend to burst.
A Growing Affordability Problem
On top of rising home prices, mortgage rates are also increasing this year by significant amounts. According to Reuters, the 30-year fixed-rate mortgage has risen to 3.09% – the highest its been in nine months. Last year, mortgage rates continually dropped to multiple new record lows. But that's over now, and rates are beginning to slowly climb. Keep in mind, with home prices in the mid-$300k, it only takes a small move in the mortgage rate percentage to add up to significant dollars out of the buyer's pocket.
All of these points add up to a growing affordability problem.
Weaker affordability is the prime reason for a potential slowdown in housing this year. Sales are already slowing, as mortgage rates rise. Given how much housing demand was pulled forward last year, sales could be considerably weaker this year."

Diana Olick, CNBC contributor
CNBC Predicts Housing Will Be Weaker in 2021; But NAR is Optimistic
While CNBC's view is sour, many economists believe housing is in a momentary pause after a sustained period of growth. Many of them believe housing will begin growing again – although perhaps at a less dramatic rate that in the second half of 2020. Still, Olick's article on CNBC suggests that housing is at a "tipping point" and raises some good arguments about the current predicament of the housing market.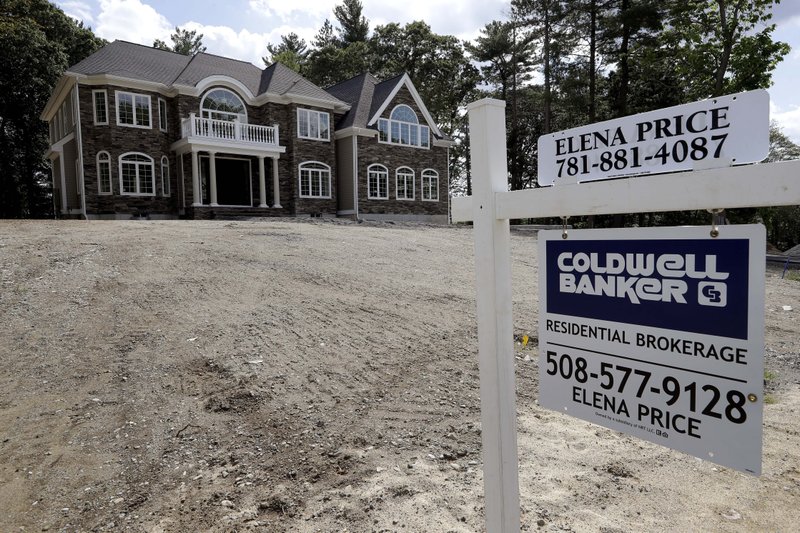 But even in the face of last month's sales decline, NAR's chief economist Lawrence Yun remains optimistic.
Despite the drop in home sales for February – which I would attribute to historically-low inventory – the market is still outperforming pre-pandemic levels. I still expect this year's sales to be ahead of last year's, and with more COVID-19 vaccinations being distributed and available to larger shares of the population, the nation is on the cusp of returning to a sense of normalcy. Many Americans have been saving money and there's a strong possibility that once the country fully reopens, those reserves will be unleashed on the economy."

Lawrence Yun, Chief Economist for the National Association of Realtors
Want to dig deeper? Check out Olick's article on CNBC…