To Help Integrators 'Expand Your Marketplace'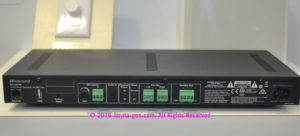 Although previewed to the media last month, dealers and the media finally had the opportunity to physically see and touch the all-new Russound 70-volt light commercial line in the flesh at last week's CEDIA 2016. The line, which the company intends to continue to develop and expand, launched with three models in the line, including a music streamer/amplifier, a volume control wallpad, and an outdoor speaker.
See more on Russound's new marketplace expanding 70v line…
In a presentation to the media at CEDIA 2016, Russound said that it had in the past offered commercial products, but it was really just "pieces and parts." Now, company execs told the media, they are ready to get serious about offering residential integrators a gateway line into the light commercial markets, helping them to expand their marketplace.
Company CEO Charlie Porritt said that reaction from dealers at the show has been "fantastic." The line, he said, is for coffee shops, yoga studios, outdoor hotel spaces, restaurants, and the like.
The Start of a Complete Line Designed for Commercial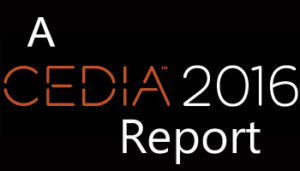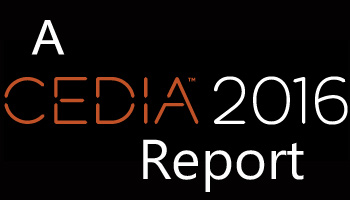 Dealers could use products from the regular Russound line, but this new 70-volt line is "designed for commercial" and would likely be better suited for those projects. Russound, Porritt said, included many thoughtful elements that optimize the products for commercial installations.
As just one example, Porritt noted how the rack mount for the XZone70V streamer/amp was designed for both a traditional straight-on rack mount – or the rack ears can be repositioned such that they are facing upwards for an under-cabinet mounting situation, such as might be encountered in a restaurant or other commercial situation. In determining some of these unique features, Russound consulted with integrators who said mounting flexibility was needed in order to deal with a wide variety of mounting situations.
This slideshow requires JavaScript.
New AW70V6 Outdoor Speakers
Russound's new AW70V6 under-eave monitor style outdoor speakers are a 2-way design that features a 1″ titanium tweeter and a 6½″ polypropylene woofer with rubber surround. This model is a 70V/100V design that can be utilized in either a residential or commercial installation.
Russound's Colin Clark noted that these speakers come with an all-new design mounting bracket that affords the integrator the ability to do a one-handed installation. The speakers also come with a rear accessible tap switch that allows the installer the ability to optimize the speaker for any type of installation.
New 70V Volume Control
Finally, the ALT-70V-50 is a commercial grade, 11-step rotary volume control available in white, ivory, and light almond knob and wall plate. This 70V volume control can handle up to 50 watts. It fits in a standard single-gang wall box.
Porritt says the line will ship during the fourth quarter of 2016. The XZone70V integrates with Control4, RTI, URC, FIBARO, Pro Controls, and Key Digital.
The XZone70V will sell for $1099 MSRP. The AW70V6 is priced at $369 per pair. And the ALT-70V-50 volume control carries a $34.99 MSRP.
For more information, visit: www.russound.com.