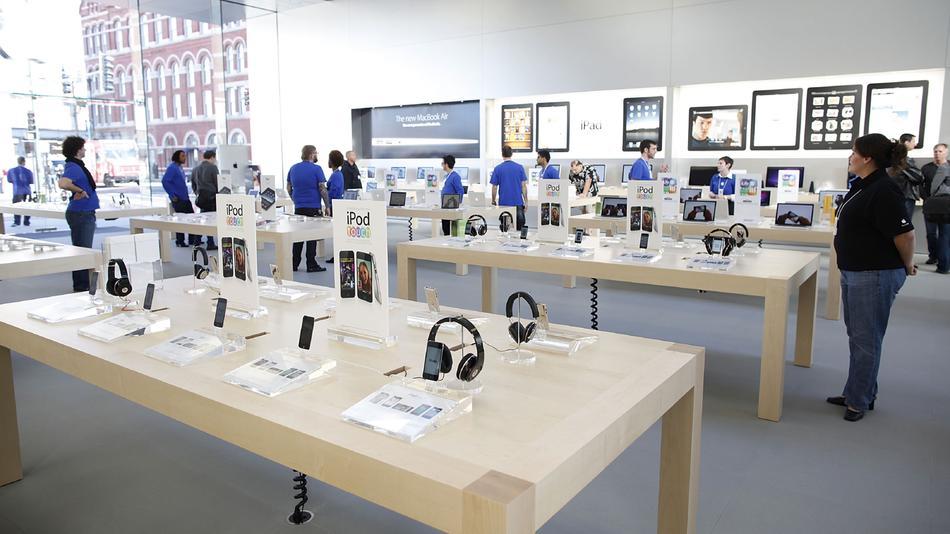 Only Electronics & Appliances Show Big

Growth
In a new and troubling sign that the economy is not yet out of the woods, government data showed that for the month of July, retail sales barely crept up 1.2% overall. But there was one bright spot in the government's report – retail sales of electronics and appliances jumped an impressive 23%.
See more on retail sales growth slowing…
The new data for July shows a very uneven result for retailers. But one thing is quite clear, after two months of impressive gains in retail sales – 18.2% in May (a record) and 8.4% in June – July's 1.2% gain in retail sales really hit the brakes overall and barely grew at all – outside of electronics and appliances.
According to the Washington Post, consumers cut back on big-ticket items, such as cars, building materials and sporting goods. But, on the other hand, shoppers spent more on food, gasoline, and health and beauty products according to the data released by the Commerce Department.
Electronics Helped by LFH, WFH, and New Home Sales
Of course, as families prepare for the beginning of the school year, many stocked up on laptops, headphones and webcams – items necessary for the virtual programs many school systems are planning for the start of the new school year on a learning from home (LFH) basis. This factor, along with work from home (WFH) and the recent strong growth in housing construction and new home sales, bodes well for Tech, at least in the near-term future.
Gains were extremely uneven. Retail sales showed signs of slowing in July, which underscores our concern that the rebound is losing momentum."

Diane Swonk, Chief economist for Grant Thornton, in a note to clients reported in the Post
The overall retail sales figures were reported as $536 billion in July, up from $529.4 billion in June.
Most Results Were Minor Swings One Way or the Other
Most categories of retail sales showed fairly muted results, either up or down only modest amounts. But still, the dollar amounts could add up. For example, motor vehicles & parts dealers saw their sales decline 1.2% to $109.4 billion versus the reading in June of $110.7 billion. Likewise, furniture and home furnishings stores saw results in July come in virtually flat at $$9.819 billion as compared to $9.817 billion in June.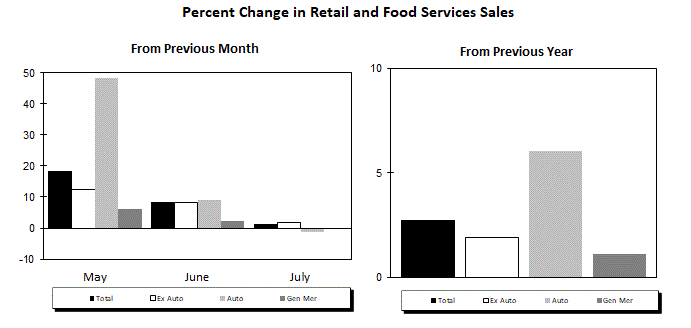 However, clothing and clothing accessory stores showed good growth of 5.67%, coming in at $17.7 billion versus $16.7 billion. Likewise, health & personal care retailers saw sales gain 3.64% to $30.8 billion.
Retail Results Fuel Concerns that Recovery has Stalled
All of this feeds into economists concerns that the U.S. economy is in stall mode. Right now, still more than 30 million Americans are unemployed and while the number of newly unemployed has come down to less than a million per month – they still are very high.
Based on stock market gains, the wealthy are clearly bouncing back. But moderate and low-income families are not yet seeing meaningful gains. This could prevent a broad based recovery that some economists believe will take years to recover from.
Other Signs of Challenges to Growth
As the Post points out, more than 100,000 small businesses have permanently closed their doors. The longer the economy stagnates, the more likely there will be more. But beyond those already closed, many more companies have furloughed or laid off large numbers of their employees.
While households are spending, they are anxious about their health and economic well-being, so they are being pragmatic. We have to remember that there's uncertainty about economic policy and that the resurgence of the virus is putting pressure on the fledgling recovery."

Jack Kleinhenz, Chief economist for the National Retail Foundation
Retailers Hope for Big Holiday Selling Season
More than a dozen major retailers, who are largely mall-based or department stores, have declared bankruptcy since April. And just in the last day or two, we learned that J.C. Penney, another historic department store, avoided collapse with a last minute buyout.
For retailers, these are really challenging times, as the country is clearly not out of the COVID woods just yet. Many are hoping for a strong holiday selling season to rescue 2020 for them. The only question is whether consumers will return to retail stores, or continue to shop online.