And They Said It Wouldn't Last; Hearing Set for This Friday
Somera Road, Inc., a real estate investment firm that has recently purchased several properties from Gibson Brands, Inc., has filed a lawsuit against the company seeking to enforce a purchase agreement that they say Gibson has violated. The lawsuit was filed in Nashville, Tennessee in the Davidson County Chancery Court, according to a report by the Nashville Post.
See more on this eruption of war between Gibson and its new partners…
Filed on December 28, 2017, Somera Road said in their filing that the two parties had reached a purchase agreement for what is generally known as the Valley Arts building (shown above), but just days later Gibson sold the property to another entity. Gibson, as you might suspect, tells a different story about the deal.
This story, of course, is part of a much larger saga we've been reporting on Gibson, a large musical instrument manufacturer who chose in 2012 to diversify into the consumer electronics business through leveraged investments and buyouts of a range of brands including Teac/TASCAM, Onkyo (including Integra), Philips (accessories), and more. The move loaded the company up with debt, and $520 million of that substantial debt is coming due in late summer of this year.
Gibson's Asset Sales
The company launched a sales of its assets…and this is how they met Somera Road. Strata-gee first told you about Somera Road last November, when they emerged to purchase an underutilized Gibson warehouse on Grundy St. for $6.4 million. Somera Road said at the time that they were interested in launching real estate projects in a vital and growing Nashville.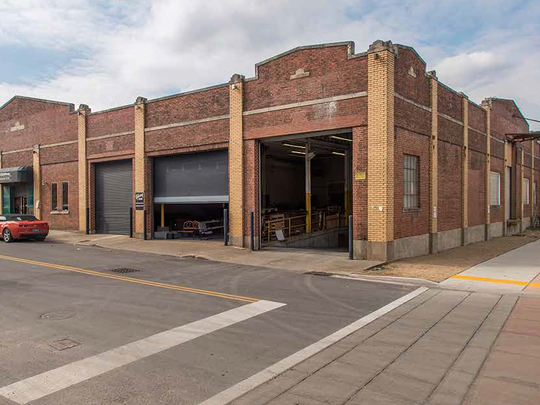 Then in December, Somera purchased Gibson's large Memphis factory and showroom, which was later reported to be a $13 million deal. It seemed the two, if you'll pardon the pun, were making beautiful music together.
From Partners to Adversaries
But now, Somera has taken the matter to court for another property that is located near the first warehouse they purchased from Gibson. This building is known as the Valley Arts building, a reference to a now defunct retailer/manufacturer of specialty guitars.
While Somera says they had a deal and Gibson pulled out when they presumably found a better one – Gibson's filings say that the two parties "were still negotiating material terms and never expressed mutual assent." However, Gibson's filing goes on to add language that to us seems a little suspicious, saying, "…to the extent any agreement was reached, it is barred by the statute of frauds."
Hearing Set for Friday
A hearing has been set by the court to hear arguments on Gibson's motion to dismiss the matter. In our experience, courts tend to bias towards letting cases proceed. If you feel you've been wronged, the thinking goes, you should have your day in court. Somera Road seems to feel pretty strongly they've been wronged.
What does this mean for their other dealings? That remains to be seen.