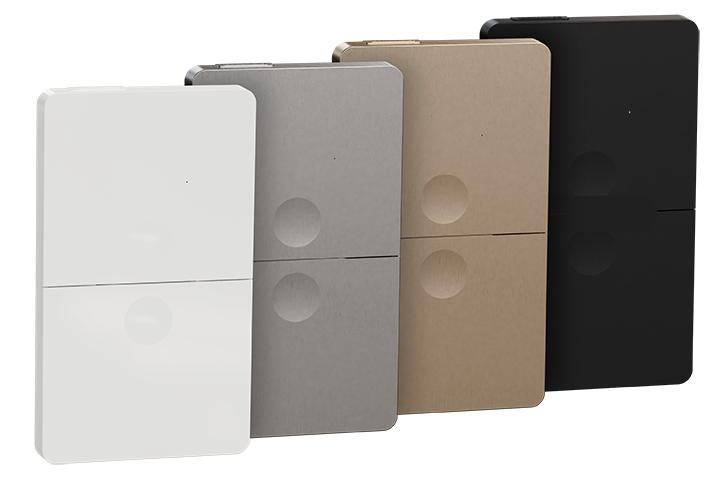 Launches Square D X and XD Series Connected Wiring Device Lines
Schneider Electric is looking to take that dumb old 110v power coming into the typical residential home and make it smarter…much smarter. As part of its strategy to lead the digital transformation of energy management and automation in the home, the company has launched two new lines called the Square D X and XD Series of connected wiring devices. This opens up a whole new world of control convenience and possibilities for homeowners, and the integrators who serve them.
See more on Square D X and XD Series for the smart home
I have recently become very interested in the topic of power and the foundational role it plays in our world. You may have seen a couple of pieces I wrote recently on Savant's new Savant Power division here…and also here… Obviously, Savant has been thinking about power as well – so much so that they acquired Racepoint Energy to fully integrate with Savant's automation and GE Lighting divisions.
Well, Schneider Electric is really into power too. And they've introduced a line of connected wiring devices to bring an ability for homeowners to affordably control and automate their energy usage. Offered under the Square D brand, which is well-known and very popular with electricians everywhere, the new X and XD Series look really promising to me and offers a real-world, affordable alternative for your under 1%-er clients.
Easy App or Voice Control of Energy Use and Automation
With these two new series, the company is offering a full line of connected light switches, dimmers, and outlets that automate the home's lighting, allow discrete control of power and provide energy usage at the plug level to optimize home energy uses. And with these products, homeowners can control it all in a manner consistent with today's lifestyle via app control or even Amazon Alexa or Google Home voice activation.
According to Schneider Electric, the X Series offers the following key attributes:
A feature-rich package
Is easy to install
Offers a refreshed modern design
Is Smart Home compatible
The XD Series steps it up a bit, offering a more premium option with additional design features:
Offers a range of colors
Has a more sophisticated cover plate option that can be easily changed
Homeowners can completely change the look without rewiring the device
A Modern Design with More Control Options
Schneider Electrics' new Square D X and XD Series bring homeowners a modern design with a fresh look and more and easier control options for today's modern household.
Homes are on track to become the single-largest consumer of electricity while the cost of that electricity continues to rise, offering two-fold challenge to today's homeowners. The new X and XD Series connected wiring devices offer greater insight and control to help homeowners optimize their energy use, paired with a modern look and the convenient functionality that fits their lifestyle."

Richard Korthauer, Schneider Electric Vice President, Home & Distribution
These new solutions feature embedded sensors that monitor energy consumption for a grid-to-plug solution. In so doing, they enable intelligent home energy management via Wi-Fi and Z-Wave. Users will appreciate the system's ability to offer real-time energy monitoring down to the device level. And via the Wiser Energy monitoring app, homeowners will have more control than ever before to optimize their energy use.
Something for Parents…and Electricians
Finally, parents will appreciate tamper-resistant shutters for greater safety. And there are neat features for electricians as well, including side-mounted pressure plates (speeds wiring), larger cutouts (for easy access space for wire snips), self-grounded clips (replaces ground wire for media box application), and ground wire holes (for faster installation of the ground wire).
To get more information on how you can offer clients smarter power, visit: https://www.se.com/us/en/home/offers/connected-home/