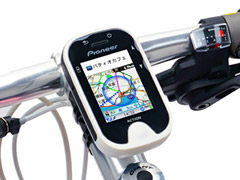 Pioneer Corp. announced it has entered a new product category with a navigation device specifically designed for use on a bicycle. The cleverly designed device will be available late this month, the company said at a press announcement on Tuesday in Tokyo, Japan.
See why bicyclists are going to want to mount this device to their bikes…
Pioneer calls the new category – logically – Cycle Navigation. But this is not just a automotive unit with a handlebar clip. Pioneer has completely designed the unit to be optimized for bicycling. As such, it includes a route-finder function…and it tracks the cyclist's location and speed.
If any of you have ever traveled to Japan, you know that millions of Japanese rely on bicycles as their main mode of transportation…especially in major cities. The ching-ching of a bell means "watch out – a bike is coming." I have vivid memories of bike racks in public places (even Onkyo's headquarters) jammed packed with literally hundreds or thousands of bicycles.
Connected to satellites and websites…
Pioneer has designed their new Cycle Navigation unit to work in conjunction with a special website that stores all of the speed and location-generated data. The specialized device also offers something that could be very important to cyclists – weather data.
The company says that it has also included the capability to have the locations of friends who use the same device pop up on the cyclist's map. While this may cause some concern among privacy advocates, Pioneer believes it will be a popular feature.
Battery life and price…
Pioneer says that the battery life for the device is about ten hours of continuous use. The unit will retail in Japan for ¥39,900 ($425) and the company will waive data-communication fees for the first two years.
The company didn't say if they had any plans to export its Cycle Navigation system to the United States or other overseas markets.