In what is turning out to be a very rough earnings season in Japan, Pioneer Corp. announced yesterday its results for the third quarter and nine-month periods of fiscal year 2013 which ends March 31, 2013. Both Q3 and the 9-month periods showed losses, with the YTD loses increasing substantially to ¥9.8 billion ($105 million) down from a loss of ¥6.6 billion. As a result of this, the company has cut its FY2013 forecast from a profit of a ¥1 billion ($11 million)  to a loss of ¥4 billion ($42.8 million)…a surprising ¥5 billion change of fortune.
Due to the company's deteriorating business, the Board of Directors has ordered a significant restructuring including salary and bonus cuts for executives and employees. The company has also said it will cut jobs.
Why has Pioneer's business shifted so dramatically? See more details below…
In reporting these results, Pioneer management noted several factors that contributed to the unexpected loss for at this point of the year. Included in these negative factors were the impact of the flooding in Thailand, a dramatic fall-off in sales of their optical drives, and challenging currency exchange rates. Although, in the third quarter, the rapid depreciation of the yen versus overseas currencies actually helped their results.
But the biggest culprit appears to be an unexpected downside to a strategic plan the company implemented a year ago which swung the company's focus on their car electronics business. From all indicators, the company pulled it off with sales from their car electronics division showing solid sales increases. But in doing so, they may have inadvertently caused some self-inflicted wounds.
Car up, Home down…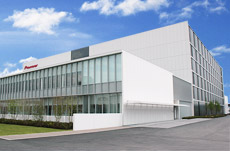 For the third quarter, Pioneer's car electronics sales increased a robust 17.5% to ¥68.6 billion, largely thanks to increases in sales of their car navigation products into the OEM market. But the company's home electronics division showed a stark sales decline of 25.5% to ¥24.8 billion for the quarter, due mostly to a dramatic drop-off in demand for its optical disc products.
And while the company's car electronics division posted an operating profit of ¥604 million, this was more than wiped out by the home electronics division's operating loss of ¥1.7 billion. Pioneer's "Other" division (factory automation systems, electronic devices and parts, and telephones) showed a sales increase, but a profit decrease.
9-month results add intensity to the situation…
But the situation get a little more intense when you consider the broader 9-month results. In reporting the 9-month results, Pioneer tells us that its operating profits dropped a stunning 74% because of a "weaker gross profit margin and an increase in selling, general, and administrative (SG&A) expenses. The company also revealed that it booked a loss on investment securities.
The company says that it is forced to recast its projected annual results for the fiscal year due to two primary reasons: 1) While their car navigation products are doing well in the OEM market, sales have been stagnant in the consumer market and that's expected to continue to impact the Car Electronics division; and 2) They have to cut their sales forecast for their home AV products in the Home Electronics division.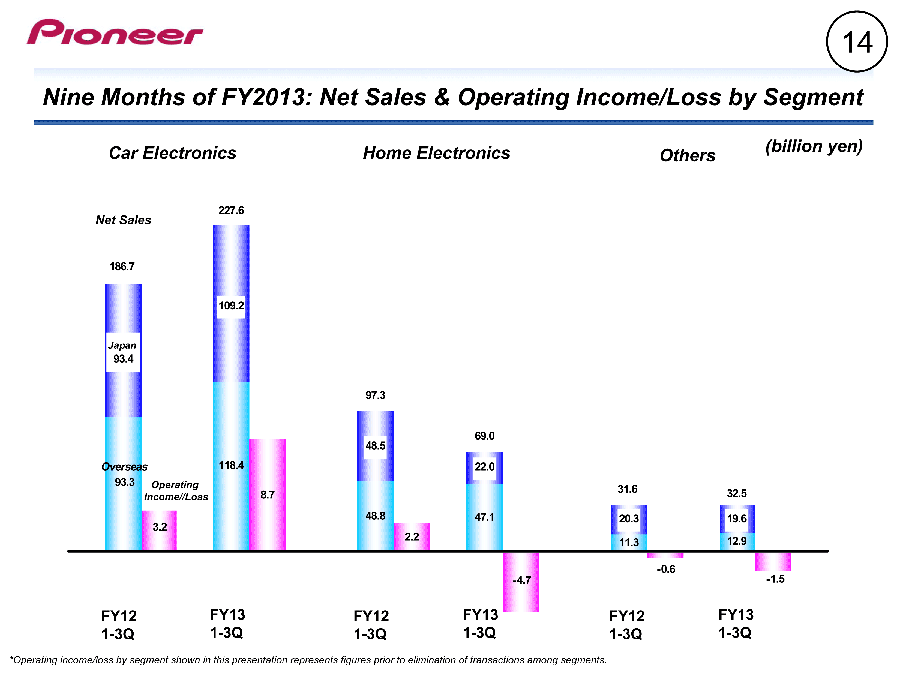 Pioneer's Board of Directors has directed management to begin a significant restructuring to try and prop up their profit base.
The company has made the following decisions for restructuring each division:
Car Electronics – Management says it will "thoroughly review every process" at the division. More specifically, the company says it will look for ways to optimize its product development process such as moving to "modular" concepts with "standardized key parts." They will also move employees out of hardware planning and into software. The management will also look for ways to "realign production sites in Japan and overseas." Finally, in sales and marketing, the company plans to shift resources from developed countries to emerging markets where they anticipate a greater payoff.
Home Electronics – The company says it must establish a "stable profitable structure" based on the current market size. The division will be "realigned with its related businesses and spun off into a new company." The goal will be to create a leaner company and eliminate redundancies. The optical disc business will experience "further downsizing."
Fixed Costs – And finally, after careful review the company says it has decided to attack its fixed cost structure. Accordingly, Pioneer will eliminate at least 800 jobs within the company. Furthermore, it will reduce the compensation of its directors and officers, as well as the salary and bonuses of employees.
Employees cut & so is the forecast…
With a total employment of 24,765 (as of March 31, 2012), cutting 800 employees hardly seems dramatic. However, since these cuts are likely to be targeted, it is possible that they will have a significant impact in certain divisions.
The existing forecast for fiscal 2013 was last revised in November 2012. Now, only 90-days later management has cut the forecasts for net sales, operating income, ordinary income, and net income. The sales forecast was dropped less than 2%, but the profit forecast was dropped much more substantially. The company will undoubtedly take some heat for moving their forecast from a net profit to a net loss, but the company finds business conditions extremely challenging.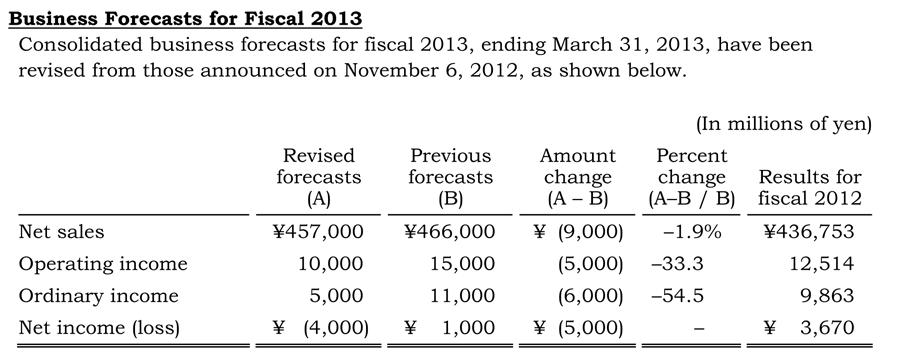 According to a report by Dow Jones, Pioneer has also blamed "softening prices for car navigation systems." With that being the case, then the company's focus on car navigation systems may have contributed to their problems. And with the shift in focus to car, the home division seems to have lost a lot of momentum.
All these factors are sure to influence the company's strategic plan for fiscal 2014.