DEVICE COULD HAVE APPLICATIONS FOR INSTALLERS
Panasonic Corp. announced last week that it is launching a new product that it believes will capture major market share in the market for what they call a "wearable assist robot." Starting in 2015, the company will field this "wearable" that – for lack of a better description – is like a lightweight, backpack-style partial exoskeleton.
See this new product with potential applications for any job requiring heavy lifting…
Panasonic's Activelink subsidiary has developed the wearable assist robot which fits to the users hips and back. There are motors at each of these points that automatically kick in whenever the wearer seeks to lift something heavy.
Upon lifting, the motor at the wearer's hip kicks in, taking approximately 15kg (33lbs) of the load off the user's lower back. As Panasonic notes, for workers in distribution or farming – this device makes back-breaking work substantially more bearable. (Or how about for integrators and installers on the job site lifting heavy LCD panels up to wall mounts or unloading pre-configured equipment racks off the back of a truck?)
Field testing begins this month…
According to a report in the Nikkei, Panasonic will begin field-testing the device this month in Japan. The company has worked out a test with farmers in the Fukui Prefecture who will all wear the device as they load crates full of vegetables onto trucks for shipping.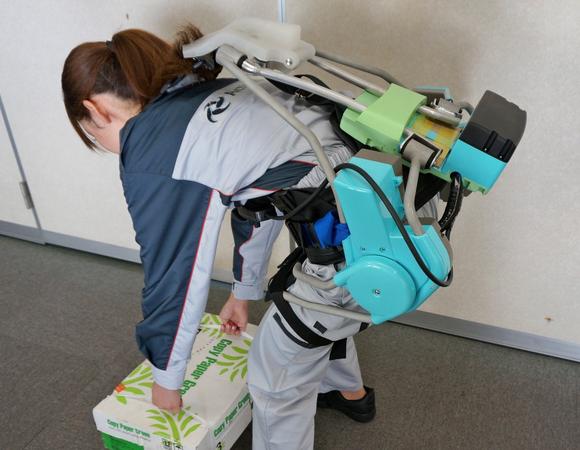 The unit itself is a new version of the original invention created by Activelink. The biggest advantage of this new version is that it weighs only 7kg (15lbs.6ozs)…much less than the first prototype which weighed 30kg (66+lbs.).
Affordably priced…
If all goes well, Panasonic will introduce the units to the market in 2015. Estimated selling price is ¥500,000 ($4,753) which the company says is well below competitive models selling from ¥700,000 – ¥800,000.
Panasonic also says that the formidable trading company, Mitsui & Co., has taken a 20% stake in the company and plans to assist with the marketing. Beyond those working in farming and distribution, Panasonic also plans to market the devices to women and the elderly.
There is no word whether the company plans to export the device to overseas markets.