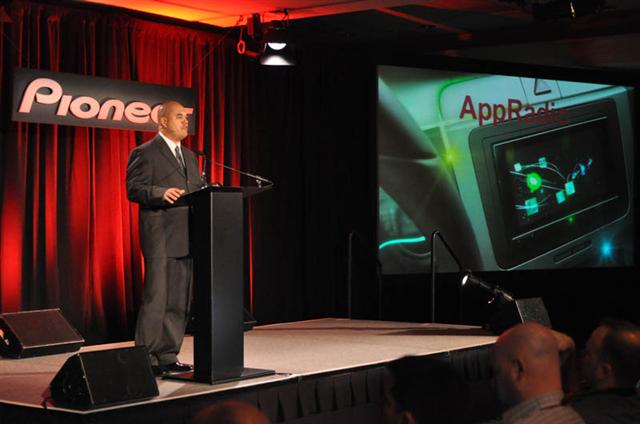 >> See a slideshow of the Pioneer 2012 CES Press Conference here… <<

<February 1, 2012> Pioneer Electronics USA, Inc. surprised everyone only months ago in the summer of last year with their launch of a radical new product called the AppRadio [ see our story on the original AppRadio here ]. Now, only a matter of months later, the company has hustled to get out a muscled next generation version called AppRadio 2.
The concept of the original AppRadio was a dramatic departure from other approaches to bringing in content from mobile devices to be played in the car. In Pioneer's case, this issue was to offer users a way to get access to the content on their smartphones to be played through their car's sound system…safely.
AppRadio took advantage of Pioneer's abundant experience in designing automotive sound systems. Pioneer decided that, unlike other designs that allow iPhones/iPods to be connected via an input into the system, they would take a different approach. AppRadio allows the users' iPhone do what it does best – store and serve up content…but lets the AppRadio handle control functions in a car-safe manner.
And as the name suggests, AppRadio allows access not only to music content resident on the smartphone, but also to popular apps for use in the car environment – as long as they use Pioneer's API. This is part of the genius of the design.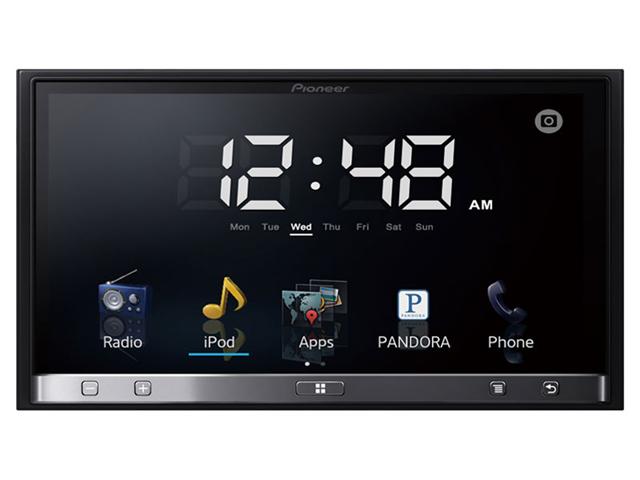 Now comes Pioneer's new AppRadio 2 which takes the original concept one step further. The original AppRadio only worked in an iOS environment. Now AppRadio 2 is compatible with Android…to the delight of its many fans. (The Android smartphone must have a Mobile High Definition Link [MHL] or a micro HDMI connection.)
AppRadio 2's screen also features a larger 7-inch screen to access the intelligently designed control function that often mimic the control style of the connected smartphone. AppRadio 2, like the original also contains Bluetooth technology for hands-free calling, along with inputs for an optional back-up camera, inputs for integrating with the vehicles on steering wheel controls, and pre-amp outputs for connection to external amplifiers.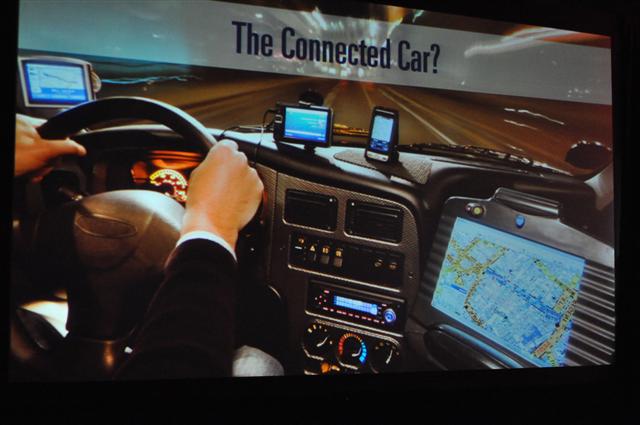 Pioneer has really thought through the interface and AppRadio 2 has very few physical buttons opting to incorporate the touch screen for most control functions such as music control/playback, AF/FM radio control (AM/FM radio is included), app interface, and Bluetooth hands-free calling.
"Since the first generation AppRadio was introduced last year, consumers have been quick to recognize and embrace the power and potential of this product. However many consumers requested compatibility and support for additional devices," Ted Cardenas, director of marketing for the car electronics division of Pioneer electronics (USA) Inc. said in materials handed out to the press. "By expanding AppRadio 2's compatibility, we are able to provide even more drivers a convenient and safer way to integrate their smartphone and their apps into their vehicles. Additionally, this expansion will accelerate the growth of available AppRadio compatible apps, as many developers support both smartphone platforms as well."
During their press conference, Cardenas admitted that customers are asking for more apps to made available. The company has launched a portal called the Advanced App Mobile Development Center to facilitate the expansion of apps being created by developers for the system. Pioneer says new apps are becoming available every month.
When the original AppRadio launched last year, there were only four apps available. The Pioneer Electronics website now shows 16 apps available such as maps/navigation, contacts, calendars, Pandora Internet Radio, MixTrax, Livio Radio, Aupeo Personal Radio, Inrix Traffic, and more.
The company is also expanding app functionality into more of their line-up with an Advance App Mode on three 2012 in-dash models. It is possible that Pioneer is expanding the App concept to help to encourage developers to create apps. With only one AppRadio, the universe of available customers may have not been big enough to convince developers to jump on board. With another AppRadio model and an App mode on more units – developers may be more easily enticed to get involved.
AppRadio 2 is expected to launch this April at an MSRP of $499. The original AppRadio will stay in the line at $399.
For more information, see: www.pioneerelectronics.com
>> See a slideshow of the Pioneer 2012 CES Press Conference here… <<