Onkyo USA Corp. today announced two hefty new additions to its A/V receiver line, the TX-NR929 and TX-NR828 Network A/V Receivers. Calling them the crown of its mid-range home theater lineup, these new models fit in between their high-end series (TX-NR1010/3010/5010) and their more mid-range series (TX -NR414/515/616/717/818).  These new models augment the recently announced TX-NR727.
See more on these new multi-channel, THX-certified A/V receivers…
Topping off their mid-line product assortment, the TX-NR929 includes 9.2-channels that can be flexibly configured to drive not only the main home theater, but up to two sub-rooms as well. Featuring THX Select2 certification (THX is a set of standards that ensures reference theater-level performance), the 929 is sure to hit you hard as it capably reproduces those explosive movie special effects.
The 929 has a total of 11.2 pre-outs and, thanks to the inclusion of DTS Neo:X upmixing, with an added outboard amplifier users have the ability to add "wides" and "heights" surround channels for a richer surround experience. The 929 includes all popular surround modes for any preferred movie mode.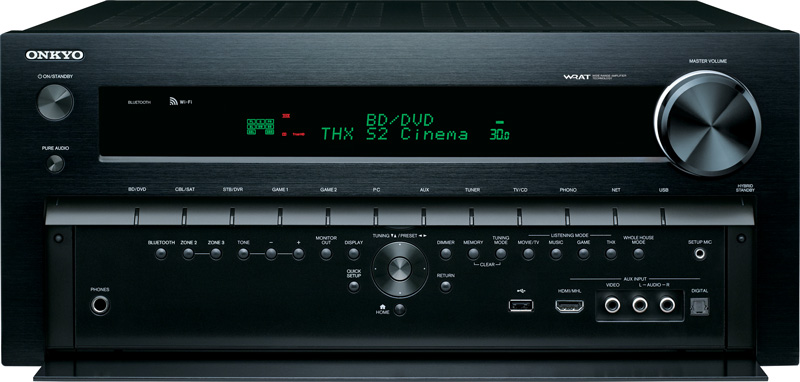 Zone and control flexibility…
Users can dedicate four of the available nine channels to be configured to drive a Zone 2 and a Zone 3 subroom simultaneously. Talk about flexibility…Onkyo includes 12-volt triggers, RS232 & PC connectivity, and IR input & output…for custom installation-level control capabilities.
And as you might expect from a home theater product designed for the future, the 929 is 4K-ready with the ability to passsthrough Ultra HD content via HDMI. It also offers upscaling to 4K for lower resolution content via Qdeo processing technology from Marvell.
It adjusts to your room…
The 929 offers the ability to have the system adjust to the unique acoustics of your personal home theater through the inclusion of Audyssey MultEQ XT32 room equalization. And connectivity should not be an issue with a total of nine HDMI inputs – including a front-panel MHL – and two HDMI outputs.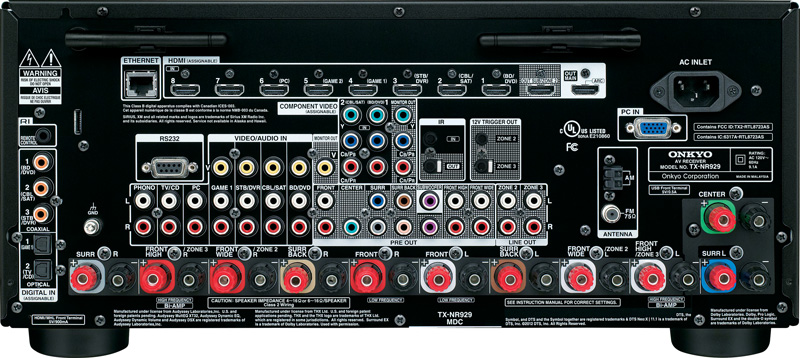 The 929 is not just meant to be the heart of your home theater, it's designed to be the heart of your networked entertainment environment with not only a direct Ethernet connection, but also both Wi-Fi and Bluetooth technology built-in. Some may quibble that the company did not – as some other manufacturers have – include Apple's AirPlay. But, as the company noted in their announcement, end-users can easily stream from their iOS or Android devices. AirPlay is available via the DS-A5 accessory dock for $199.95.
There's an App for that…
Onkyo offers an App to provide multi-zone entertainment control of the 929 as well as online streaming services, internet radio stations, and network audio files. The receiver also includes a physical remote for accessing most of the unit's functions utilizing the 929's onscreen overlay graphical user interface (GUI).
Although Onkyo's press release did not give a power rating, the company's website says this brute puts out 160 watts per channel. And, in a move sure to please many audiophiles, the 929 has a Digital Processing Crossover Network that allows you to bi-amplify your speakers using the units own power amps splitting up high/low frequencies.
Available in July, the TX-NR929 has a MSRP of $1,399.
Step-down model with mostly the same technologies…
The step-down model TX-NR828 Network A/V receiver encompasses much of the same technologies and features as the 929. Some differences include: 7.2-channels (instead of 9.2); Audyssey MultEQ room equalization (instead of MultEQ XT32); eight HDMI inputs (instead of nine); no DTS Neo:X; 7.2 multichannel pre-outs (instead of 11.2); 130 watts per channel (instead of 160); and the ability to have a powered Zone 2 and a pre-out Zone 3 (instead of powered Zones 2 & 3).
Available in June, the TX-NR828 has a MSRP of $1,099.
For more information on these models, see: www.onkyousa.com.