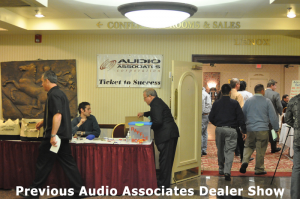 <April 18, 2012> Audio Associates Corporation, one of the more prominent sales representative organizations in the New York Metro and Mid-Atlantic markets, announced a huge new dealer event called "Alliance Expo 2012 – Partnering for a Stronger Tomorrow" to be held on May 22 & 23 at the Hilton Doubletree Hotel in Newark, NJ. The company says that this year's version of their annual event will be one of the largest that they have ever held with more than 23 participating vendors.
While Audio Associates has long been a major force, particularly in the New York consumer electronics retail market, the company has recently dramatically expanded its line assortment to an enviable degree. This expansion was largely thanks to the company successfully landing brands that went through sales force restructurings as a result of market turmoil over the last 12 months or so.
Last year, the company was selected by the AVC Group to represent their stable of custom integration lines. And more recently, starting just this month on the first of April, D&M Holdings selected Audio Associates to represent their Denon & Boston Acoustic brands in addition to the Marantz line which the company has represented for years.
In fact, these market transitions are the main reason that the company chose to dub their dealer event the "Alliance Expo" according to company President Michael Lefkowits. Vendors, Lefkowits told us, have consolidated brands to strengthen their partnerships with their reps, dealers, and markets – and it's a strong message. Audio Associates feels that it is logical for them to extend this same message within their territories.
"Our smaller specialty dealers need partners that focus on their business and not just on their dollars," Lefkowits told us. "By offering a symbiotic strategy, 'consolidation leads to maximization,' we hope to show our dealers that we, Audio Associates, and the vendors that we represent, can build programs across vendor brands that will strengthen their business and focus their efforts."
Audio Associates has long been committed to providing an annual event for their dealers – quite expensive to put on – during a time when many other companies have cut back on their support initiatives. We asked Lefkowits if they were concerned about drawing attendance, given the challenging market conditions.
"We believe that because of the challenging economy our attendance will be very good," Lefkowits said. "Dealers are generally looking to invest their time wisely and with 23 vendors all in the same place, what better investment could there be?"
The Alliance Expo will feature training sessions from key vendors scheduled throughout the two-day event. Lefkowits said that many of the vendors will be offering dealers a "sneak peek " at new models not yet on the market.
Participating vendors are sending in key management personnel, giving dealers an opportunity to interface with top executives from the brands they support. D&M Holdings VP Kevin Zarow is expected to be at the event, as will Bret Jacob, Eastern Sales Manager for Elan. The company expects to announce a longer list of attending executives as their schedules are confirmed.
Audio Associates will also hold raffle drawings to give away a wide range of prizes provided by participating vendors. While the prize list is still being finalized, the company says it will include some very valuable prizes valued in the thousands of dollars.
The company warns that seating for the many events are limited and reservations are necessary to secure a spot. If you would like more information about Alliance Expo 2012 – Partnering for a Stronger Tomorrow, or want to sign up to attend, contact Russ Ertelt at retelt@audioassoc.com or call Audio Associates at 732.968.9711.