Nortek, Inc. reported their financial results from the first quarter of fiscal 2013 late last week. The results were mixed as the company deals with a struggling economy and a difficult internal restructuring that is impacting costs now, with any resulting benefits to be realized still down the road. But for the first time in several quarters, the company's Technology Solutions Segment (TECH) actually offered a positive contribution with growth in both sales and profits offsetting losses in other divisions. But TECH's success was largely due to a recent acquisition in the security business.
See more on Nortek's results…
On the face of it, Nortek's press release announcing the results from their first quarter didn't seem so positive. First quarter sales were down…gross profit margin was down…SG&A expenses increased…depreciation and amortization expenses increased…operating earnings were WAY down…and net loss was substantially worse. And these were the featured performance highlights in the announcement.
Add to this the fact that the company had to draw down its Asset-Based Lending line of credit in the amount of $85 million at the end of the quarter, as compared to it being at zero at the end of last year. The company did, on the other hand, see its cash and cash equivalents increase from $144.7 million at the end of December…to $201.4 million at the end of March.
"The first quarter of 2013 was in line with our expectations," Nortek President and Chief Executive Officer Michael J. Clarke said in a prepared statement.
Stay tuned for improved performance…
How could Clarke say that? Because most of the financial impact was the result of two factors: 1) Their first and fourth quarters are generally their weakest performing periods due to the normal cycle of their business; and 2) The company is engaged in an aggressive restructuring, the impact of which is mostly being felt on the cost side at this time. The positive benefits of their restructuring will not start to improve their performance until sometime next year.
Sales for the quarter came in at $519.1 million, down just under 1% from Q1 last year at $522.8 million. Gross profit dropped 3% from $146 million last year, to this year's $141.5 million.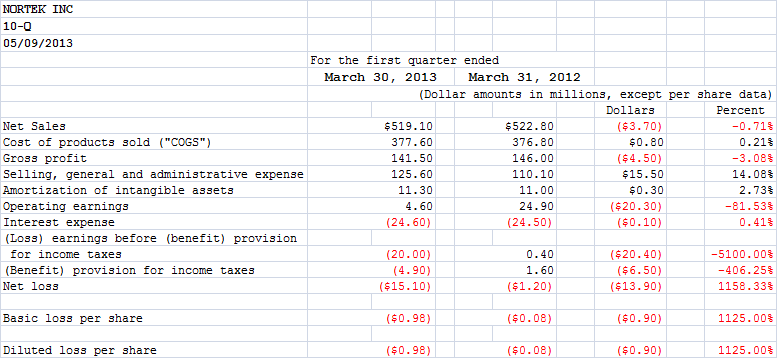 More significantly, selling, general & administrative expenses (SG&A) increased a more dramatic 14% from $110.1 million to $125.6 million largely as a result of increased executive compensation, restructuring costs, and consulting fees.
Sales down a little, profits down a lot…
As a result, the company saw its operating earnings decline a substantial 81.5% , dropping from 2012's $24.9 million to $4.6 million this year. And the company's net loss came in at $15.1 million, well over last year's loss of $1.2 million. On a per share basis, the net loss went from $0.08 per share last year to a loss of $0.98 per share this year.
When looking at the performance broken down by business segment, we see that for the first time in several quarters, TECH actually made a positive contribution to the company's overall results. Both TECH and RHC (Residential Heating & Cooling) saw sales jump 15.8% and 15.6% respectively.
Sales & profit by segment…
TECH sales for the first quarter came in at $110.4 million versus $95.3 last year. RHC grew to $87.4 million from $75.6 last year. However, RESV (Residential Ventilation), DMS (Display Mount Solutions), and CES (Custom & Engineered Solutions) saw declines of 4.8%, 6.9%, and 13.9% all of which offset the gains from the other segments for a .7% drop in overall sales.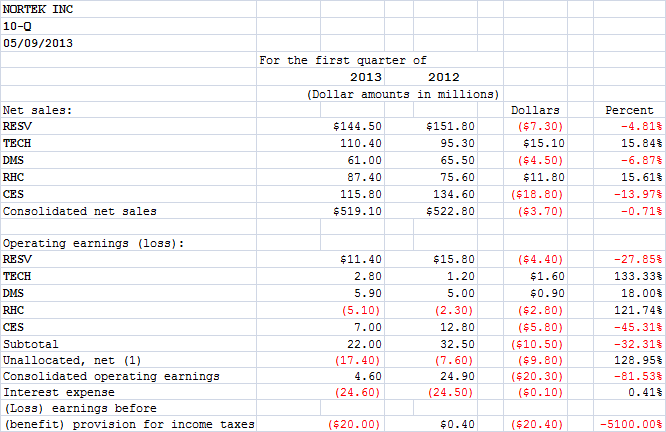 Overall operating profits dropped as well, although here too TECH made a contribution with a 133% increase to profits of $2.8 million as compared with $1.2 million last year. While that added $1.6 million on operating profits helped, overall, the company-wide operating profit dropped $10.5 million to $22.0 million, down 32.3% from $32.5 million last year.
Long overdue…
The long overdue positive contribution of Nortek's TECH segment does not mean, however, that the entire segment is doing well. Rather, the increase is largely related, the company says, "to increased sales to a large security customer." Sales to this large customer were $24.1 million of which $6.3 million was "the recognition of deferred revenue from December 31, 2012." This statement either refers to 2GIG…or a major customer of 2GIG. It is not clear what TECH's numbers for the quarter would have been without the added benefit of the 2GIG acquisition.
2GIG was one of two acquisitions the company has made so far this year and it is not entirely clear what the impact will be on an ongoing basis. The 2GIG acquisition took place April 1, 2013 and Nortek paid $135 million in cash, plus another $12.3 million based on the company's working capital. Nortek also absorbed a receivable due to it by 2GIG of $15.3 million. This acquisition, Nortek told analysts in a conference call discussing Q1 results, will make Nortek, "a real player" in the security and home automation business.
Gefen Distribution acquired…
Nortek also acquired Gefen Distribution on February 22, 2013 for $2.9 million. This is Gefen's primary distribution outlet for Europe and the company offered them a cash payment of $0.9 million, with another $0.2 million to be paid in 18 months. And, like 2GIG, the company absorbed a receivable of $1.8 million due it from Gefen Distribution.
The company has a lot of moving parts right now. It has launched a major restructuring process far beyond that which many of us are aware of in their TECH segment. The company has begun construction on a large manufacturing campus in Mexico to which it will move its North American manufacturing. At the same time, the company will close its owned warehousing and has contracted an outside expediting company to handle the warehousing and delivery functions for them.
TECH consolidation continues…
And, as is well-known in our industry…the company is in the process of merging operations for ten brands to be handled under one entity – Core Brands. While all of these initiatives are expected to yield substantial cost savings and overhead reductions, for now they are impacting costs and expenses to the tune of $10 million to $12 million in fiscal 2013.
In the first quarter of this year alone, the company booked $4.3 million in costs to SG&A. Interestingly, during their conference call with analysts, a UBS analysts asked the executives present (including Michael J. Clarke and Almon Hall) if they could quantify just what the future benefits of all of this restructuring will be. Analysts want to plug these new numbers into their predictive forecasts.
Hall told the analyst that Nortek has made a "conscious decision" not to offer that guidance. So while in theory these changes will be beneficial…just how beneficial, the company won't say.