Nortek, Inc. released financial results for their fiscal first quarter this week. As a widely diversified provider of largely building-related products, the company noted marked improvement in several key areas over the same quarter last year. With an overall quarterly sales increase from $519.1 million last year to $550.1 million this year, sales increased 6%. But the company still lost money in the quarter – though the loss was less than last year.
Results for Norteck's TECH segment continue a shift to security and AV continues to decline…
Aside from the overall sales increase, the company saw several other results improve as well. For example, the company noted that its gross profit margin improved from 27.3% of sales last year to 28.5% of sales this year. Also, GAAP (generally accepted accounting practices) operating earnings increased from $4.6 million last year to $12.5 million this year.
President and CEO Michael J. Clarke noted that, on a constant currency basis, sales increased in all five major company business segments. And the company says it is also beginning to feel a positive contribution from their many restructuring projects, noting in its Form 10-Q SEC filing that the company expects a positive contribution of between $15-$30 million in 2014. Full effects of all of their changes won't be felt until 2016.
But for all of these positives, the company still faces serious challenges. And one of those challenges is that while operating earnings improved, the company still had a net loss for the quarter.
Generated loss, but less…
In the first quarter of 2013, the company lost $15.1 million or $0.98 per share. This year, the company lost a more modest $8.6 million or $0.55 per share. While that is a substantial improvement, keep in mind that in Q1 2012 the company's net loss was only $1.2 million or $0.08 per share.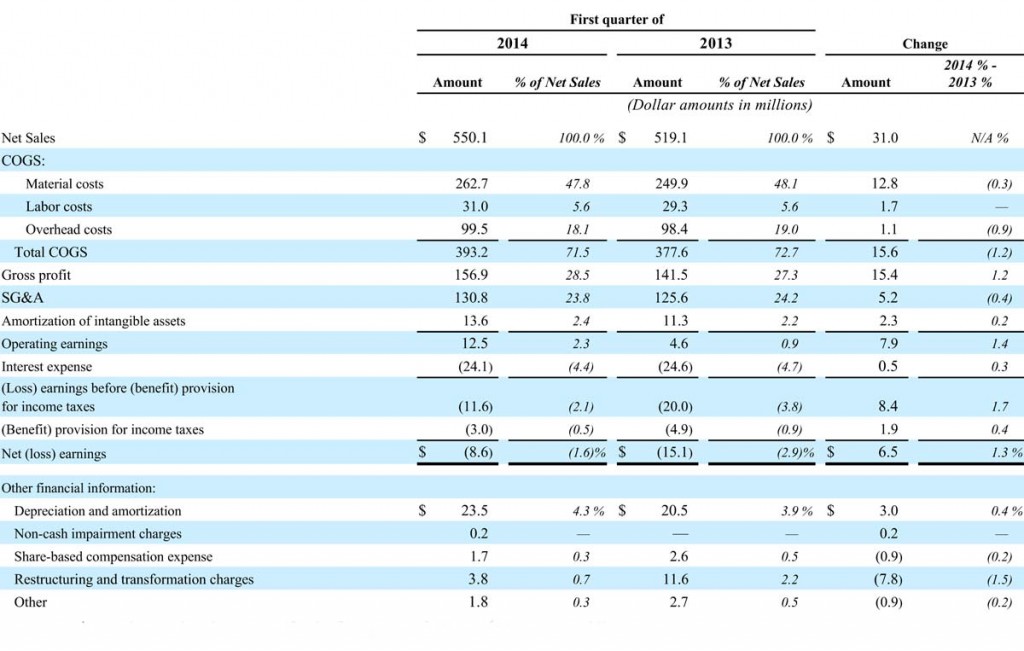 "Nortek's first quarter was a solid start to 2014, driven by higher sales of our residential HVAC, security and home automation products, as well as our air management solutions for semiconductor cleanrooms," Clarke said in a prepared statement. "Despite the prolonged winter season in many parts of the country, our businesses performed well in the quarter."
Results by business segment…
When looking at Nortek's results by business segment, we get added texture to the nature of the company's business. Nortek operates five major business units: RESV (residential ventilation), TECH (technology solutions), DMS (display mount solutions), RHC (residential heating & cooling) and CES (custom & engineered solutions).

In the table above, we see that RESV sales actually declined in the first quarter from $144.5 million last year to $143.1 million this year, or 1.4% down. But wait a minute, didn't CEO Clarke say the company had sales increases in EVERY business? Yes he did, but only when eliminating the effects of currency exchange rates. In real terms, sales did decline for RESV…as did profits.
In the case of TECH, we see a solid sales increase of $10.8 million to $121.2 this year or 9.8% better than the $110.4 million in Q1 sales last year. But look at operating earnings. Here we see they dropped from a profit of $2.8 million last year to a loss of $3.6 million this year.
Each of the other segments, DMS RHC and CES saw sales and profit increases in the quarter. Although DMS had just a 1% increase with sales growing $600,000.
So what's going on in TECH?…
One thing we can always count on with Nortek in their conference calls, they're always going to talk about TECH. This is mainly because they are pleased that one of last year's acquisitions, 2GIG, is making such a big contribution to the company's overall performance.
Sales of TECH, as we mentioned above, had a nice sales increase of 9.8% over last year. That was a increase of $10.8 million. But sales of security and access control products – the domain of 2GIG (and Linear) – increased $17.7 million, easily making it the largest contributor to the TECH segment's growth.
A troubling decline in AV…
In fact, during the call, Nortek's CFO said that security and home automation now accounted for 70% of the TECH segment's business. That is a historical high for the company…and it's a trend that looks as though it will continue for some time to come.
But if security and access control saw sales increases of $17.7 million, but the whole TECH segment only had a sales increase of $10.8 million overall – what happened? What happened is that Nortek's AV sub-segment – largely represented by their Core Brands subsidiary – had sales decline by meaningful $6.9 million in the quarter.
This is a troubling decline. And it follows the drop in AV sales as disclosed in their 2013 annual report of $24.4 million. Oddly, the company was silent about their AV business issues on this most recent conference call, other than to disclose the amount of sales decline.
TECH's profits evaporate…
The TECH segment also saw meaningful increases in its cost structure that caused it to generate a reduced gross profit. While materials costs declined thanks to the benefit of their "global procurement initiatives," both labor costs and overhead costs increased. This took COGS (cost of goods sold) to 68.9% of sales, up from 65.6% of sales last year – and compressed gross margins.
The TECH segment's also saw an increase in SG&A expenses (selling, general & administrative) which the company said reflected expenses related to the 2GIG and Gefen Europe acquisitions. And finally, TECH was impacted by an increase in amortization of intangible assets expense, a full 1.7% higher this quarter as compared to last year.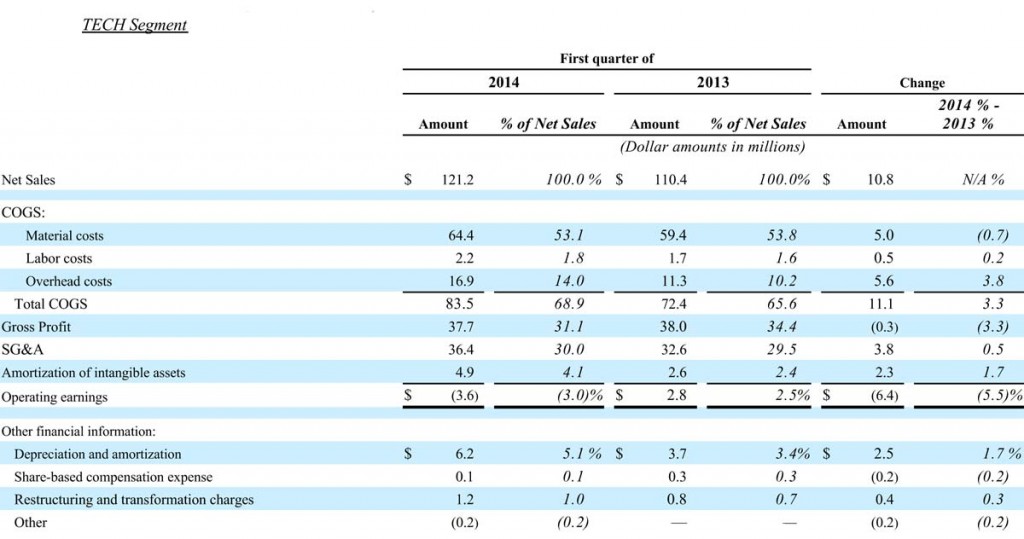 Nortek said that these costs increased for a variety of reasons, including higher royalty payments, higher logistics costs, higher restructuring and transformation costs – and inefficiencies as they transitioned to a third party logistics provider. Altogether, TECH saw operating profits swing $6.4 million to the negative, losing $3.6 million in the quarter.
For more information on Nortek, see: www.nortek-inc.com.